In the year 2003, destiny brought together Justin Trudeau and Sophie Grégoire. They tied the knot in 2005 and by 2015, Trudeau became the Prime Minister of Canada. For years, they were seen as the epitome of a power couple, gracing glossy magazine covers and presenting an image of stability. However, in August 2023, their seemingly unshakeable bond came to an end, leaving the public in shock and speculation. Grégoire Trudeau made the announcement in a post on her Instagram. "Justin and I would like to share the fact that after many meaningful and difficult conversations, we have made the decision to separate. " said Grégoire Trudeau. Here are three possible reasons why Sophie decided to part ways with Justin:
1. Allegations of Trudeau's Sexuality
As public figures, Trudeau and Grégoire have faced their fair share of rumors, but none more persistent than allegations about Trudeau's sexuality. Some have circulated rumors suggesting that Trudeau might be gay or bisexual. A series of questionable images with Emmanuel Macron, the French President, fueled the rumor mill. Despite a lack of credible evidence, social media platforms were ablaze with speculations, making it challenging for the couple to maintain their privacy. Such rumors undoubtedly added strain to their relationship, casting shadows over their otherwise happy facade.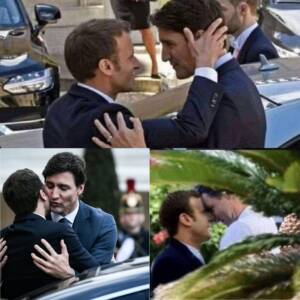 2. The Melanie Joly Affair
Whenever a high-profile couple calls it quits, rumors about third parties emerge. In this case, whispers linking Justin Trudeau with Melanie Joly, the Minister of Foreign Affairs, surfaced. Although unconfirmed, the alleged relationship ignited a storm of gossip about its impact on the marriage. Reports of Trudeau frequently seen leaving Joly's apartment late at night further fueled the speculations. While the veracity of these rumors remains uncertain, the public fascination with potential infidelity weighed heavily on the couple's decision to separate.
Read More: Snap elections 2021 were actually the by-product of dirty dealings of Mr and Mrs Trudeau
3. Wokeness vs. Family Unity
Justin Trudeau has been renowned for his progressive stance on social issues, supporting LGBTQ rights and advocating for inclusivity. However, despite his efforts to champion progressive values, Trudeau's inability to maintain a united family has raised eyebrows. As the face of a happy Christian family, the dichotomy between his public image and personal life left some questioning the authenticity of his beliefs. The inability to uphold his own values put him at odds with the woke culture he helped propagate.
In the aftermath of their announcement, the divorce proceedings and custody arrangements have been kept under wraps, respecting the privacy of both parties. The separation of Justin and Sophie Trudeau is far from a simple affair; it involves a complex intertwining of personal and public factors.
As Canada watches two of its most recognizable figures navigate this personal challenge turned public fascination, it is essential to remember that amidst the maze of misinformation and rumors, what remains clear is that the couple has separated.
Watch More: