The G20 summit of 2023, which is scheduled to occur in New Delhi, India, under the chairmanship of PM Narendra Modi is entering its final stages of preparations.
All the delegates from the 20 major economies have been invited. However, there is a striking absence that pervades the discourse—Ukraine is conspicuously absent from discussions.
Notably, India has excluded Ukraine from the G20 guest list, a decision solidified in June when President Volodymyr Zelensky's non-participation was confirmed.
This calculated move aligns with India's stance, articulated by Foreign Minister Subrahmanyam Jaishankar, that G20 participation is reserved for invited members and organizations, a principle firmly upheld since assuming the G20 presidency.
Ukraine is not Invited
India's Foreign Minister Subrahmanyam Jaishankar had emphasized, "G20 is solely for members. We haven't revisited the list or received any input on it, nor have we engaged in such discussions."
Notably, Ukraine lacks G20 membership, contrasting with Russia, an active G20 participant despite the ongoing conflict. India also refrains from condemning Russia's actions in Ukraine, instead advocating conflict resolution through diplomatic means and dialogue.
However, this must be noted that India has surged to become the primary importer of Russian crude oil following the Ukrainian war. In July 2023, Indian imports of Russian oil nearly restored to their peak, reaching 1.93 million barrels per day—a level akin to May's all-time high—due to amplified shipments of Moscow's Urals crude.
Although the partnership between India and Russia is widely known, there's something important that the world is largely ignoring. As India gets ready to hold the G20 summit this year, Western countries aren't pressuring India to invite President Zelensky.
Read More: India is possibly eliminating Khalistan on Canadian soil
NATO is OK?!
Compared to the G20 summit in Indonesia, the focus on Ukraine this year is almost negligible. When Bali was getting ready for its G20 summit in 2022, the US and some other Group of Seven countries began pressing Jakarta, which wanted to stay neutral as G20's chair, to invite President Volodymyr Zelensky to join parts of the meeting. This information was made public by Indonesian officials themselves.
European countries like Germany and the United Kingdom expressed worries about Ukraine's absence in Bali. Worries that a few representatives might skip the summit were also raised.
And so, Indonesia yielded to pressure and included Ukraine in the summit.  However, India has notably stood firm in excluding Ukraine, and remarkably, there's a lack of Western pushback against India's decision. 
Neither the Biden administration nor any European governments have expressed concern about India's non-invite stance regarding Ukraine.
Read More: India's foreign minister went to the EU and destroyed it with their own laws
This is Understandable
This is understandable considering India's openly declared neutrality, even though Western countries unofficially view India as a quasi-ally of Russia. Yet, their hands are tied as India possesses critical lists of essential items that the West cannot ignore.
Firstly, India's re-exported oil includes the same oil that Europe sanctioned Russia for. India continues to play a pivotal role in fulfilling Europe's energy needs.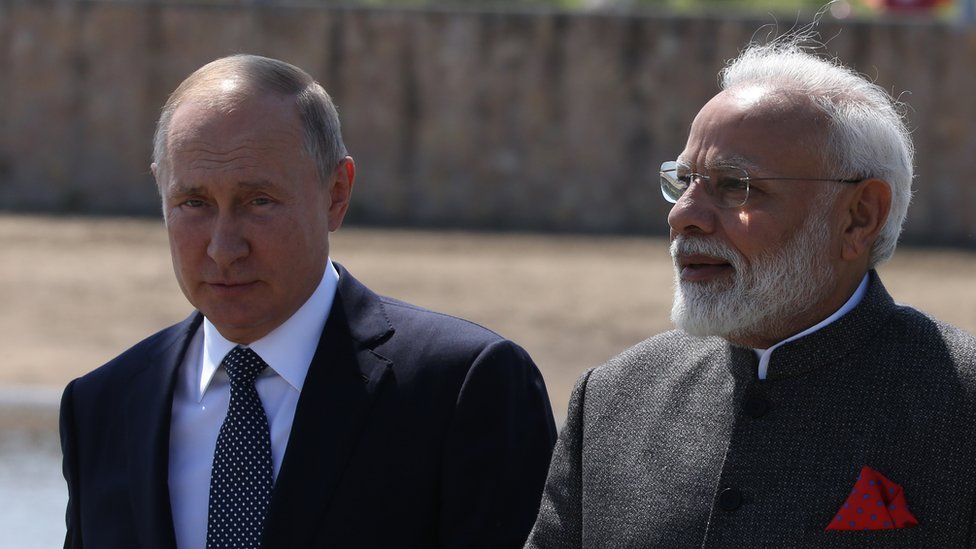 Secondly, the West cannot risk jeopardizing its access to Indian grains over a mere Ukrainian invitation. Recall the food scarcity during India's recent rice export ban; such a scenario could repeat.
Furthermore, India's strategic moves, like BRICS expansion, non-dollar oil trade with the UAE, and enhanced cooperation with countries like Greece for the Piraeus port, underscore India's expanding global presence. The West is realizing that India is fortifying its influence in unprecedented ways, marking a significant shift in the global landscape.
And so, the Western powers are hesitating to challenge another rising Asian force. This explains the absence of Western pressure on India to prioritize Ukraine.
Notably, this geopolitical move leaves Ukrainian President Volodymyr Zelensky in a dilemma, pushing him to create the 'Rich September' summit to gather support from smaller economies for the Ukrainian conflict.
India's firm position has diminished Ukraine's role, while the Western powers stand helplessly. This diplomatic interplay underscores India's growing influence and its strategic actions, as it navigates the global stage.
Read More: Dear Canadians, as Indians we are sorry for the mess we've created in your country
The West no longer holds sole sway over global affairs; new players have taken the stage, with India undoubtedly among them. The 'Vishwaguru' is back in the action.
Watch More: