The Canadian government initially believed that American tech giants would see a decline in their revenues as a result of the online news law controversy, potentially causing Canadians to abandon social media platforms.
However, contrary to these expectations, Meta has actually reaped unexpected fruits. This outcome could leave Ottawa disheartened, as it contradicts their anticipation of a widespread departure from social media. According to several media reports, it is now confirmed that Meta's decision to block news links in Canada this month hasn't significantly affected Canadians' Facebook usage.
Data from independent tracking firms, including Similarweb and Data.ai, shows that daily active users and time spent on the app in Canada remained relatively stable after Meta's move in early August. Despite facing criticism from the Canadian government, there's no substantial evidence of a decline in Facebook usage in the country.
And so, the impact of the news blockage on Meta's platform hasn't been as severe as anticipated, maintaining user engagement and activity levels in Canada. The lack of user loss in Canada following Meta's action is a surprise for the federal government in Ottawa, considering their long-haul battle against Tech giants.
The Facebook vs. Trudeau Story 
To understand the gravity of this outcome, it's essential to dive deep into the backstory behind the Tech Giants vs. Trudeau conflict. For nearly a year, American tech giants have clashed with the Trudeau government over its vigorous efforts to require these companies to provide additional revenue to Canadian independent news outlets.
The Online News Act, enacted by the Canadian parliament in June, mandates that platforms such as Meta and Google's parent company, Alphabet, to engage in commercial negotiations with Canadian news publishers for content usage.
Meta and Google have both argued that this law is impractical for their operations, intensifying the ongoing dispute between these tech giants and the Canadian government over revenue sharing with news outlets. Yet, the federal government remains firm that if they want to continue to do business in Canada, they need to abide by the law and respect the content of independent news creators.
Read More: Xi Jinping is successfully driving out American Big-Tech from Canada
Trudeau is After Press Freedom 
However, this is indeed surprising that one who talks about independent media, Trudeau had also put Bill C-11 and C-18 in place to increase surveillance on media portals. In response, Meta and Google took the drastic step of banning news sharing in Canada, sparking global criticism. This move was particularly striking in a democratic nation where citizens cherish their rights and freedom of information.
Trudeau and his liberal allies initially condemned Meta's action, arguing against it. But, paradoxically, the Liberal Party increased its advertising presence on the platform, suggesting a desire to exploit it for personal gain, more like evolving it into a political mouthpiece. In addition, the Liberal Party unanimously passed a policy resolution aimed at tackling internet misinformation, triggering concerns about potential government control over Canadian media.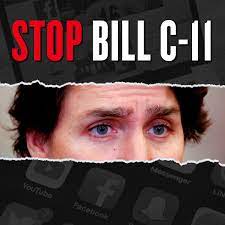 Read More:  With Bill C-18, Trudeau government is set to pump more funds into its pet media
Meta Remains Popular
The Liberal Party had anticipated that Meta's news-blocking decision would result in significant losses for the tech giant, but contrary to expectations, this has not been the case. Despite the policy resolution and the controversy surrounding Meta's actions, the company has not suffered the expected financial setbacks in Canada. In reality, Meta is still an essential platform for sharing news. At least in the United States, Meta's most recent transparency reports suggest that news continues to be some of the most popular content on Facebook.
In the first quarter of 2023, 13 of the top 20 domains viewed on Facebook in the US were news websites, and 18 of the top 20 individual links were to news articles, according to its most recent report.
Read More: A witch hunt against honest independent media outlets in Canada has been set in motion
Trudeau's push with measures like C-11, and the Online News Act was aimed at tightening his control over social media, but the outcome is far from what he expected.
Meta's enduring popularity among Canadians suggests a significant win for the tech giants in the Trudeau showdown. The results have taken a surprising turn, potentially signaling a challenging road ahead for the government's efforts to regulate the digital landscape. Trudeau's tech censorship is going to be much more challenging than he had anticipated.
Watch More: