In a recent statement, Russian President Vladimir Putin launched a vehement attack on Ukrainian President Volodymyr Zelensky. Putin stated that Western powers selected Zelensky, who is of Jewish descent, to mask the "anti-human essence" of the contemporary Ukrainian state, accusing him of endorsing the praise of Nazism. This isn't the first instance Putin has targeted Zelensky's Jewish lineage, previously denigrating him as a "disgrace" to the Jewish community.
Mykhailo Podolyak, an adviser to the Ukrainian president, labeled Putin's remarks as a "monstrous lie," a fabrication utilized to sanction mass atrocities. Moreover, liberal historians, fat on Western paychecks have united to denounce Putin's assertions as factually erroneous and morally abhorrent, arguing that they tarnish the memory of those who suffered under Nazi oppression.
Jews and Ukraine: A Love Story Gone South
In recent years, the relationship between Jews and Ukraine seems to have taken a downward turn, indicating a concerning strain in their relationship. The Babi Yar Holocaust Memorial witnessed acts of vandalism, a painful sight given the site's tragic history. From 2001 to 2020, the Jewish community in Ukraine endured 10 severe cases of vandalism, a spate of events that has deeply scarred them.
During the Euromaidan protests in 2013 and 2014, the community was rocked by anti-Semitic attacks. The mid-to-late 2010s saw an escalation in violence, with individuals identified as Jewish being targeted for physical attacks. In 2018, an appalling assault was launched on a Rabbi, evoking fear and concern within the community.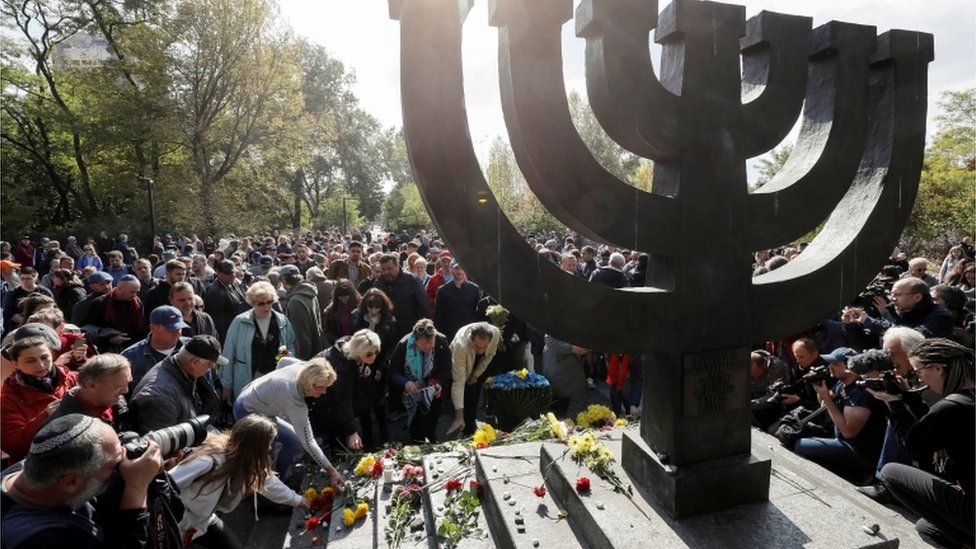 A significant number of assaults, amounting to 15 documented cases, were reported between 2015 and 2019. These assaults predominantly occurred outside synagogues and community centers in cities like Odessa and Kharkiv. 
Ukrainian media and online platforms have circulated anti-Semitic rhetoric, giving rise to hundreds of conspiracy theories and derogatory stereotypes targeting the Jewish populace.
Ethnic Russians in Post-Soviet Ukraine: A Tale of Shock and Horror
The post-Soviet period in Ukraine narrates a disturbing tale of shock and horror for ethnic Russians. A series of clashes and conflicts have marked this era, beginning with the Sevastopol altercations in 2006, where linguistic and cultural disputes led to 15 documented skirmishes. That same year, similar disputes stirred skirmishes in Simferopol.
A significant turn came with the annexation of Crimea in 2014, leading to targeted attacks on Ethnic Russians. Following this, the initiation of the Donbas conflict in 2014 witnessed around 13,000 fatalities over the years, spanning from 2014 to 2021, specifically in the Donetsk and Luhansk regions.
2015 was marked by horrifying accounts of abductions and torture in Eastern Ukraine, with hundreds of incidents documented involving unlawful detentions. The period between 2014 and 2021 saw a humanitarian crisis with over 1.5 million internally displaced persons. Further, the decade between 2010 and 2020 was rife with the propagation of hate speech and propaganda, with about 200 significant cases recorded, escalating existing tensions and divisions.
In a tragic incident on May 2, 2014, nearly 50 pro-Russia demonstrators were burned alive in Odessa, indicating a severe escalation in the conflict. This period saw a mass exodus, with over a million Ukrainians seeking refuge in Russia between 2014 and 2015.
What the war did to the Jews and Ethnic Russians of Ukraine
The war has exacerbated the already distraught situation for Jews and ethnic Russians in Ukraine. About half of the Ukrainian Jewish population, initially numbering around 300,000, have left the country due to the conflict with Russia, a trend highlighted by Rabbi Moshe Reuven Azman of Kyiv's Brodsky Synagogue. Moreover, ethnic Russians residing in Eastern Ukraine find themselves the primary targets of attacks by Ukraine's National Army, significantly escalating the hardships they face.
Ukraine's Nazi problem is deeply rooted in its history. During the war, several armed factions, including the notorious Organization of Ukrainian Nationalists (OUN), collaborated with Nazi Germany. Shockingly, these organizations still flourish in modern Ukraine, with groups like Pravy Sektor, Azov Battalion, Svoboda, and C14 operating unabated. 
Particularly alarming is the mainstreaming of the Azov Battalion, facilitated by Zelensky. The persistence of other groups can be attributed to the government's indifference, or sometimes even a tacit understanding, allowing them to continue their activities within the nation's borders.
Read More: Azov Battalion: A Ukraine based Neo-Nazi organization is employing child soldiers
The Sudden Rise of Zelensky
To comprehend the unexpected ascendancy of Zelensky, it's vital to consider the substantial influence of two individuals: Ukrainian oligarch Igor Kolomoisky and American diplomat Victoria Nuland. Kolomoisky has been a staunch supporter of Zelensky, significantly bolstering his candidacy through media promotion via his media conglomerate.
Concurrently, Nuland, known for her controversial engagement in Ukrainian politics — evident from leaked tapes showcasing her aid to opposition leaders during the Euromaidan protests — advocated for a closer relationship between Ukraine and the West, as well as fostering democratic reforms within the nation.
Both figures celebrated the removal of President Yanukovich, paving the way for Petro Poroshenko's presidency — a phase where their interests noticeably converged. Post Poroshenko, Zelensky's victory was perceived as a triumph for the US by Nuland, facilitating the nation's alignment with the West and supporting the expansion of NATO. 
Presently, the Democratic Establishment (or the so-called deep state) backs Zelensky, viewing him as a 'useful idiot' and a Jew, instrumental in extending NATO's boundaries to Russia's doorstep.
Read More: Zelensky now wants every Azov battalion fighter dead
How Zelensky promotes Neo-Nazism in Ukraine
In recent times, media outlets across the globe have extensively documented Zelensky's associations with the notorious Azov Battalion. Despite the battalion's well-known anti-Semitic stance and its roots in Nazi ideologies, Zelensky persists in labeling these members as "warriors". This raises concerns about the propagation of neo-Nazism within Ukraine, as the president's endorsement potentially amplifies their extremist beliefs and actions.
Furthermore, Zelensky's primary financial supporter, Ukrainian Jewish oligarch Igor Kolomoisky, has been significantly involved in backing not only the Azov Battalion but also various other extremist militias. Notably, the Azov Battalion, now integrated into the Ukrainian National Guard, is perceived as the most ideologically zealous and militarily aggressive unit in the ongoing conflict against pro-Russian separatists in the eastern Donbass region.
Read More: West Built Azov Battalion. Now, It's Terrorizing Them
Considering the current circumstances in Ukraine, where distressing events have unfolded impacting Jews and ethnic Russians, Putin's actions signify not aggression, but a step toward intervention and restoration. Contrary to widespread portrayal, Putin emerges not as a villain but rather as a hero in this scenario, taking decisive actions to curb the atrocities being faced by these communities, while others merely engage in dialogues without substantial actions.
Watch More: