During Canadian Prime Minister Justin Trudeau's visit to India for the G20 summit, opposition leader Pierre Poilievre took center stage. While Trudeau was in New Delhi, Poilievre actively engaged in rallies and public meetings.
Notably, the Conservative Party held its national policy convention in Quebec City during this time, attracting over 2,500 attendees, the highest ever for such an event.
In his keynote address, Poilievre emphasized familiar themes, including affordability, inflation, and housing, and other issues central to his appeal to voters since assuming party leadership the previous year. He stated, "Canadians are not small or angry but big and generous people. They deserve better than this, no longer sacrificing affordable homes and food due to one man's incompetence and ego."
Poilievre went on to assert that "After eight years, Justin Trudeau is not worth the cost and not worth the country we know and love." Importantly, he made a strategic bid for support from Quebec voters, a region traditionally dominated by the Liberals and the Bloc Québécois.
Poilievre suggested that the Bloc has been enabling the Trudeau government through its support, proclaiming, "If Quebeckers want to get rid of Justin Trudeau for good, only the Conservative Party can replace it for real."
Furthermore, the Conservative Party unveiled a list of issues that would constitute Pierre's primary agenda if elected to power.
Pierre's Ascent, Justin's Descent
The popularity of Conservative Party leader Pierre Poilievre continues to rise, with CPC vote intent currently standing at 39 percent, granting them a 12-point lead over the Liberals. Notably, Poilievre is now regarded as the preferred choice for Prime Minister by twice as many people as the incumbent Prime Minister, with 32 percent supporting him in this role compared to 17 percent for Justin Trudeau.
Moreover, a plurality of 41 percent of respondents view Poilievre as the best candidate to manage the economy. In a recent poll, it was revealed that the CPC is just 9 seats away from securing a majority government in the House of Commons if elections were held today.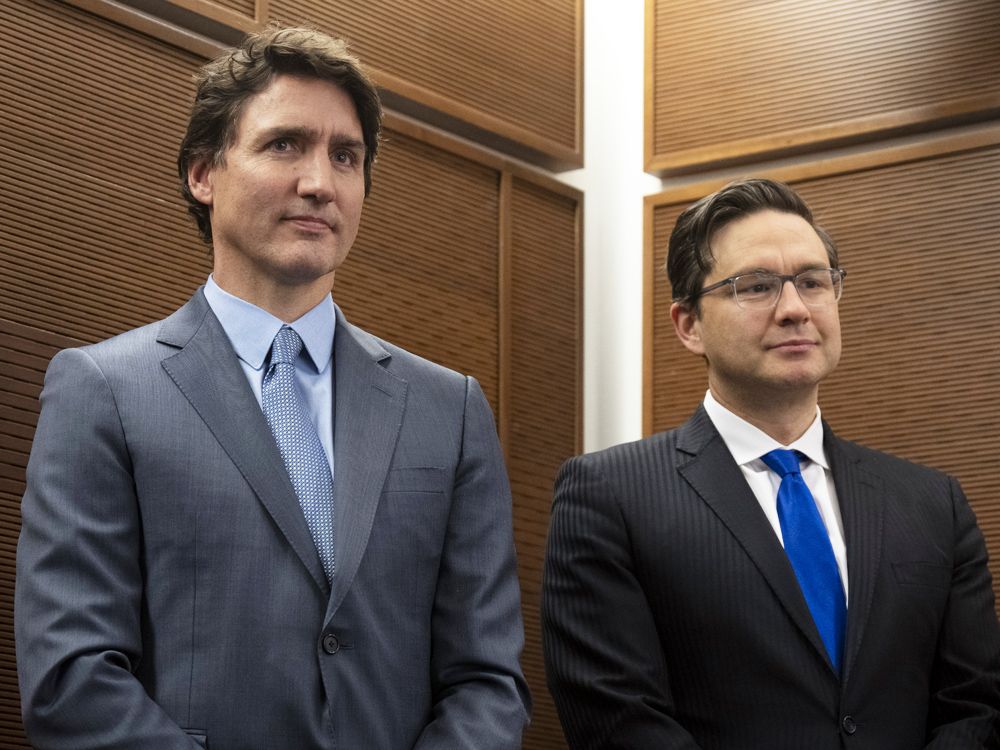 This situation places Canadian Prime Minister Justin Trudeau in a precarious position, with his popularity hitting a record low of 38 percent.
Additionally, a significant portion of liberal party voters, particularly Muslims, and middle-aged Canadians, are reconsidering their support due to Trudeau's woke policies, indicating a potential shift in future voting patterns.
Read More: Pierre Poilievre schools Trudeau on statesmanship
The Conservative Manifesto

Adding insult to injury, Poilievre and the Conservative Party have now unveiled a comprehensive document akin to "Removing Trudeau's rot" from the Canadian government. This document essentially represents Pierre Poilievre's vision for Canada, almost a manifesto.
Following Poilievre's stirring speech at the convention, delegates, consisting mainly of party donors and influential figures, voted in favor of his vision. The results were remarkable, reflecting the party's alignment with Poilievre's ideas.
Among the key policies endorsed by the delegates, 68 percent supported the right to refuse mask mandates on moral, religious, medical, or other grounds. Additionally, 66 percent affirmed that every Canadian should have the right to informed consent and bodily autonomy, particularly concerning healthcare decisions.
The convention also addressed pressing societal issues. An overwhelming 87 percent of delegates voted in favor of a policy asserting that women deserve the safety, dignity, and privacy of single-sex spaces and the benefits of women-only categories.
Furthermore, a notable policy centered on prohibiting medicinal or surgical interventions for minors in cases of gender confusion or dysphoria, with 69 percent delegate support. Some argued that this should be treated as a mental health concern requiring therapy rather than irreversible procedures.
In terms of foreign policy, the Conservative Party committed to adopting a more assertive stance toward authoritarian regimes like China's Communist Party.
Poilievre has also pledged to fulfill the long-hailed demands such as modernizing NORAD and meeting NATO's recommended spending threshold of two percent of Canada's GDP on national defense.
Read More: Dear Pierre Poilievre "Let us Indians acquaint you with WhatsApp Media Agenda"
Pierre Poilievre and the Conservative Party are poised to address the issues they see in Justin Trudeau's policies, aiming to clean and rectify what they perceive as problems.
Although the next elections are scheduled for 2025, the possibility of an early election is significant, heralding a potential new era for Canada. These positions reflect the party's vision for a stronger and more resolute Canada on the international stage.
Watch More: