Slovakia is preparing for a crucial national parliament election on September 30, following five years of political instability. The 2023 Slovak elections may bring about a change in the country's stance toward Ukraine, as it appears inclined to return to a pro-Russia orientation.
According to several local opinion polls, Slovakia's former Prime Minister and Pro-Kremlin leader, Robert Fico, is poised to regain power. Surveys indicate that the Smer-SD party, led by Fico, is likely to win the snap ballot on September 30. 
For the unaware, Fico's comments often align with Kremlin viewpoints.
Fico has alleged that the conflict in Ukraine began in 2014 with Ukrainian "fascists" targeting Russian civilians. Additionally, he has pledged to cease all military aid shipments to Ukraine once he returns to power.
He even opposes Ukraine's NATO membership aspirations and has criticized EU sanctions against Russia.
With Robert Fico's expected victory, Bratislava is poised to undergo a substantial foreign policy shift, marking a 180-degree turn from the previous administration led by Eduard Heger. Heger, the former Prime Minister of Slovakia, held staunchly anti-Russia views and was a strong advocate for Ukraine in its struggle against the Russian invasion.
Bratislava's 180-degree Turn 
Under Heger's leadership, Slovakia supplied significant arms support to Ukraine, including the transfer of its sole S-300 missile system. Heger personally lobbied European Union leaders for Ukraine's potential membership in the EU. 
He emphasized, at the World Economic Forum in Davos, that his support for Ukraine stemmed from the belief that allowing Ukraine to fall would put Slovakia at risk of a Russian invasion.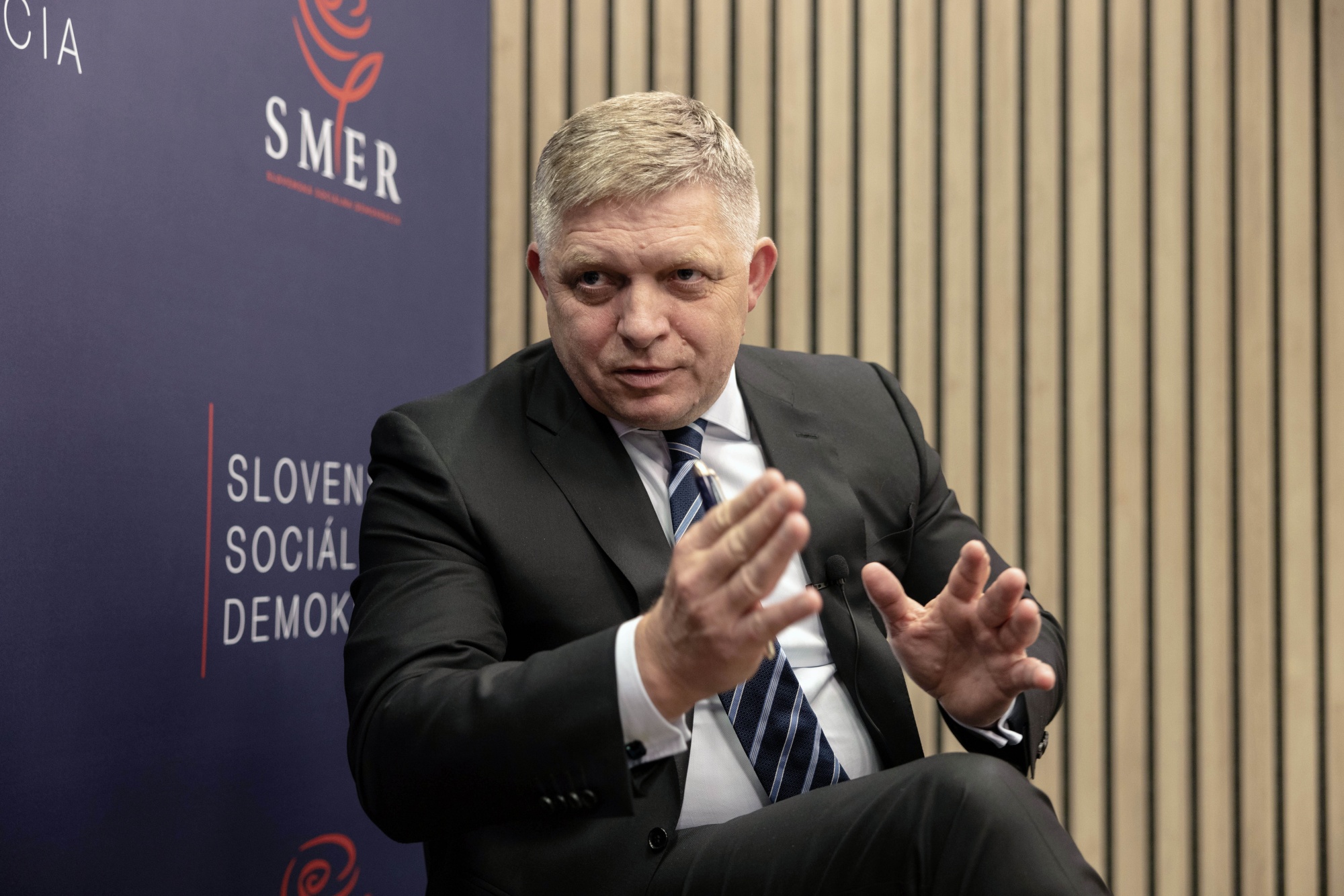 Furthermore, in February 2023, Heger expressed his willingness to deploy Slovak professional combat troops to assist Ukraine as part of Slovakia's alliance commitments.
However, Heger's anti-Russia stance was short-lived, as his government collapsed due to internal conflicts.
Slovaks' Russian Affection: The Divide Between Leaders and Public
In addition, despite the anti-Russia stance of leaders like Heger and President Zuzana Čaputová, there exists a stark contrast when examining the opinions of Slovakia's population. The majority of Slovaks hold pro-Russia sentiments, as revealed by a March survey conducted by Globsec, a Bratislava-based research group.
According to the survey, only 40 percent of Slovaks attribute blame for the war in Ukraine to Russia, while a notable 51 percent believe that either Ukraine or the West bears "primary responsibility."
This disconnect between official government positions and public sentiment underscores the complexity of Slovakia's relationship with Russia and its perspective on the conflict in Ukraine. 
With Robert Fico's likely return to power, Slovakia is expected to adopt a more Russia-friendly approach, signaling a significant transformation in its foreign policy.
Read More: Slovakia's interim government and annexation chances
Slovakia's Russian Reliance: Energy and Economic Ties
Slovakia's relationship with Russia is influenced by both practical considerations and historical ties. Before the Ukraine war, 68 percent of Slovak gas consumption was sourced from Russia, highlighting a significant energy dependence. 
Economic interdependence is also evident, with trade between the two nations reaching approximately $4.1 billion in 2020.
Moreover, historical connections between Bratislava and Russia date back to the era of Czechoslovakia when the region was part of the Eastern Bloc and maintained close relations with the Soviet Union. While these historical ties have evolved, they continue to influence political and economic dynamics.
The enduring fondness for Russia among Slovaks was also visible during a series of events and protests in Bratislava last year, particularly during the energy crisis. These protests not only underscored the public's sentiment but also demonstrated the weakening political influence of leaders like PM Heger and President Caputovo.
In response to the crisis, both of the political leaders were quick to shift blame towards "Russian Disinformation," further polarizing public opinion. Robert Fico, known for his populist stance and opposition to NATO and the EU, also found himself a target of political attacks.
Former Defense Minister Jaroslav Nad even went so far as to label Fico's SMER party as a "Trojan horse" for Russia. Nad claimed, based on intelligence reports, that an unidentified Slovak citizen had received financial support from Russia for the benefit of SMER. 
However, his claim, lacking evidence and veiled in confidentiality, has been widely dismissed as a pre-election smear tactic.
Bratislava's 180-Degree Pivot: A Shift in Slovak Foreign Policy
The imminent return of Robert Fico to power on September 30 carries significant implications not only for Slovakia but also for Europe as a whole. His resurgence mirrors the rise of leaders like Viktor Orban in Hungary, signaling a broader shift in European politics.
Across the continent, the political landscape is evolving. Liberal governments are facing challenges, with some losing confidence or yielding to populist movements. Italy witnessed a populist leader, Giorgia Meloni surge to power last year, and now, Slovakia is poised for a similar shift. This awakening in Slovak politics reflects a growing wave of conservatism in Europe.
Read More: Slovakian President's "Infatuation with the EU" Leads to an Early Retirement
As Robert Fico's return appears almost certain, it underscores the changing mood in Europe, where the influence of leaders with nationalist and populist tendencies is on the rise. This trend has broader implications for the European political landscape, suggesting a resurgence of conservative ideologies and a potential shift away from the liberal policies that have dominated recent years.
Watch More: