Poland has officially suspended the supply of weapons to Ukraine, a decision that has been looming for several months. Prime Minister Mateusz Morawiecki, in a recent announcement, attributed this decision to an ongoing trade dispute. The heart of the matter lies in Poland's ban on Ukrainian grain imports, aimed at safeguarding its local markets from being inundated with Ukrainian grain.
As a result of this dispute, Poland has chosen to redirect its focus from arming Ukraine to bolstering its own security by acquiring more modern weaponry. This move marks a significant shift in the bilateral relationship between the two nations.
The tensions between the two nations escalated when Ukrainian President Volodymyr Zelensky indirectly criticized Poland during his address to the UN General Assembly. Zelensky accused some European countries of politicizing solidarity and creating a "thriller for the grain.", a statement indirectly aimed at Warsaw. 
Ukraine is Drowning Man: Duda goes all out against Zelensky 
In response, Polish President Andrzej Duda openly criticized Ukraine, emphasizing that Ukraine should show gratitude and caution against helping a nation that he likened to a drowning man who could drag down anyone trying to assist.
And so, Poland has chosen to abstain from involvement in the ongoing conflict in Ukraine. Poland's recent decision to withdraw its support for Ukraine's conflict marks a significant turning point.
Poland has remained a staunch ally of Ukraine throughout the conflict with Russia, it has been a vocal advocate for EU member states to provide military aid to Ukraine and has itself supplied substantial arms shipments, making it the fourth-largest arms supplier to Ukraine, with an estimated total worth of over $4 billion.
In 2022, Poland notably provided Ukraine with Soviet-era tanks and ammunition. Furthermore, it has served as a crucial transit point for Western weaponry destined for Ukraine.
Additionally, Poland has shown humanitarian support by hosting around 1.6 million Ukrainian refugees under the banner of 'Solidarity.' 
Consequently, Poland has also become the first nation to opt out of the Ukrainian war, a significant development given its history of support for Ukraine since the war began.
Read More: Poland is Covertly Setting Up a Reparation Battle with Ukraine
The War Within: Inside Poland Ukraine's Troubling Relation 
Poland and Ukraine, despite their geographical proximity, have a history of strained relations marked by territorial disputes and ethnic tensions. The border between the two countries has shifted several times throughout history, leading to conflicts and changes in ownership of regions such as Galicia, Volhynia, and Lviv.
Galicia, in particular, has been a historical flashpoint due to its mixed Ukrainian and Polish populations, which have often clashed over resources and territory. In the late 18th century, both nations faced subjugation by foreign powers, resulting in the dissolution of Poland as an independent nation and the division of Ukrainian territories among various foreign entities.
World War II further strained relations, as ethnic Ukrainians and Poles found themselves on opposing sides. The Volhynia massacres, where both groups were involved in violent clashes, left deep scars.
The Cold War era saw both countries on opposite sides of the geopolitical divide, but tensions began to cool after the Cold War ended. However, since 2015, tensions have resurfaced over differing interpretations of historical events and current political happenings.
One major point of contention revolves around the Ukrainian Insurgent Army (UPA) and its role in massacring Poles in Volhynia and Eastern Galicia during the war. 
In 2015, Ukraine passed memory laws honoring the UPA, which was criticized by Poland. In response, Poland declared a National Day of Remembrance of Victims of Genocide, acknowledging UPA's mass killing of over 100,000 Polish citizens. This led to further disagreements and counter-declarations from both sides.
Tensions escalated in 2016 when a screening of the Polish film "Volhynia" in Kyiv for Ukrainian MPs was postponed due to public order concerns. In 2017, the Ukrainian Institute of National Remembrance prevented the exhumation of Polish victims of the 1943 massacres, seen as retaliation for the dismantling of a UPA soldiers' monument in Poland.
Disagreements also emerged over individuals with anti-Polish views in high Ukrainian offices.
Duda-Moraweicki's Ploy: Disagreement Just a Facade 
In 2022, Polish nationals initially expressed solidarity with Ukraine as the conflict escalated. However, this unity eroded as the burden of accommodating 1.6 million Ukrainian migrants strained the economy. Inflation surged to 15%, prompting the government to raise taxes, souring public sentiment.
As a result, public perception has shifted, with increasing vocal opposition against Ukraine, Ukrainians, and Poland's government. 
On Poland's Independence Day, November 11, 2022, approximately 100,000 people joined an organized march, which included anti-Ukrainian refugee sentiments such as "Stop the Ukrainization of Poland."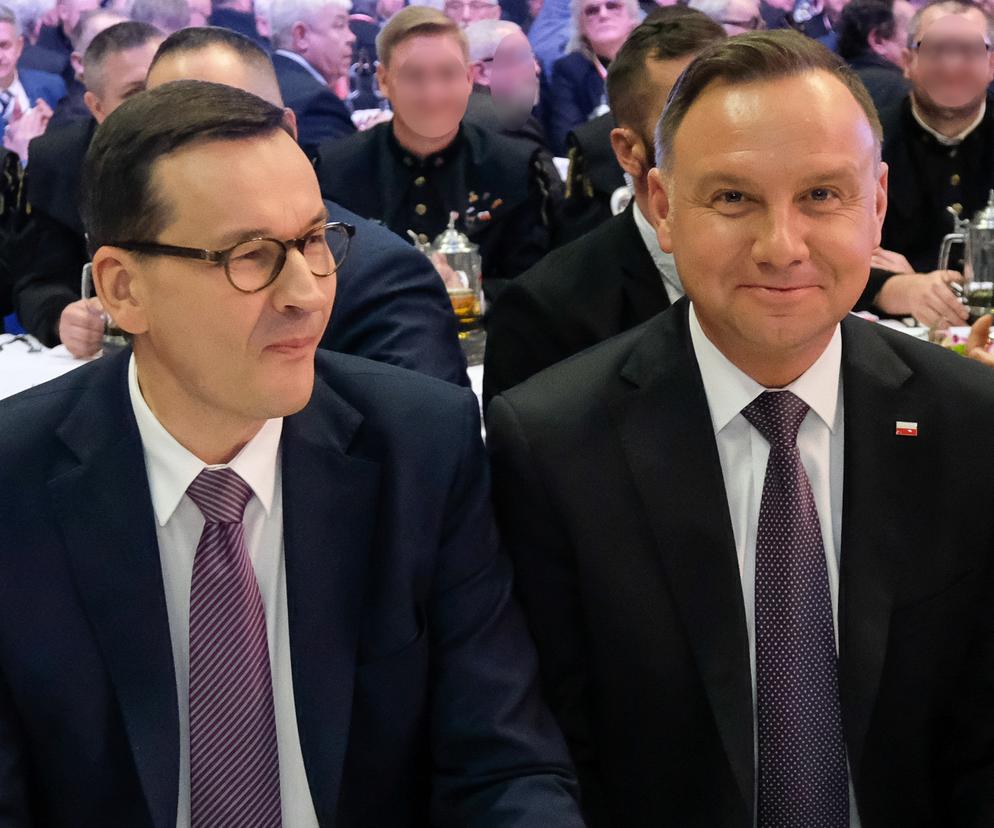 Also, the popularity of President Duda and Prime Minister Morawiecki's PiS party has dropped as economic challenges and the refugee crisis took their toll on public opinion. 
And so, Poland has opted to sever ties with Ukraine. But the question remains for how long? 
Poland's decision to sever ties with Ukraine, prompted in part by President Zelensky's remarks, and the WTO dispute, raises questions about the future of this stance. Given NATO's evolving position regarding Ukraine, Poland's position may indeed hold. However, Poland has been historically known to make strategic shifts to its advantage.
It's possible that, after the Polish Elections in 2023, Poland could reassess its stance and re-engage with Ukraine. Poland's historical flexibility in its foreign policy decisions, often driven by self-interest, makes such a shift feasible.
Read More: Ukraine and Poland's Violent Breakup
As a result, Poland's current position should be closely monitored and assessed. Its decisions in the coming months and years will not only impact its relationship with Ukraine but also regional dynamics, given Poland's geopolitical significance.
Watch More: