In 2015, Europe faced a significant challenge with a massive influx of migrants. Countries like Germany, Sweden, Italy, and France took the bulk of the EU's asylum seekers. Among them, Sweden, Hungary, and Austria stood out in per capita applications. However, these welcoming policies have come with a cost: rising violence. Following recent incidents in France, similar tensions are now surfacing in Sweden.
Sweden's Melting Pot Boils Over
"Gang wars have unleashed an unprecedented wave of violence in Sweden," emphasized national police chief Anders Thornberg following a week marred by fatal shootings. This surge is part of a longstanding conflict among gangs battling for control over arms and drug trafficking, often resorting to firearms and explosives. Thornberg highlighted the grim details: "boys aged between 13 and 15 killed, a mother executed at home, and a young man shot dead in Uppsala." Perpetrators, frequently from abroad, have left cities like Uppsala and Stockholm reeling, experiencing multiple fatal shootings and a surge in explosive incidents. Last year, Sweden recorded 90 explosions and 101 attempted attacks; this year, over 100 explosions have already been documented.
Read More: Macron kisses goodbye to EU's migrant policy and puts Islamist immigrants on notice
Thornberg stressed the toll on innocent lives: "Citizens are afraid, insecurity is increasing," leading to heightened terrorism alerts. Recent preventive efforts have resulted in arrests and weapon confiscations, particularly in Uppsala, underscoring the urgency of the situation. In 2022, 391 shootings were reported, claiming 62 lives, with 45 fatalities from gunfire in the preceding year. These stark figures illustrate the urgency of addressing this crisis, emphasizing the pressing need for comprehensive measures to restore security and stability to Sweden's cities and protect its citizens."
Battling Gangs: Kristersson's Iron Fist
Raising concern over the issue, Prime Minister Ulf Kristersson has emphasized the need for the armed forces to collaborate with the police in their efforts to combat criminal gangs. This call comes as eleven individuals, including children and innocent bystanders, tragically fell victim to recent incidents of gun violence. Kristersson highlighted the alarming statistic that fatal gun violence has tripled in the past decade.
The Prime Minister stated, "Now more and more children and completely innocent people are affected by the gross violence. I cannot stress enough how serious the situation is." He attributed the current crisis to "an irresponsible immigration policy and a failed integration," marking it as unprecedented in Sweden and unique in Europe.
Kristersson's response includes convening meetings with top officials from the police and armed forces to explore how the military can assist law enforcement in tackling criminal gangs. The government is also introducing measures such as enhanced police surveillance, stricter punishments for gang-related crimes, visitation zones, protection for anonymous witnesses, and the criminalization of gang membership to address the escalating violence. 
Roots of Violence
Sweden has experienced a concerning escalation in gang violence, with a significant surge in gun-related incidents since 2000. This rise in violence is attributed to the failure of migrant integration. Former Prime Minister Magdalena Andersson acknowledged this failure, highlighting the formation of parallel societies due to inadequate integration efforts. A 2021 report from The Swedish National Council for Crime Prevention revealed Sweden's unfortunate distinction as Europe's leader in fatal shootings. The failure to assimilate recent immigrants has contributed to the proliferation of gang crimes, making Sweden's struggle with violence stand out in comparison to its European counterparts.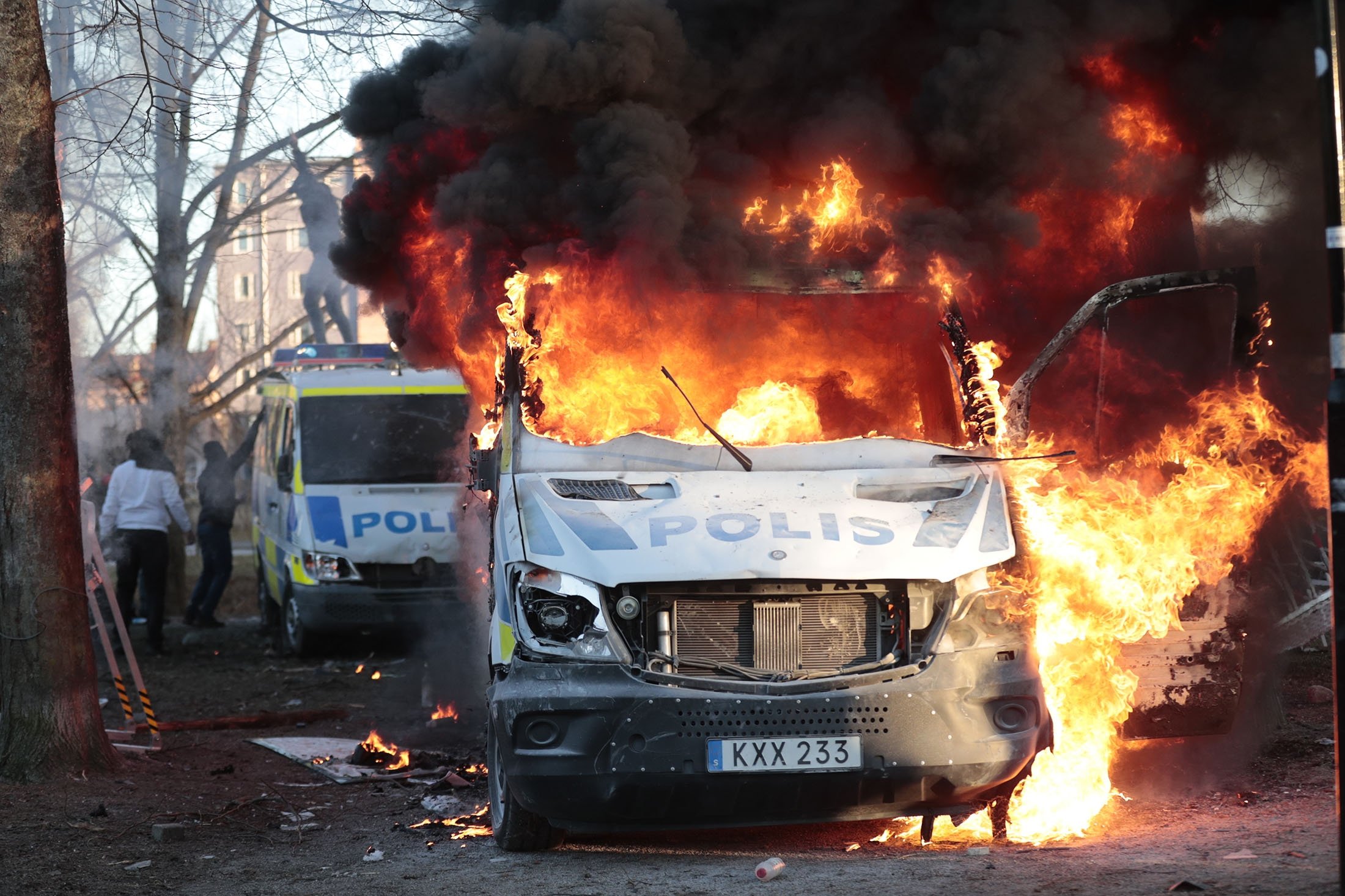 Read More: France's ultra-conservative turn is exactly what Europe needs to counter Islamism
The Gang Epidemic
In 2015, Europe witnessed an unprecedented influx of 1.3 million refugees and migrants, primarily from war-torn countries like Syria, Afghanistan, Nigeria, Pakistan, Iraq, Eritrea, and the Balkans. This surge was driven by conflicts in the Middle East, including ISIL's dominance, and neighboring countries like Lebanon, Jordan, and Egypt closing their doors to Syrian asylum seekers. While Sweden historically embraced immigrants, this massive wave presented integration challenges. 
Amidst these concerns, Islamist extremists entered Europe. This influx of Islamists contributed to a rise in gang violence and crime rates. Extremist elements exploited vulnerable communities, fostering the formation of criminal gangs. These gangs, often rooted in marginalized immigrant neighborhoods, engaged in illicit activities such as drug trafficking and violence, exacerbating social tensions in Sweden.
Ulf Kristersson is now taking a bold stance to address Islamist extremism and gang violence in Sweden. He recently announced his intention to deploy the military against criminal gangs, demonstrating his commitment to tackling the root causes of violence. By advocating for military involvement, Kristersson aims to swiftly deal with these gangs, ensuring their removal from Swedish soil. This proactive strategy reflects his determination to protect affected communities and restore security.
Watch More: