In 2021, Justin Trudeau, during his third term as Canada's leader, emphasized the Indo-Pacific region as a top priority. According to his statement, Canada's foreign ministry, Global Affairs Canada, began developing a comprehensive policy for the Indo-Pacific. Melanie Joly, Canada's new foreign minister, outlined the initiative as an integrated approach to diversify Canada's engagement in the region. 
This strategy aimed to enhance Canada's diplomatic, economic, security, and sustainable development partnerships in the Indo-Pacific. Fast forward to 2023, Trudeau Indo-Pacific charm offensive is yet to commence. 
Surprisingly, relations with India, a crucial gateway for Indo-Pacific dominance, have deteriorated. Despite the initial announcement, concrete actions toward the Indo-Pacific agenda seem to be on hold, raising questions about the realization of Trudeau's proclaimed priority.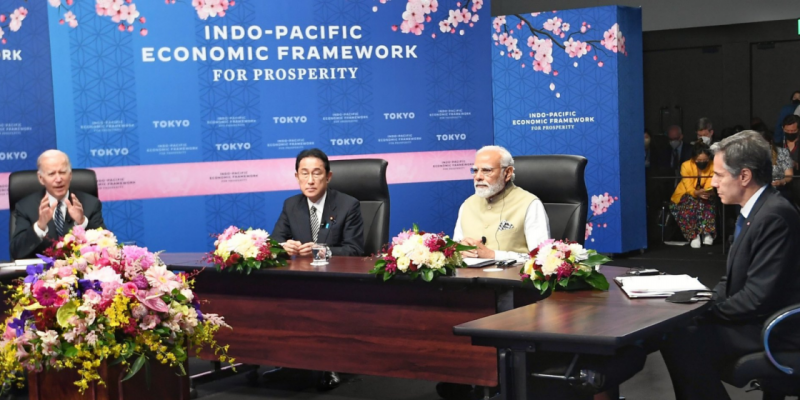 Justin Trudeau accused India of an extrajudicial killing involving a Canadian citizen, Hardeep Singh Nijjar, despite Nijjar being a confirmed Khalistan Terrorist. This allegation stirred global controversy, drawing criticism due to Trudeau's inability to substantiate his claims. However, this accusation triggered severe consequences for Canada.
India's Strong Lashback: Canada's The Culprit 
Firstly, diplomatic ties with India were severed, leading to the expulsion of Canadian diplomats from the country. Remarkably, India publicly named Canada for the first time, accusing it of harboring terrorists. India's external affairs minister S. Jaishankar likened the situation to the Hindi phrase "ulta chor kotwal ko daante," akin to "the pot calling the kettle black."
 "If anybody has a complaint, we have a complaint about Canada. What I said earlier, the space they are giving to Khalistanis and violent extremists," he said.
India's accusations against Canada resonate beyond national borders. While India's concerns have drawn global attention, it is not alone in accusing Canada of harboring terrorists. 
Read More: Trudeau's Private yet Public Surrender against India
India plus two: Indo-Pacific Accuses Trudeau 
Bangladesh has voiced its grievances, focusing on Canada's refusal to extradite Noor Chowdhury, the confessed assassin of Bangladesh's founding father, Sheikh Mujibur Rahman. Bangladesh's Foreign Minister, AK Abdul Momen, boldly asserted that Canada must not become a sanctuary for murderers, leaving victims' families to suffer. 
Despite the gravity of this statement, it was somewhat overlooked amidst the growing India-Canada divide. Sri Lanka, too, has added its voice to the chorus of discontent. Sri Lankan Foreign Minister Ali Sabry accused Canada of providing safe haven to terrorists without substantiated evidence. He highlighted Canada's tendency to make outrageous allegations, drawing parallels to unsupported claims against Sri Lanka. 
Outgoing Sri Lankan High Commissioner to India, Milinda Moragoda, unequivocally supported India, emphasizing Sri Lanka's zero tolerance for terrorism based on their extensive history of combating various forms of terrorism.
These international voices collectively underscore a consistent theme: skepticism regarding Canada's extradition policies and alleged tolerance for individuals involved in grave crimes. The accusations depict a complex international scenario, where the liberal party is actually making things worrisome for the Indo-pacific region. 
Read More: Trudeau Cuts the Military as Wokeism is More Important
Trudeau's contradictory actions raise eyebrows; while he emphasizes Indo-Pacific as a priority, he seemingly nurtures its enemies. This double standard is concerning, portraying Trudeau as a potentially dangerous figure in international relations. His actions, paradoxical to his stated priorities, invite scrutiny and questions about his true intentions.
Watch More: