After the G20 summit in India, tensions between India and Canada have escalated dramatically. Canada's inquiry about the killing of Nijjar led to accusations from India, alleging Canada of harbouring Khalistan terrorists. While Canada anticipated global condemnation, it found itself isolated. Facing economic losses, Canada has now shifted to private talks with India.
Behind Closed Doors: Canada's Quiet Diplomacy with India
In a shocking move, Canada's PM Justin Trudeau has emphasized a desire to de-escalate the situation with India. Canadian foreign minister Melanie Joly said Ottawa believes in having a "strong diplomatic footprint" in India.
In a move towards defusing tension with India, Canada Prime Minister Justin Trudeau has said Ottawa is not looking to "escalate". His government has indicated they are holding "private" talks to maintain a "strong diplomatic footprint" in India.
CBC news reported that to a question on whether Canada will ask India to remove diplomats, he said, "We're not looking to escalate, as I've said, we're going to be doing the work that matters in continuing to have constructive relations with India through this extremely difficult time." 
Read More: Trudeau is deliberately killing the prosperity of Prairies
Speaking on the same issue, Canadian foreign minister Melanie Joly said, "We are in contact with the government of India. We take Canadian diplomats' safety very seriously, and we will continue to engage privately because we think that diplomatic conversations are best when they remain private," she was quoted as saying by Global News.
India-Canada ties fray in dispute over Khalistan
This comes after Canada's PM Justin Trudeau ignited a diplomatic standoff by implicating the Indian government in the killing of Khalistani terrorist Hardeep Singh Nijjar. Accusing India of interference on Canadian soil, Trudeau's claims were met with Indian skepticism. India's response included the expulsion of Canadian diplomats and issuing travel advisories. This dispute escalated after Modi's expression of concerns about anti-India activities in Canada during the G20 summit. The situation led to strained ties.
Trudeau vs the Global leaders
Trudeau's bid to garner international support against India over the Nijjar case fell flat. Briefing UK, France, and US leaders, he faced a frosty response. The UK prioritized trade, while an ex-Pentagon official emphasized siding with India over Trudeau. This misstep has isolated Canada, jeopardizing its international standing. Trudeau's pursuit of moral leadership backfired, painting Canada as a 'global pariah.'
Here's a list of diplomatic and trade actions taken by the two nations so far:
Canada paused talks on a proposed trade treaty with India, an unexpected move that came about three months after both countries said they planned to seal an initial pact this year.
Canada postponed a trade mission to India planned for October led by Trade Minister Mary Ng. Both countries expelled a diplomat in tit-for-tat moves, with India throwing out Canada's top intelligence officer in the country while Canada expelled his Indian counterpart.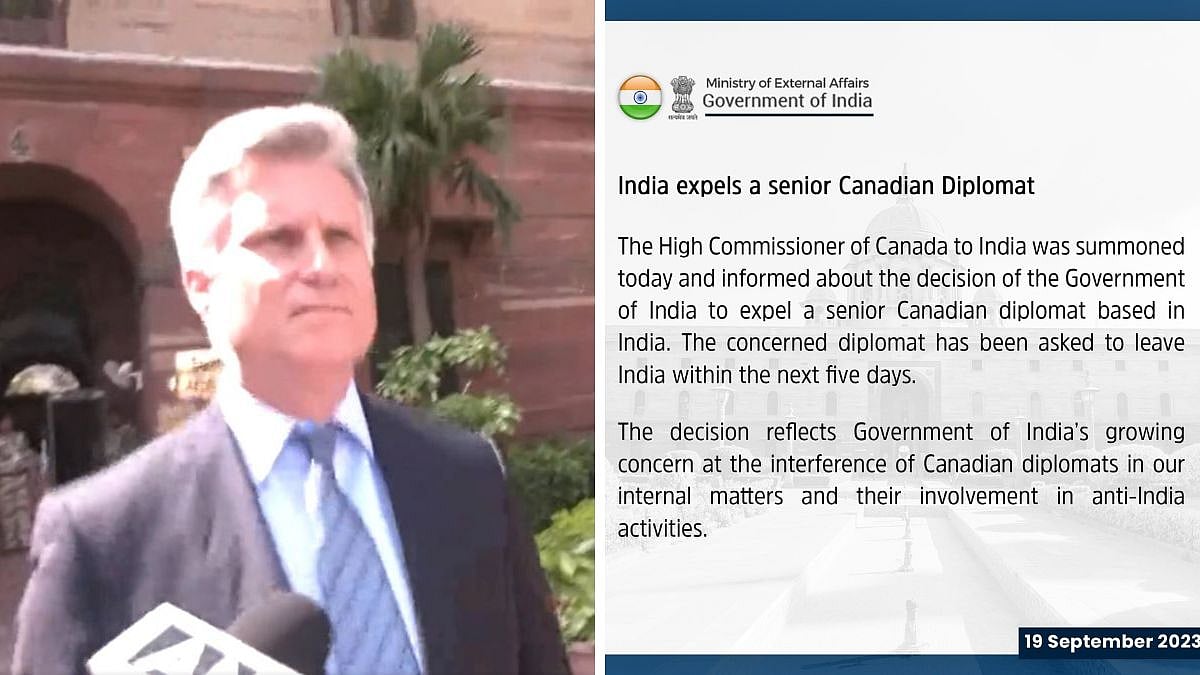 Read More: India Threw Out Canadian Diplomat in Flat 4 Mins
India urged its citizens in Canada to exercise caution in a statement on Sept. 20. India's JSW Steel Ltd (JSTL.NS) is slowing down the process to buy a stake in the steelmaking coal unit of Canada's Teck Resources (TECKb.TO).
India suspended issuing new visas for Canadians on Sept. 22 and asked Ottawa to reduce its diplomatic presence in India. Canadian lentil sales to India slowed after tensions rose between the two nations, industry sources in both countries told Reuters. 
India's steel secretary told the media on Sept. 28 that Indian exports to Canada were marginal and have not been affected by the diplomatic row.
Accumulating the Loss: Canada stands at a Billion dollar loss
In 2022, the India-Canada export volume stood at approximately $8 billion, with Canada earning $4 billion in revenue. However, as the rift escalated, this export volume suffered.
Key Indian exports to Canada include medicines, garments, diamonds, chemicals, gems and jewelry, seafood, engineering goods, rice, and electrical equipment. Certain sectors, notably engineering goods such as iron and steel products and machinery, could be particularly impacted.
Ajay Sahai, Director-General and Chief Executive Officer of the Federation of Indian Export Organizations (FIEO), had expressed apprehension, stating that while the impact on trade may not be immediate, it could be significant, emphasizing the importance of addressing this national concern.
On the investment front, Canadian pension funds have poured over $45 billion into India, making it the fourth-largest recipient of Canadian foreign direct investment (FDI) globally by the end of 2022. These investments span sectors like infrastructure, renewable energy, technology, and financial services. 
Notably, the Canada Pension Plan Investment Board (CPPIB) invested $1.1 billion in India Grid Trust in 2022, and the Ontario Teachers' Pension Plan (OTPP) invested $370 million in Greenko Energy in 2021. The potential rejection or revocation of these investments by India could result in significant losses, including sunk costs, asset depreciation, and foregone future revenue.
With escalating tensions between the two nations, the outcomes for trade, investment, and people-to-people connections hung in uncertainty. Trudeau has now come to the realisation of the repercussions of severing ties with India. Which is why Trudeau now wants diplomatic talks with India but in "private".
Watch More: