Canadian Diplomat India: Almost every fight picked by Canadian Prime Minister Justin Trudeau concludes with an embarrassing note for Canada. The recent episode involving India i.e. Bharat serves as a primal example of this fact.
Trudeau, seemingly caught up in his woke and Khalistan sympathizer liberal persona, appeared to believe that he could strategically encircle and shame India on a global platform by leveling unfounded accusations and making public displays of concern.
However, reality has shown a different narrative. Despite the initial rhetoric, Trudeau's attempts to tarnish India's reputation have not borne fruit. The global stage has not witnessed the intended spectacle, leaving Trudeau in a somewhat tight position.
The Sweet Insult: India Humiliates Canada
Over the last 72 hours, the Canadian government's reputation has taken a significant hit, not only within India but also within the Five Eyes alliance. The ongoing Canada-India standoff has escalated to the point where visa applications are being terminated, and the possibility of embassy closures looms on the horizon.
Diplomatically, India has effectively dismantled Prime Minister Justin Trudeau and the liberal government over their handling of the Harjeet Singh Nijjar issue, a known Khalistan terrorist.
Curiously, the world remains largely silent on this matter, with even the US, UK, and Australia refraining from taking a stance. It appears that, on the global stage, the Trudeau administration is met with indifference, if not outright apathy.
So yes, India has indeed isolated Justin Trudeau's government on the global stage, but there's one more incident that might please you Dear Canadians. Reportedly, Trudeau's known diplomat was swiftly expelled from India without the opportunity to explain, in a mere four minutes.
On September 19th, India responded swiftly to the escalating diplomatic tensions with Canada. This move followed Canada's expulsion of an Indian diplomat, a reaction to Canadian Prime Minister Justin Trudeau's allegations of a possible link between the Indian government and the assassination of Khalistani terrorist Hardeep Singh Nijjar.
The Ministry of External Affairs (MEA) summoned Canadian High Commissioner Cameron MacKay to convey India's decision to expel a senior Canadian diplomat stationed in India. Intriguingly, the most noteworthy aspect of this event is the timeline. High Commissioner MacKay entered and exited the MEA office within a span of just four minutes, from 10:26 a.m. to 10:30 a.m.
This timing raises questions, considering the considerable size of South Block's corridors, which typically require at least 3-5 minutes more time for traversing.
Read More: The Drug Bust of Justin Trudeau in India which Ottawa is probably hiding
What Happened: Was Canadian Diplomat kicked out?
There seem to be two plausible scenarios at play here. Either Mr. MacKay arrived at the office and was promptly handed a "get out of India" card, or the official memo was so technologically advanced that it made its way to his phone before he could even enter the office.
Judging by his rather disgruntled countenance as he stormed back to his vehicle, it's tempting to lean toward the former. The media's inquisitive attempts to extract information from him were met with stony silence, followed by the satisfyingly dramatic slamming of his official car's doors.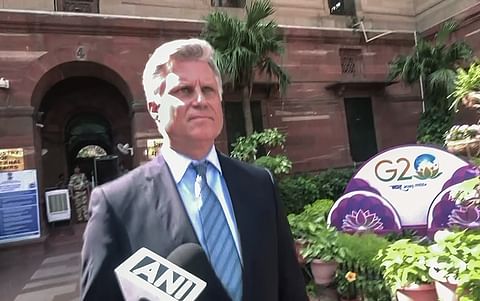 Incidentally, the car stayed there for a minute or two, perhaps contemplating its own role in this diplomatic theater.
If one remembers, we said weeks ago, that India started Trudeau's downfall and India will end it. Guess it is happening. The era of Justin Trudeau is nearing its end and it's going to be gloriously beautiful.
Read More: Trudeau's Attempt to Make India a 'Pariah' was a Tragic Flop
India has undoubtedly delivered a hefty dose of humiliation to Trudeau. The Canadian government, led by Justin Trudeau, presumably believed that India would cower and adopt a defensive stance.
However, that assumption appears to be grossly misguided. Instead, it is Trudeau and his associates who are finding themselves on the receiving end of a resounding thrashing.
Watch More: