In recent events, a contrast between Joe Biden's public diplomacy and his underlying stance has come to light. While the administration outwardly condemns conflicts like Gaza invasion of Israel, behind the scenes, a different reality unfolds. Despite the public pro-Israel stance, the administration appears to be sympathetic to Hamas raising concerns about the transparency and coherence of Biden's diplomatic approach.
Israel sought to wipe off Gaza
The ongoing conflict between Israel and Hamas has escalated dramatically. Israeli leaders have expressed an unwavering determination to eradicate Hamas. Prime Minister Benjamin Netanyahu's strong words, "Every Hamas member is a dead man," reflect the gravity of the situation.
Operation Swords of Iron, Israel's military initiative, represents an unprecedented effort, signaling a significant departure from past engagements in Gaza. The goal of Operation Swords of Iron appears far more ambitious than anything the military has planned in Gaza before and could last months. 
A ground invasion of the Gaza Strip involves house-to-house urban fighting and carries immense risks to the civilian population. Air strikes have already claimed 3,000 lives, according to Gaza officials, and more than a million people have fled their homes.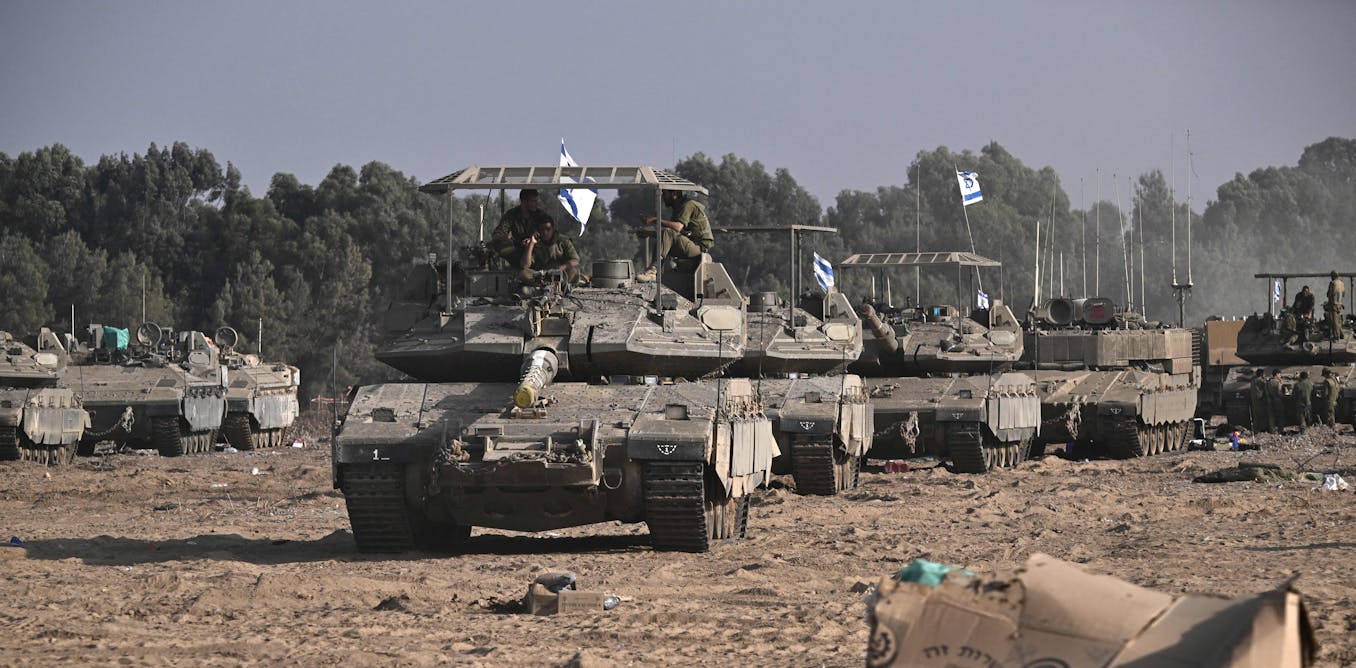 US Urges Israel's Pause in Gaza Invasion
While Israel remained steadfast in its resolve to counter Hamas, a significant diplomatic push from the United States emerged, seemingly at odds with its public stance. A pivotal moment was revealed through a readout of President Biden's phone call with Prime Minister Netanyahu. The U.S. government urged Israel to postpone its ground invasion of Gaza.
Read More: No Place for Hamas Helpers! Netanyahu Cancels Zelensky
Biden's administration pressed Israel to delay its military action "to allow for the release of more hostages held by Hamas and for aid to reach Gaza." The President confirmed his engagement with Israeli authorities, indicating a diplomatic push to influence the situation. 
The complexity deepened as humanitarian aid entered Gaza through the Rafah checkpoint on the Egyptian border. This aid, juxtaposed with Biden's call for a delay in Israel's invasion, raised questions about the U.S.'s dual role in the conflict. On one hand, the U.S. publicly expressed opposition to the invasion, and on the other, it facilitated aid and negotiated with parties involved.
The apparent contradictions in U.S. policy have left observers puzzled, highlighting the intricate dynamics at play in international diplomacy. 
US threatened Israel
Moreover, in recent discussions with Israeli Prime Minister Benjamin Netanyahu, President Joe Biden stressed the imperative for Israel to adhere to the laws of war in its conflict with Hamas. Biden conveyed a clear message, stating that "Israel must operate by the laws of war," emphasizing the need to protect civilians during combat. He also advocated for a two-state solution in the Israel-Hamas conflict, recognizing Israel's right to self-defense while acknowledging the fundamental humanity of innocent Palestinians aspiring for peace. 
During his visit to Tel Aviv, Biden reiterated unwavering support for Israel. Simultaneously, he successfully urged Prime Minister Netanyahu and his war cabinet to permit the entry of humanitarian aid into Gaza. 
Israel vowed to end Hamas
The Israeli-Palestinian conflict has escalated notably, with Prime Minister Benjamin Netanyahu asserting a resolute stance against Hamas. His declaration, "Hamas thought we would break; we will break Hamas," emphasizes Israel's determination to quash the Palestinian terror group. Israel has vowed to eliminate Hamas, marking a decisive shift in their approach. This determination translated into action as Israel successfully targeted and killed two top Hamas commanders, Ayman Nofal and Billal Al Kedra.
Read More: 2 Leaders Officially Dead! Hamas Insider Spills the Truth About Israel's Triumph in Gaza
Clearly, Gaza's fate hung in the balance, teetering on the edge of history's oblivion. But enter Biden, armed not with peace but with a surprising pro-Gaza twist. Rather than letting history write Gaza's final chapter, Biden's intervention, fueled by mysterious motives, kept the conflict alive and kicking. His unexpected funding moves, supporting both sides of the war, left many scratching their heads. Was it diplomacy, strategy, or a bit of both? Whatever the case, Gaza's tale continues, leaving us wondering: What's the real endgame here?
Watch More: