It is well-documented that Iran holds hostile views towards Jews and Israel. There is clear evidence of Iran's support for Hamas in its ongoing conflict with Israel. Tehran has issued a concerning threat, declaring its intention to destroy Haifa Port. Despite this threat, Be very sure that Iran will never carry out such an attack on Haifa Port. 
A senior Iranian Revolutionary Guard Corps (IRGC) official recently issued a bold threat, declaring that Tehran would strike Haifa, Israel's port, if Israel were to invade the besieged Gaza Strip. Brigadier General Ali Fadavi, the Deputy Commander-in-Chief of the IRGC, emphasized the strength of the Palestinian resistance in Gaza and warned of missile attacks towards Haifa in response to any Israeli aggression. 
The IRGC had previously stated that if Israel's actions in Gaza persisted, they would face further consequences, asserting that resistance forces would continue their actions until what they called the "cancerous tumor" disappeared from the world map.
In addition, General Fadavi of IRGC stressed that any invasion of Palestinian territories by what he referred to as the "evil people of the world" would result in a decisive response from the resistance front. Notably, he reiterated Iran's stance of not supplying weapons and missiles to Palestinian resistance groups, as they produce their own armaments. 
Iran's Haifa Threat: The Oath to Obliterate the Port 
Well, Iran is particularly concerned about Israel's counterattack on the Gaza Strip. Iranian Supreme Leader Ali Khamenei condemned Israel, accusing it of committing genocide in the Gaza Strip before the world's eyes. Now, to extend support for their Palestinian brothers in the name of the Muslim Brotherhood, Iran has vowed to destroy Haifa Port. 
The significance of Haifa Port in the ongoing tensions with Iran is apparent. Haifa Port stands as one of the most vital ports in the Middle East, strategically positioned on the Mediterranean Sea. It serves as Israel's gateway to global trade, linking the nation to Europe, Asia, and Africa. 
This location facilitates the import of essential resources, including energy, raw materials, and consumer goods, crucial for Israel's economy. Furthermore, Haifa is a crucial naval base for the Israeli Defense Forces, offering secure docking for warships and support vessels.
The threat to Haifa Port carries profound implications. An attack or destruction of this port would disrupt a major trade route, leading to substantial economic consequences. The IDF would lose a critical base, impacting national security. Given Israel's already strained economy due to ongoing conflicts, such an event could further exacerbate the challenges the nation faces.
Read More: Blinken Plays the Israeli Gamble to Derail the Saudi-Iran Nexus
All Words, No Action: Why Iran Won't Attack!

Iran's recent bold statements regarding Haifa Port may be perceived as a display of strength, but it is likely to amount to a bluff. The truth is, that Iran is unlikely to attack Haifa Port due to the severe and unmanageable consequences such an action would entail. 
The destruction of Haifa Port would not only have significant political ramifications but could also reshape international alliances, leading to global geopolitical shifts. An attack on Haifa would undeniably mark a declaration of war against Israel, prompting strong retaliation not just from Israel but also from powerful nations like the US, Saudi Arabia, India, and several European powers.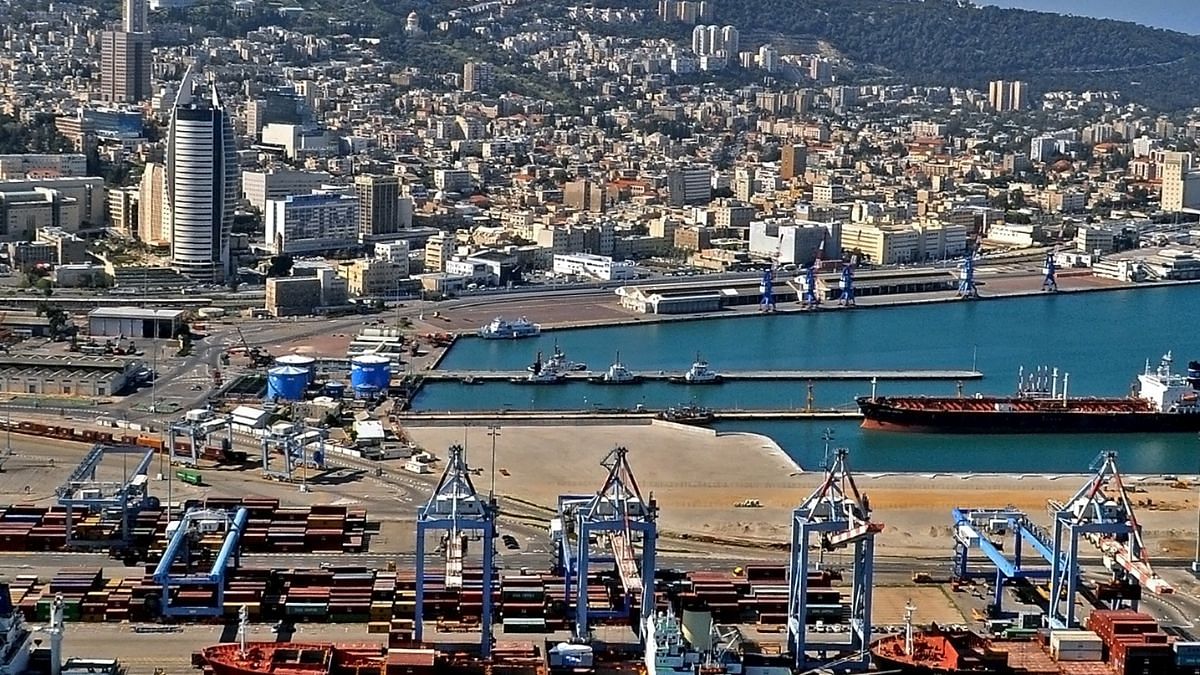 The importance of Haifa Port on the global stage cannot be overstated. Firstly, it serves as a critical point in the highly anticipated IMEC corridor for transferring goods to the Mediterranean Sea, impacting international trade routes significantly. 
Secondly, such an attack could isolate Iran globally once again. After a five-year hiatus, Iran has managed to reintegrate its oil barrels into the energy market, but this move could intensify scrutiny and sanctions, leaving Tehran in a far more economically precarious position than anticipated. This reality makes the likelihood of Iran attacking Haifa Port extremely low, considering the dire consequences it would bring.
And hence, the prospect of Iran attacking Haifa Port appears highly improbable, given the devastating consequences it would entail. A war following economic challenges would likely lead to the nation's obliteration, a reality Tehran is likely aware of. 
Read More: Israel attacked Iran to teach a lesson to the US
The best that Iran can do is continue the proxy war via the Gaza Strip. Still, if Iran contemplates such a move, it raises questions about potential backing or support. Could the US be involved, or is Iran seeking support from China or Russia? Time will reveal the truth, but presently, it appears more like a bluff than a credible threat, leaving room for speculation about the real motivations behind Iran's statements.
Watch More: