Kanishka Air: Are we on the brink of a chilling déjà vu? What secrets hide behind the Trudeau-Khalistani nexus? As we dive into the echoes of history, a question arises: Could November 19th set the stage for a haunting reprise?
Here's a story that transcends generations, a tale of two Trudeau's mollycoddling Khalistanis. It all started with a G20 summit that recently took place in India.  When Prime Minister Narendra Modi confronted Canadian PM Justin Trudeau about the ongoing anti-India activities of Khalistanis in Canada, a showdown between two leaders unfolded. But what's brewing beneath the surface, and could it lead to history repeating itself? Let's connect the dots here.
Trudeau's Khalistani Dilemma
Trudeau's meeting with Indian PM Modi took a concerning turn when he chose to defend Khalistani activities in Canada. Despite India's strong concerns about Khalistani elements promoting secessionism and violence, Trudeau's refusal to acknowledge the problem has left Canada vulnerable. The recent threats by designated terrorist Gurpatwant Singh Pannun, urging Sikhs not to fly on November 19th, have only intensified the alarm.
Read More: Canada is officially Khalistan, India has shown it to the World
Terror Instigator: SFJ chief Pannun
Designated terrorist Gurpatwant Singh Pannun, founder of the banned Sikhs for Justice (SFJ), emerges as a significant figure in this story. In a recent video, he issues threats to disrupt Air India flights on November 19th. 
He claimed that Air India would not be allowed to operate on November 19.
Pannun claimed that Delhi's Indira Gandhi International (IGI) Airport would remain shut on November 19 and that its name would be changed. He highlighted that this is the same day on which the final match of the ongoing Cricket World Cup will take place.
Not to mention, this is not the first time that SFJ chief Pannun has issued a threat. In September, he urged Hindu-Canadians to leave Canada amid a diplomatic row between India and Canada over the killing of Khalistani terrorist Hardeep Singh Nijjar.
Gurpatwant Singh Pannun, in a video that circulated on social media, said pro-Khalistan Sikhs have consistently shown loyalty to Canada. He then went on to threaten Indo-Canadian Hindus, urging them to leave the country.
Following the spread of a hateful speech by Gurpatwant Singh Pannun, Hindu Forum Canada's Lawyers asked the Canadian Immigration Minister to ban Pannun's entry into Canadian territory. But, not much to our surprise, no action against him has ever been taken by Trudeau's govt.
Shouldn't the Justin Trudeau govt. Arrest Pannun for his threats? Even if nothing untoward happens this terror instigating man must not be allowed to speak anymore. 
A Grim Reminder from the Past
Owing to Junior Trudeau's incompetence in tackling terrorism much like his father here we are left with a grim reminder from the past. The Kanishka Air Bombing of 1985. That event in history still haunts the present as Trudeau's actions eerily parallel those of his father. 
When Justin Trudeau defends Khalistanis, he is just emulating his father, who was Canada's PM twice, from 1968 to 1979 and then from 1980 to 1984. The deadly bombing of an Air India flight in 1985 is back in the news now.
How Trudeau's father protected the Kanishka bombing mastermind?
In 1982, when India asked Canada for extradition of a Khalistani terrorist wanted in India for killing of police officers, Canada, under Pierre Trudeau, Justin Trudeau's father, made a ludicrous excuse and refused.
Read More: The Rise of Khalistan: A Threat to Canada's White Population
Terry Milewski, a reputed Canadian journalist who had worked as a senior correspondent with CBC News and has reported extensively on Khalistani movement for decades, narrated in one of his books that: "It was Pierre Trudeau's government which refused the 1982 Indian request to extradite Talwinder Parmar to India for murder, on the quaint grounds that India was insufficiently deferential to the Queen."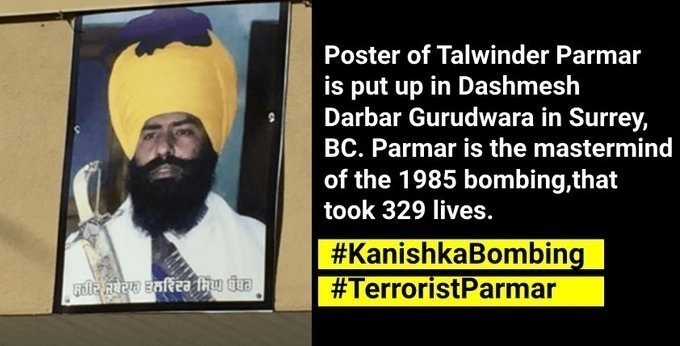 Talwinder Parmar, who was the head of Khalistani terror organisation Babbar Khalsa, would go on to bomb an Air India plane, called Kanishka, in 1985, which blew up midair off the coast of Ireland, killing all 329 people aboard.
In hindsight, many would blame Pierre Trudeau for the Kanishka bombing, the biggest aviation terror strike after the 9/11 attack, because the story got murkier after Parmar was saved by Trudeau from Indian authorities. Parmar started preparing for the bombing. 
Milewski wrote in a CBC report, "Parmar told his followers in 1984 that "Indian planes will fall from the sky." That same year, his number 2, Ajaib Singh Bagri of Kamloops, B.C., cut the air with his hand as he made this pledge to the founding convention of the World Sikh Organization: "Until we kill 50,000 Hindus, we will not rest!"
While Parmar and his accomplices made the bomb and tested it, Canadian authorities were aware of the activities through informers but nothing was done to counter the attack. Moreover, shockingly later it was revealed that some key evidence was even lost or destroyed by Canadian authorities. 
Certainly, Justin's father, Pierre Trudeau, his administration, his police forces, his spy agencies, were to blame for grave negligence and botching up the investigation. Cut to today: Justin Trudeau seems to be repeating the same mistake as that of his father.
The compulsion of votes?
Now, let's get it clear, Trudeau's reluctance to address the Khalistani threat stems from vote bank politics, where he prioritizes political alliances over national security. His alliance partner, Jagmeet Singh, openly sympathizes with Khalistani sentiments, tying Trudeau's hands when it comes to taking decisive action. The consequences of this political gamble could be dire. 
Read More: India is possibly eliminating Khalistan on Canadian soil
Canada has been downplaying the Khalistani threat even when alot is happening in the country.
As November 19th approaches, the specter of the Kanishka Air Bombing looms large over Canada. Trudeau's refusal to confront the Khalistani menace and his eerie parallels with his father's mistakes raise unsettling questions. Will Canada learn from its past, or are we doomed to witness history repeat itself? The answers lie in the actions taken in the present, as the nation stands at a critical juncture, grappling with the shadows of its past.
Watch More: