Donald Trump has revived his criticism of Organization of the Petroleum Exporting Countries (OPEC) at rising crude oil prices in international market. He also reminded Middle Eastern countries that US protects them for very less amount of money. Majority of OPEC members are Middle Eastern countries therefore if these countries scale up production, oil prices could go down. "We protect the countries of the Middle East, they would not be safe for very long without us, and yet they continue to push for higher and higher oil prices! We will remember. The OPEC monopoly must get prices down now!" tweeted Trump. Oil prices have gone down after Trump's tweet. On many previous occasions too oil prices changed after his tweets.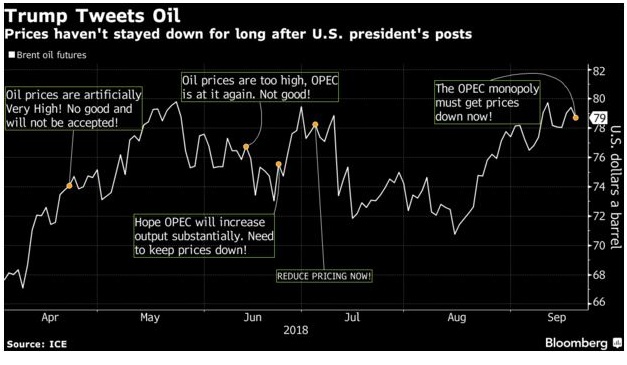 Oil prices are once again skyrocketing since last few months after going to all time low in 2015 to 2017. One of the reasons behind rising prices is US sanctions on Iran. Countries like South Korea has already reduced their oil imports from Iran to zero, the reduction in supply has led to rise of crude oil prices in international market. Oil imports from Venezuela had also reduced substantially due to political instability in the country. OPEC members have reduced production to create supply shortage which has sent the price northwards. The current members of OPEC include  Algeria, Angola, Ecuador, Equatorial Guinea, Gabon, Iran, Iraq, Kuwait, Libya, Nigeria, Qatar, the Republic of the Congo, Saudi Arabia (the de facto leader), United Arab Emirates, and Venezuela. Most of these countries are located in Middle East, North Africa and northernmost parts of South America. The member countries of OPEC coordinate to decide how much oil they should produce to maintain high prices in international market. The conflict between Saudi Arabia and Iran has destabilized the coordination which used to be decided by Saudi diktat. Now Trump has told Saudi Arabia to raise output to lower the prices because United States is helping them in struggle against Iran. 
The rise in crude oil prices has become headache for Trump just like they had become problem for PM Modi. Republican Party will be going for Congressional elections in November this year and if oil prices remain high Trump's edge on strong economic growth and sound jobs data on which his party could ask for votes will weaken. "OPEC and its allies are unlikely to agree to an official increase in crude output when they meet in Algeria this weekend, although pressure is mounting on top producers to prevent a spike in oil prices ahead of new U.S. sanctions on Iran," said OPEC sources. The fresh sanctions on Iran will come in effect from November and Saudi Arabia is now under pressure to compensate for reduced supply from Iran. If Saudi Arabia does not increases output Trump will criticize them for non cooperation on Iran issue because Saudi Arabia was strong proponent of Trump's decision to pull out of a 2015 agreement on Iran's nuclear program.
 OPEC 'mafia' controls oil prices by controlling output, whenever oil prices go down in international market, they go for output cut. Countries are exploring options to counter 'OPEC' hegemony. Indian union minister of Petroleum and Natural Gas has proposed "oil buyer's club" with China, Japan and other major oil importing countries in Asia to counter the oil producers club (OPEC). The OPEC member countries account for an estimated 44 percent of global oil production and 73 percent of the world's "proven" oil reserves, which gives OPEC a major leverage on global oil prices. Thus by creating a counter-alliance of oil importing nations, these countries could pressure the OPEC to maintain a standard supply and negotiate the petroleum price.