In coming days, Northern Sea Route could play an important role in world trade. Basically it seeks to replace the role played by Suez Canal route. Russian president has offered India access to Northern Sea route and increased supplies of oil and natural gas including joint development of gas fields. "…the Prime Minister and I discussed this earlier today; we welcome our Indian partners to join the work in the Arctic as well. This is a very promising, long-term and very serious project that looks decades ahead, one with good investment and good return. As the climate continues to change — in some places, this is good, and elsewhere perhaps not so good —the Northern Sea Route offers growing opportunities," Putin said is his address in a business summit.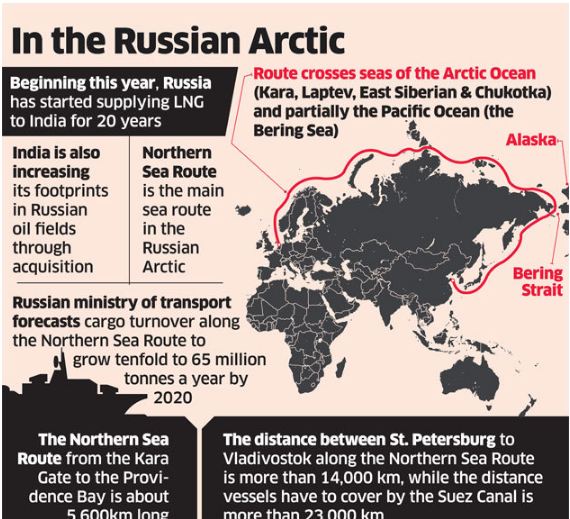 The energy need of New Delhi is growing exponentially. Currently India is third largest consumer of energy and large part of this is imported from other countries. Russia seeks to increase its share in total energy exports to India. "We are building a nuclear-powered fleet, eight nuclear-powered ships, which will be steadily put into operation. This work is in progress. This will ensure reliable LNG supplies to the Indian and world markets. So this could be very interesting joint work," he said. The Arctic reason has huge deposits of petroleum and mineral resources. Majority area of northern sea route falls under Russian territory and this area is also most explored territory of the route. The Russian territory of northern sea route has abundant deposits of nickel, copper, coal, gold, uranium, tungsten, and diamonds.
Russian government wants to explore and develop oil fields in the region with help of Indian companies. The two governments also expressed support to companies from both sides "for development of cooperation and exploring opportunities for joint development' of oil fields in Russian territory, including on the Arctic shelf, and projects on the shelf of the Pechora and Okhotsk Seas," read the statement issued after annual Indo-Russia summit on Friday. Putin recognized joint development of LNG as strategically important and assured "our country has been and will be a reliable energy supplier for the Indian economy."
The Northern sea route has the potential to become major trading route in the world. Due to climate change, ice sheets on North Pole is breaking down, this would provide easy passage to ships through this route. The transportation of goods and services through Suez Canal route takes more time and money, if the Northern sea route becomes operational, transportation cost will be down and therefore price of petroleum imports will also god down. "The Arctic has turned into an object of territorial, resource and military-strategic interest for a number of states," Russian Defense Minister Sergei Shoigu warned last month. Russia is betting high on northern sea route, it is not dependent on climate change to make the way for the rote. Many Russian companies are making efforts to clear the ice sheets on large scale to make the route accessible.
In September this year, a container ship crossed the arctic route for the first time in history due to melting of ice in summer season. If the route becomes accessible on large scale in future, it would be huge benefit for Russia as well as countries like India which enjoy warm relation with Russia. India is a major importer of Oil and Natural gas, the development of route could provide a way for cheap petroleum products to developing nation. India and Russia are discussing the matter and concrete efforts on the ground could be seen very soon.