The history of Indo-Korea ties goes back to thousands of years. In fact, according to the legends, the Korean history starts with the marriage of a local prince to the princess of Ayodhya. Korea has good engagement with post-independence India and the subcontinent played important role to end the Korean War. The Korean peninsula was divided in two parts after the Korean War (1950-53) and this resolution was sponsored by India, the ceasefire was declared on July, 1953. However, the relationship gradually stagnated in later decades because India tilted towards USSR while leadership of South Korea (officially Republic of Korea) moved towards America. The socialist regime prevalent in the country till 1990s hampered the relations with South Korea for decades.
The economic liberalization in India and dissolution of USSR in 1990s opened the door for India to have cordial relations with US allies. The 'look east policy' and 'act east policy' of India has led to warmer relationship with South Korea. "India-Republic of Korea (RoK) relations has made great strides in recent years and has become truly multidimensional, spurred by a significant convergence of interests, mutual goodwill and high level exchanges," said Ministry of External Affairs in a statement. Former Indian president visited South Korea to initiate the talks Comprehensive Economic Partnership Agreement (CEPA) which was operationalized in 2010. Civil Nuclear Energy Cooperation Agreement was signed by both countries in 2011 during then Indian president Pratibha Patil's visit to republic of Korea.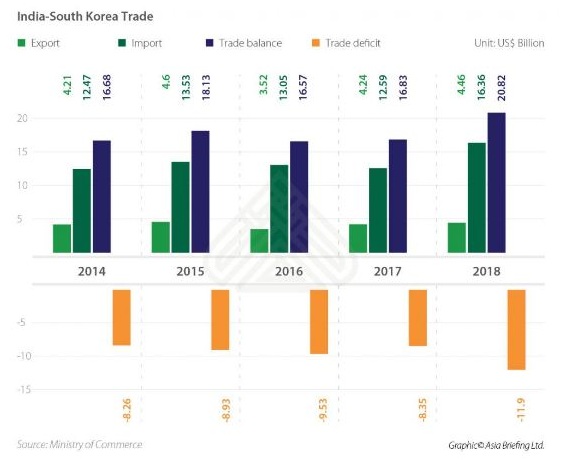 The next landmark in Indian relations with South Korea came during PM Modi's visit to South Korea in 2015 when the bilateral relationship was upgraded to 'special strategic partnership'. Indian trade relations with South Korea has grown exponentially in recent years and reached to 20 billion dollars in 2017. Since CEPA was signed, bilateral trade between both countries has grown with double digit every year. Major exports of India to South Korea are raw materials including mineral fuels, oil distillates (mainly naphtha), cereals, iron and steel. On the other hand, South Korean exports to India are automobile parts, telecommunication equipment, hot rolled iron products, petroleum refined products, base lubricating oils, nuclear reactors, mechanical appliances, electrical machinery and parts, and iron and steel products. Samsung, Hyundai, Posco, LG and Kia are the major South Korean companies operating in India.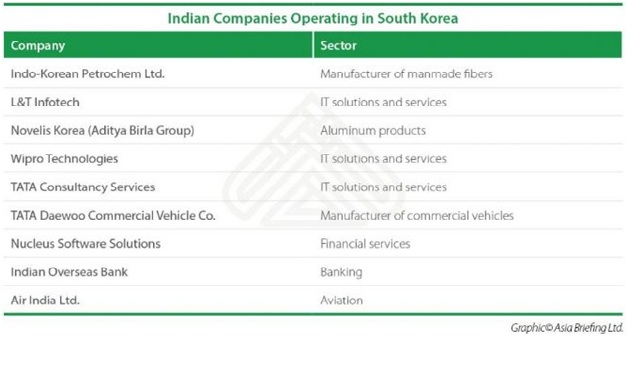 Samsung, the global electronics giant announced last year in June that it would invest Rs 4,915 crore to double its manufacturing capacity for smartphones and refrigerators at its Noida plant. Samsung has set up one of the world's largest mobile manufacturing facility at Sector 81 in Noida, Uttar Pradesh. Prime Minister Narendra Modi and South Korean President Moon Jae-in who was on a visit to the country inaugurated the new 35-acre Samsung Electronics facility. During his visit to India, president Moon set trade target of 50 billion dollars by 2030. "The core of the relationship (between India and South Korea) remains economic," said former Indian ambassador to South Korea Vishnu Prakash. The joint vision statement highlighted the fact that the two countries had "agreed to explore further possibilities to coordinate efforts in the defence and strategic spheres" and in this context South Korea and India "will enhance military exchanges, training and experience-sharing, and research and development, including innovative technologies for mutual benefit". Furthermore, "We also agreed to encourage our defense industries to intensify cooperation in this regard," the statement said.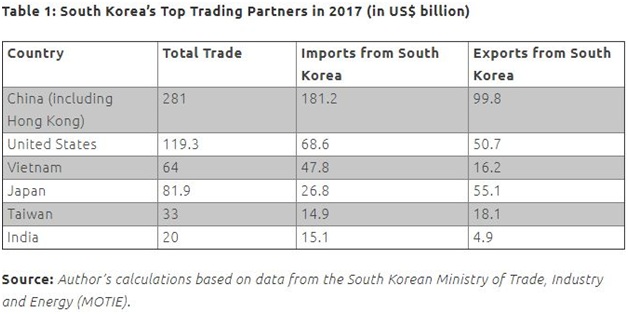 South Korea wants to enhance its relation with nations on the southern side of the globe through 'new southern policy' and India is one of the nations in focus. The countries which have close relations like Japan, South Korea, and Australia are moving their major business operations from China to India.