In the last few years, the overseas collection has become a critical, in fact, the most important, component of earning for Hollywood studios. In 1991 only 30 percent of Hollywood's total monetary collection came from overseas and today it accounts for 70 percent of the total collection. The figures have reversed and with this has come a major change in Hollywood's approach as it resorts to self-censoring to cater to large markets, specifically China.
China, the largest trading partner of the United States and its arch-enemy, has become the second-largest market for American movies. The revenue from China is rising exponentially and in 2020, the collection from China was estimated to surpass that of the United States. This had once already happened in the first quarter of 2018 when the total collection of Hollywood movies in China was greater than that in the US.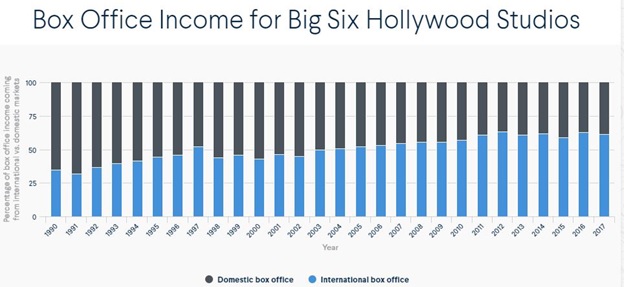 But as China gives market-access to Hollywood studios, the Chinese government has started using these culturally influential studios as a Chinese propaganda tool. The scriptwriters, directors, and production studios are forced to paint China and the Chinese government in good light otherwise the Chinese government would ban their movies.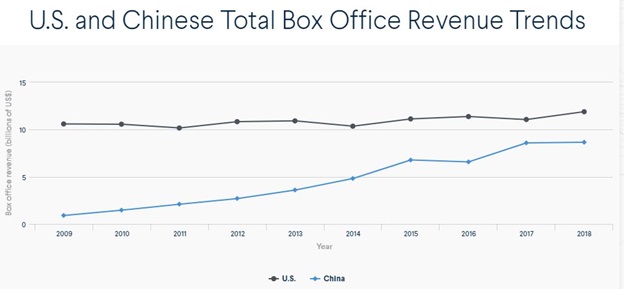 Stanley Rosen, a professor of political science at University of Southern California told CNBC, "You have to be very careful before you shoot a script — knowing how big the Chinese market is — to make sure that you get China right."
A report by Pen America talks about how Hollywood writers are changing scripts, deleting scenes and recasting actors only to gain access to the 1.4 billion strong Chinese market. The Chinese Communist Party officials would not tolerate any mention of Taiwan, or China's human rights abuses in Tibet, Hong Kong or Xinjiang. These issues are completely avoided by the self-proclaimed flag-bearers of liberalism and human-rights in Hollywood. This is why you'll never see a Hollywood movie on Tibetans losing their land, culture and religion, or on Uighur Muslims held captive in internment camps.
There are many examples of Hollywood prostrating before the Communist Party of China. Hollywood is guilty of deleting Taiwanese and Japanese flags from the movie Top Gun: Maverick. The movie 'Call me by your Name,' was banned for portraying homosexuality. Scenes from Men in Black 3 were also deleted. And the 2018 movie Christopher Robin was banned because its main character was Winnie the Pooh, who is often compared with Xi Jinping. The 2016 movie Doctor Strange had to change its character, 'The Ancient One' who was deemed a Tibetan. All scened about his cultural roots were also deleted.
Now American senator Ted Cruz is trying to make sure that Hollywood does not become the visual version of Global Times– the state-owned newspaper of China- and to ensure this, he has introduced the "Stopping censorship, restoring integrity, protecting talkies (SCRIPT)" Act in the US Senate.
Cruz said, "For too long, Hollywood has been complicit in China's censorship and propaganda in the name of bigger profits. The Script Act will serve as a wake-up call by forcing Hollywood studios to choose between the assistance they need from the American government and the dollars they want from China."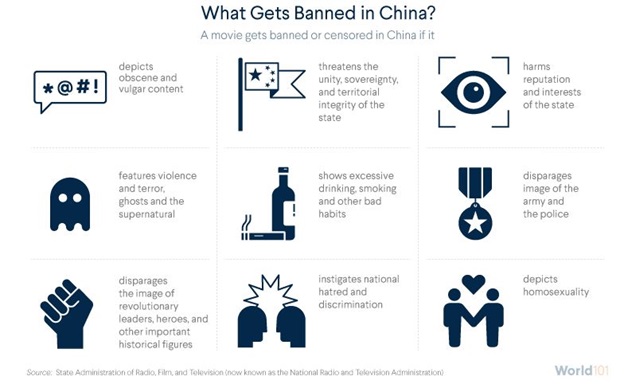 The Pentagon assists all major studios of the United States, as they make a large number of high-technology movies including those about wars. The proposed bill would bar the Pentagon from working with production houses that do not commit to not bow to the Chinese censor board. For the last few years, Hollywood studios have censored many scenes to which China objected and now the scriptwriters have become used to self-imposed censorship.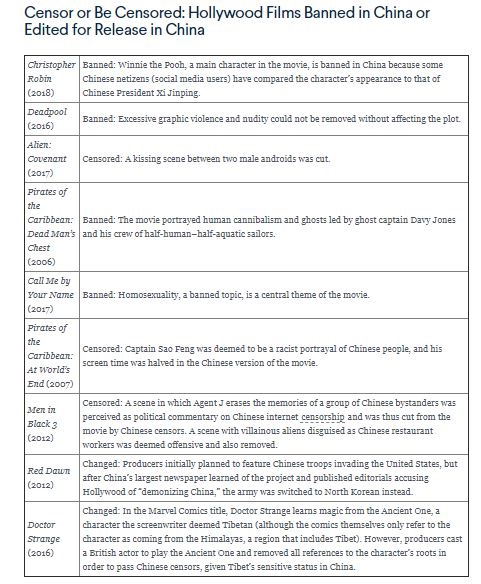 Last year, when Taiwanese and Japanese flags were removed from the movie "Top Gun: Maverick", Ted Cruz stood up to the occasion and questioned Hollywood studios. Ted Cruz said, "Top Gun is an American classic, and it's incredibly disappointing to see Hollywood elites appease the Chinese Communist Party.' He added, The Party uses China's economy to silence dissent against its brutal repression and to erode the sovereignty of American allies like Taiwan. Hollywood is afraid to stand up for free speech and is enabling the Party's campaign against Taiwan."
Now to stop Chinese propaganda by Hollywood studios, Ted Cruz has brought this bill. "The Chinese Communist Party spends billions and billions of dollars to mislead Americans about China and shape what our citizens see, hear and think," he said, and also added, "All of these activities are part of China's whole-of-state approach to amass more influence around the world through information warfare — and we need to put a stop to it."
The media houses and think tanks in the United States have become vocal against Hollywood's self-censorship and forced censorship. A few months ago, The Heritage Foundation, one of the most prominent American conservative think tanks, did a report on 'How China is taking control of Hollywood'.
Before the Hollywood studios become an extension of Global Times, the US government as well as the intellectual establishment- media and academic- have to rise against Chinese censorship. The liberal media establishment in Washington and New York, like NYT, WSJ, and Washington Post-which, for long, have run Chinese-funded sections on China, are already compromised. If timely action is not taken and the bill is not passed by the US Congress, Hollywood would become an unofficial spokesperson of Xi Jinping in the United States.