What do you do when you want to uproot an old democratic system governed by the rule of law? You buy out or trample upon the freedoms of media outlets- credible newspapers and op-ed magazines are the first ones to face the onslaught. Beijing is murdering democracy in Hong Kong right now, but the process had started several years ago- 2015 to be precise, when South China Morning Post (SCMP), a leading source of credible news on the Indo-Pacific region, started to turn bipolar- torn between the pro-CCP line and the pro-democracy one.
By the autumn of 2015, there were rumours that Jack Ma, the founder of Chinese tech giant Alibaba, would take over SCMP, a reputed Hong Kong daily founded in the year 1903 when the city was still a British colony. Ma is himself a CCP member, who has promised to happily hand over all his businesses to the party if it so desires.
Eventually, the takeover of the newspaper happened in December 2015. The CCP used a part of Alibaba's business to influence a leading opinion-maker and independent voice in Hong Kong. For more than a century, SCMP reported accurately on Southeast Asia and the Greater China Region broadly encompassing Macau, Hong Kong, China and Taiwan, apart from opinion pieces on global issues. But it now stands severely compromised.
But matters had to change with Alibaba, led by a CCP loyalist, taking over as the parent company of the newspaper. SCMP was earlier a voice that distinguished between democracy and autocracy. But now it puts out dozens of stories about China, many of which try to promote the Communist country's soft power. It has gone bipolar and borders on propaganda as opposed to independent journalism.
So, when Beijing brutally enforced the Law of the People's Republic of China on Safeguarding National Security in the Hong Kong Special Administrative Region, or the controversial National Security Law that criminalises all forms of dissent, SCMP started writing positive stories about why the National Security Law is actually good for Hong Kong.
One of the stories published by SCMP read, "With the national security law in place, Hong Kong's future is more promising than ever." While another story, though not as celebratory, stated, "Why national security law will not be the death of Hong Kong, just as the handover wasn't."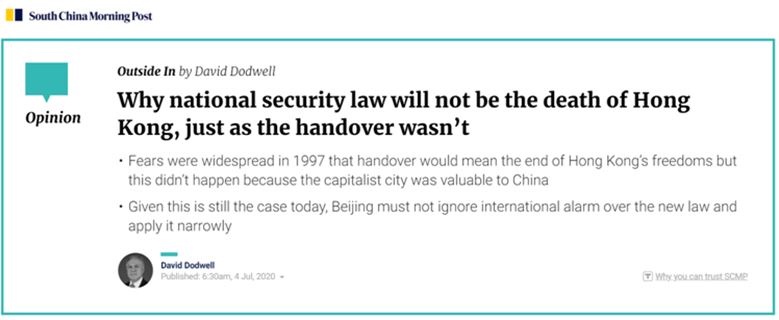 But then SCMP became tendentious in its editorial line well before the National Security Law came up. Even on matters concerning India, it has been publishing op-eds and reports that clearly toe Beijing's line.
Ajai Shukla, a Business Standard author who has been writing vitriolic, propaganda stories against India amidst the ongoing military stand-off between India and China, has also written for SCMP in the past. And the line he has taken is incredibly anti-India.
One of the pieces read "'Surgical Strikes': As Modi plays politics with Indian Army, soldiers pay with their lives."


Another article concerns India-China equations more closely. It is about the Doklam stand-off of 2017. It read, "Doklam a year on: Bhutan more worried about India than China". There are other pieces on military affairs, all of them casting aspersions on India.
SCMP keeps publishing editorials in between that are not favourable towards China. The media outlet hasn't really become a mouthpiece but it is not very critical of China either. Loopholes keep emerging. In 2016 itself, it was accused of extracting a forced media confession from an activist detained by Chinese authorities.
SCMP interviewed the activist, Zhao Wei, shortly after her reported release. However, Zhao's defence lawyer and husband maintained that they were unable to contact her. How did SCMP access her then? The English-language newspaper never disclosed that. However, it quoted Zhao as saying, "I have come to realise that I have taken the wrong path." She added, "I repent for what I did. I'm now a brand new person."
The Guardian quoted a former SCMP employee as saying, "It's just so sad. A newspaper that used to be one of the best in Asia is now becoming a mouthpiece." A former editor of the 117-year old newspaper also said, "This one does smell very, very fishy." A newsroom insider too revealed, "People are upset and angry."
The CCP is using SCMP's credibility to systematically push its own propaganda from within Hong Kong. Buying SCMP through Alibaba is quite a strategic investment because this is the main international voice from within the city. In fact, at the time of takeover Jack Ma had claimed that his generous initiative was aimed at ensuring SCMP's digital transition.
He also argued that the newspaper was "uniquely positioned to report on China with objectivity, depth and insight." But as Benjamin Ismail, Head of Asia-Pacific Desk, Reporters without Borders puts it, "In China, the term (objectivity) is anything but neutral. In Hong Kong it could soon mean objectivity that is "positive for all media owners with interests in China," of whom there are many."
However, the print edition of the SCMP that circulates in Hong Kong is becoming more and more of a pro-Beijing voice, while the digital version remains bipolar in order to save some of its credibility. Thus, before Hong Kong fell to an authoritarian Beijing, it was the South China Morning Post, an erstwhile independent newspaper of the city that fell prey to a Communist Beijing and got reduced into another CCP rag.