Project Veritas is a conservative independent media organisation. As the Biden administration struggles to monitor the situation at the border, Veritas recently released images allegedly taken inside a Texas migrant facility showing overcrowded conditions.
Project Veritas was formed by James O'Keefe in 2011. Today, Project Veritas investigates and exposes corruption, dishonesty, self-dealing, waste, fraud and other misconducts in both public and private institutions to achieve a more ethical and transparent society. 
Unsurprisingly, it's the Democrats who seem to be running for the hills. Throughout the 2020 presidential election, it became evidently clear that there is a big nexus at work to get a Democrat President into the White House. Now Project Veritas is exposing the nexus, one man and one policy at a time, and even though some of its ways are dubious, it is giving the Biden administration sleepless nights.
Read More: Federal judge decides that he has had enough of Democrats-Liberal media nexus and suggests reviewing NYT vs Sullivan ruling
The images, which were released on Monday, were reportedly taken "within the last few days" inside a 185,000 square foot detention centre in Donna, Texas, according to Project Veritas, which cited an unnamed source. The photos show people lying down in cramped cells, mostly shielded by a metallic-looking blanket.
According to Project Veritas, the source said, "These images were taken within the last few days. The facility is divided into eight pods, each with eight cells. There are an average of 3,000 people in detention here at any given time."
Migrants in the facility have also tested positive for COVID-19, according to Project Veritas. Project Veritas claimed that the source posed unconfirmed claims of sexual assaults and other events inside the facility.
"Depending on the space, they are separated by age or physical size," the source allegedly said. "Over the last few days, fifty of these inmates were COVID-positive. Multiple sexual assaults, recurrent assaults, and daily medical emergencies have occurred."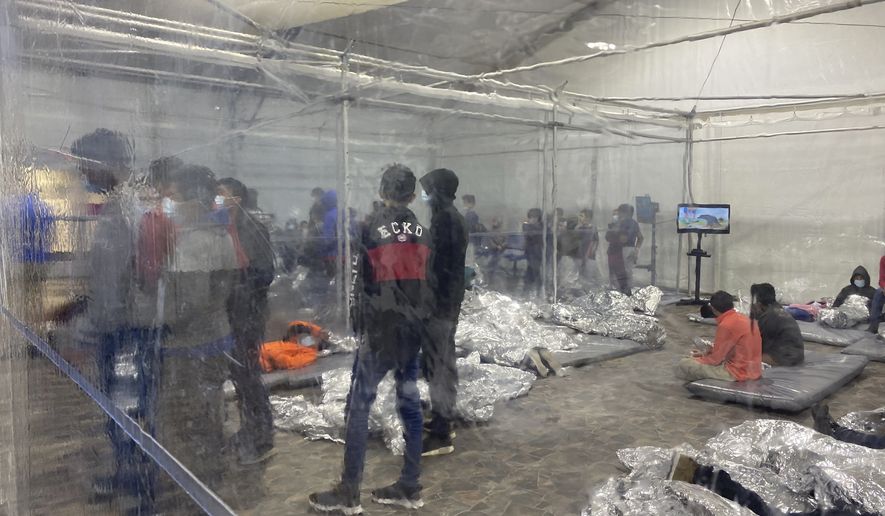 The investigation by Project Veritas comes just days after Axios published images purporting to show the same facility. Democratic Texas Rep Henry Cuellar sent Axios these images, which showed hundreds of children in plastic cages.
The Donna, Texas facility is a temporary Customs and Border Protection overflow building (CBP). According to previous news, President Joe Biden's administration is dealing with an influx of unaccompanied minors attempting to cross the border. The Biden administration has barred journalists from entering the buildings. Nonetheless, Secretary of Homeland Security Alejandro Mayorkas recently refuted claims of a media "gag order" at the southern border.
For its investigative journalism, Project Veritas has been called vile names and has been increasingly identified as an extremist right-wing media. While Veritas does has a right-wing influence, it exposes the wrongdoings rather than provide coverage of things that do not exist. It reports on things that the mainstream media refuses to address and this irks the left-leaning groups.
During the Presidential election in the US, amid claims of alleged election fraud, Veritas revealed videos of alleged ballot harvesting to which the New York Times published articles defaming and up to an extent called Veritas an agency that spreads misinformation. Project Veritas filed a lawsuit against the media giant and won.
Read More: Democrat Governor Gavin Newsom is going down, but the mainstream US media has gagged itself and for a shameful reason
 New York Supreme Court judge Justice Charles Wood determined the article was not factual, but rather an opinion from NYT reporters Maggie Astor and Tiffany Hsu. The Judge ruled, "This sort of vague coverage could be viewed as exposing Veritas to ridicule and harm to its reputation as a media source because the reader may read these news articles, expecting facts, not opinion and conclude that Veritas is a partisan zealot group, deceptively editing video, and presenting it as news."
Veritas has been targeted by the left-leaning mainstream media, the big tech and the Democrats because Veritas has exposed them repeatedly with their pants down.
In February, Veritas' Twitter account was suspended after the far-right activist group posted a video confronting the Facebook vice president outside his home.
Project Veritas' Twitter account was initially locked for sharing private information, according to a message shared with TheWrap from Twitter. A Twitter rep later told TheWrap that Project Veritas' account had been suspended for "repeated violations of Twitter's private information policy."
At the time of its ban, Project Veritas, a self-described "non-profit journalism enterprise" known for using hidden recordings to reveal "corruption" at major media outlets and activist organisations, had over 700,000 followers.
Project Veritas tweeted a video of reporter Christian Hartsock confronting Facebook VP Guy Rosen outside his home on February 10th. Rosen, who appeared to be on his way back from a jog, didn't respond to Hartsock's question about a recent video in which Rosen said Facebook would "freeze" comments on posts containing "hate speech or abuse."
The left-wing media groups have also called the Veritas group activists which drew a stinging reaction from Veritas' founder James O'Keefe. He vowed to "sue the hell out of" CNN for calling the conservative group "activists." During a segment on the Twitter ban of veritas' Twitter handle, CNN anchor Ana Cabrera referred to the organisation as an "activist movement," leading O'Keefe to threaten legal action during his CPAC address.
The Democrats including others are scared and frighteningly running or launching scathing, malice filled attacks on the right-wing investigative media group. Project Veritas has recurrently exposed them for their wrongdoings and there still is a lot to uncover. The Democrats know this, the big tech knows this, the left-leaning media which gags conservative views knows this and Veritas is chasing them to the hills.