Joe Biden's dream of dismantling the very foundations of the United States of America seems to be progressing at an awe-inspiring pace. Although Americans are aghast at how their country is being overrun by illegal aliens, for Democrats – the border jumpers are a lucrative future voter base, which will politically bleed blue in thanksgiving eternally. America is being filled with illegal immigrants, and irrefutably terrifying evidence of the same has now emerged. According to statistics reported by the Washington Post, Immigration and Customs Enforcement (ICE) deported less than 3,000 illegal immigrants in April this year.
This is the first time that ICE has deported less than 3,000 people in a month. An ICE spokesperson said the agency deported just 2,962 illegal immigrants in April. The figure is 20 per cent down from the number of deportations which took place in March, to the tune of 3,716. Expressing anguish over the recently released data, former ICE chief Thomas Homan – who headed the agency during the Trump administration said that the drop in deportation numbers was a direct indication of the Biden administration successfully dismantling the enforcement agency.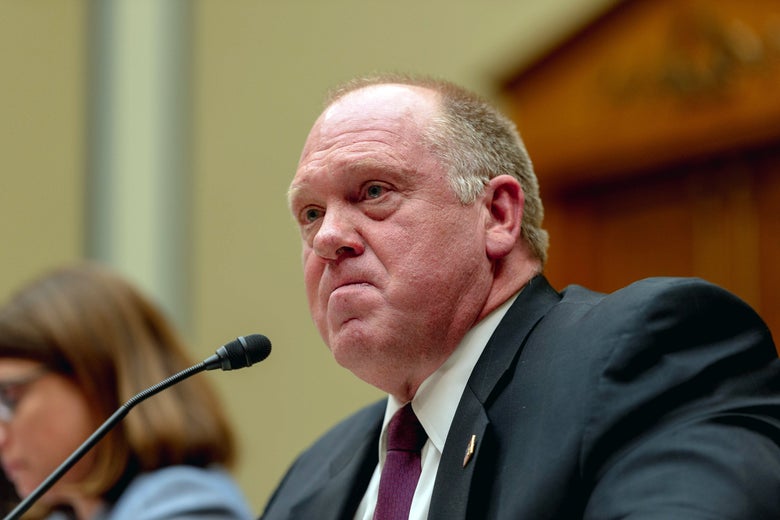 "It's terrible. You got record numbers, people coming into the country illegally being released, and a record low of people being removed," Homan told the Epoch Times. The former ICE chief added, "But that's by design, this isn't an accident—they want to dismantle ICE. Rather than abolish them, which they had a tough time doing they're just making them not effective. Looks like it's working…They want open borders because they think they're going to be all future Democratic voters. This is about perpetual power of the government."
The Washington Post also reported that in private, ICE officials say their work is being essentially abolished through restrictions on their ability to make arrests and deportations. In its defence of the shameful deportation numbers of April, meanwhile, the Biden-hijacked ICE said, "U.S. Immigration and Customs Enforcement (ICE) has concentrated its limited law enforcement resources on threats to national security, border security, and public safety. This has allowed ICE to focus on the quality of enforcement actions and how they further the security and safety of our communities rather than the simple quantity of arrests and removals."
Read more: Biden administration may do away with ICE once and for all
Initially, the Biden administration had put a 100-day moratorium on all deportations. However, after being legally challenged, Joe Biden gave in. Yet, the sly Democrat regime made sure in February that minimum deportation of potential blue voters takes place. The Biden administration issued new guidance for ICE in February, which narrowed immigration enforcement priorities to illegal immigrants who were: a national security threat; recent border crossers; or convicted of an "aggravated felony."
If ICE officers have grounds to arrest an individual who happens to not fit into the three categories mentioned explicitly by the Biden administration, agents will be required to seek preapproval from a superior if they wish to proceed with the arrest. This has made ICE a toothless organisation, stripped of its most formidable tool – the element of surprise with which the agency has always been known to act.
Read more: ICE was the invisible wall that saved America from the Tsunami of illegal immigrants. Now that it's almost defunct, it's a catastrophe
Not only are deportations witnessing historic lows under the Biden administration, but arrests of illegal immigrants too are undergoing the same trend, going from 5,118 in January to just over 2,000 in April. This, even as an unprecedented southern border crisis witnessing the inflow of hundreds of thousands of illegal immigrants refuses to die down.
Going by the latest trends, the Biden administration is handsomely achieving what it has always aimed for – the abolishment of ICE. Now, since that would be an arduous task, Democrats are rather happy with robbing the agency of all its powers to secure the United States of illegal aliens – the effects of which are clearly beginning to manifest.