Russian President Vladimir Putin is now confronting Joe Biden's hostility more directly and categorically. In his first interview with an American news network since 2018, Putin showered praise on Trump and called him an "extraordinary individual", while dismissing Biden as a "career man". Putin's remarks come less than two weeks before the crucial Biden-Putin summit in Geneva. Meanwhile, Moscow has also ended an MoU with the US that facilitated the travel of diplomats around each other's countries.
In his interview, Putin told NBC News, "I believe that former U.S. president Mr Trump is an extraordinary individual, talented individual, otherwise he would not have become U.S. President." The Russian President added, "He is a colourful individual. You may like him or not. And, but he didn't come from the U.S. establishment, he had not been part of big-time politics before, and some like it some don't like it but that is a fact."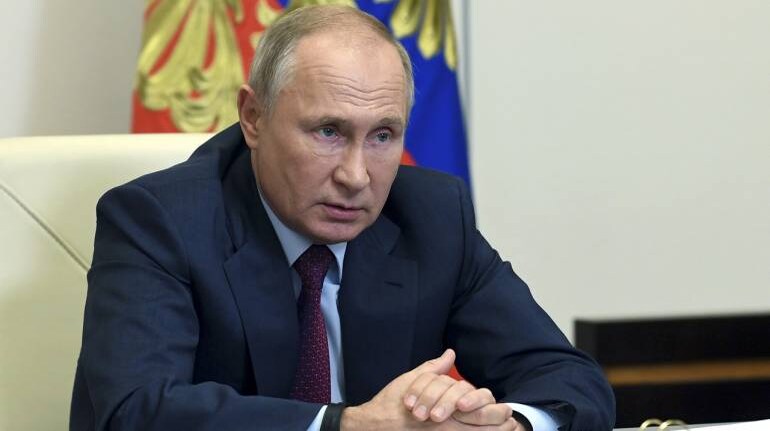 Putin, however, did not have very kind words for Biden. The Russian President described him as more of an establishment politician. Putin said that Biden "is radically different from Trump because President Biden is a career man. He has spent virtually his entire adulthood in politics."
The Russian President added, "That's a different kind of person, and it is my great hope that yes, there are some advantages, some disadvantages, but there will not be any impulse-based movements, on behalf of the sitting US president."
Putin also had no qualms in admitting how the US-Russia ties have deteriorated after Biden's accession to power. He said, "We have a bilateral relationship that has deteriorated to its lowest point in recent years."
In fact, the Russian President was also dismissive about Biden-led propaganda against the Putin administration. The Russian President chuckled when NBC's Keir Simmons asked if he was a killer, in an apparent reference to Biden's infamous "killer" remark about Vladimir Putin. Putin also denied the allegations of ransomware attacks, which the Biden administration has traded to Russia.
With his critical remarks, Putin has sent across a loud and clear message to Biden- you are not going to have it easy when we meet in Geneva. In fact, Russia has also given a tough signal by ending a 1992 MoU that allowed American and Russian diplomats to tour their host country simply upon a notification, without seeking permission.
Russian Prime Minister Mikhail Mishustin reportedly signed an order nullifying the Russian-US Memorandum of Understanding (MoU) on "open ground" that facilitated travels for diplomats in each other's countries. The intention to end the MoU was first announced by the Russian Foreign Ministry in April, and it was unveiled as a part of Russian government countermeasures to "hostile U.S. actions."
Read More: By including Syria, Biden has given Putin a stick to beat him with
As per Xinhua, Mishustin has asked the Russian Foreign Ministry to inform the US side about the termination of the 1992 MoU. The termination of the historic MoU is a huge setback for Joe Biden. It shows how the sitting US President is virtually clueless on the subject of handling Russia. The Russian-US Memorandum of Understanding (MoU) on "open ground" really represented the post-Cold War era in which there were some signs of cooperation between the two world powers.
Till the time, Trump was in power, Russia was still showing signs of cooperating with the US on essential matters. But Biden has botched up Washington's Russia diplomacy. Biden keeps annoying Putin by interfering in Russia's internal matters, calling him a "killer", re-igniting the Russia-Ukraine conflict and dragging Syria into bilateral discussions. Putin however is not the one to stay quiet and he has responded by ending a historic MoU between the two sides.