Animosity is said to be better than fake friendships, and that perfectly implies the fallacy of a "comprehensive" and seemingly thriving partnership between Russia and China. Both the countries talk mouthful of bolstering mutual partnership against Western hegemony fragrantly while covertly engaging in subversion against each other. On similar lines, Russia recently unveiled its new security policy that aims to further "develop comprehensive partnership with China" and demonstrates the ability to withstand western sanctions altogether. Meanwhile, Russia has also surreptitiously advanced its strategic encirclement of China in the past year, drawing up the conclusion that there is much more to China-Russia relations than what meets the eyes.
From Mongolia in the North to Japan in the East and From Afghanistan in the West to Southeast Asia in the South, a hawky Russia has bolstered its military and economic ties with almost all the Chinese neighbours in the last year alone. Russia is well versed with China's ambitions of setting its foothold in Russia's Far East and the much-touted Northern Sea Route as well. Now Putin is leaving no stone unturned to make China taste its own medicine.
Mongolia
The geographical position of Mongolia has made it follow through with the wishes of the Chinese Communist Party (CCP) and thus, it has lived under China's shadow, for a long time. However, it seems that Russia is now giving it back to Xi Jinping and liberating Mongolia little by little. Sandwiched between Russia in the north and China in the south, Mongolia could soon serve as an important transit country for Russian natural gas and its related supply chains.
Mongolia sells its crude oil to neighbour China at cheap prices to import refined oil from Russia. According to DD News, the refinery could boost Mongolia's GDP by 10%. Mongolia will use the refinery to process its own crude oil, which is now sold to China.
Moreover, Russia and Mongolia will celebrate a century of diplomatic relations in November, and they have already signed a permanent treaty on friendly relations and elevated bilateral ties to a comprehensive strategic partnership. The declaration states that Russia and Mongolia would work together to expand cooperation in the areas of politics, defence, economy, commerce, finance and investment. Furthermore, Mongolia's bilateral military partnership with Moscow remains a top priority. Thus, Russia's prime objective is to bring Mongolia out of the shackles of Chinese influence, paving way for a stronger Russian away over the country.
Read more: Mongolia has long lived under China's shadow, but Russia is liberating it bit by bit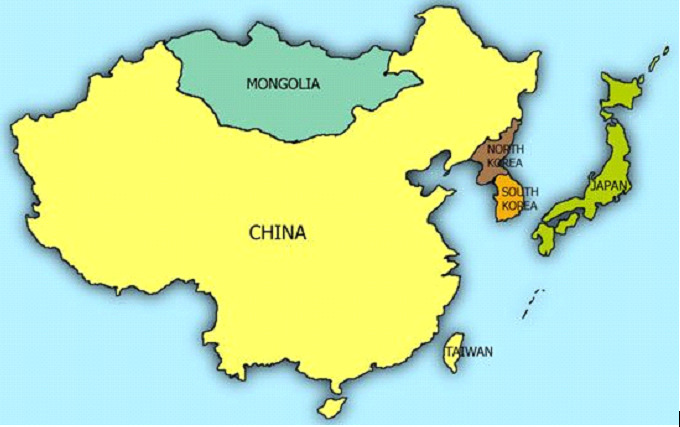 Afghanistan
As the United States led by Joe Biden prepares for a hasty drawdown of troops from Afghanistan, the country stands on the verge of falling prey to a hostile takeover by the Taliban. Presently, Russia is not a fan of the Taliban. It is concerned about the impact which a Taliban ruled state could have upon Central Asian Countries falling under Russia's sphere of influence. Thus, it makes sense for Russia to intervene in Afghanistan and prevent China to usurp the war-ravaged country. China has multiple objects to achieve out of Afghanistan – one of them is to get an understanding against the Uyghurs in Xinjiang. By financing a military base in Afghanistan, China is giving hints to the Afghan civilian government and armed forces.
In its bid to contain Chinese advancement in the region, Russia could even join hands with India as both the countries don't want to bear the headache of a bolstered relationship between the Taliban and China. And if Vladimir Putin can jump right into Syria like a gladiator, he can most definitely do so in Afghanistan as well. Russia's stature will rise across the world, and a resounding message will be sent by Putin to hostile countries that the Moscow story is far from over.
Read More: Russia-India on one side and China-Iran on the other: The new Afghanistan equation after USA's withdrawal
Japan
In the past few months, Japan and Russia have extensively engaged in enhancing their economic partnership that poses a great geopolitical challenge to China's belligerence in the Indo-Pacific. Both, Japan and Russia have expressed their willingness to look beyond the "Kuril Islands dispute" and engage in a constructive partnership. Russian Federation Minister of Economic Development Maxim Reshetnikov recently noted in his speech at the session that the coronavirus pandemic has not hampered or will not hamper the economic cooperation between Russia and Japan.
"Despite a difficult year, we managed not only to continue existing projects but were even able to launch new ones. An express test for coronavirus was created, and a container train with Japanese goods was launched for the first time on the Trans-Siberian Railway. Construction began on a centre for preventive medicine in Khabarovsk. The Japanese company Fanuc opened an engineering centre in Skolkovo," he told the gathering.
According to Maxim Reshetnikov, the building of liquefied natural gas trans-shipment facilities in Kamchatka and the Murmansk region, as well as the construction of an ion therapy centre for cancer treatment in Obninsk, are among the ideas for cooperation with Japan. Both countries are getting ready to embark on new and exciting paths in hydrogen energy, climate change, the creative economy and e-commerce as well.
Read More: For Russia, Japan is now the most trusted partner and that's a nightmare for Xi Jinping
Southeast Asia
For making things worse for China, Russia is assertively pushing for deep military ties with top Chinese rivals in Southeast Asia. If the reports are to be believed, then Russia could be providing its stealth Su-57 fighter jets to Southeast Asian nations like the Philippines, Vietnam, Malaysia, Indonesia and Myanmar.
Russia reportedly offered to take the Royal Malaysian Air Force's elderly and increasingly troublesome MiG-29 and Su-30MKM fighters as part of a procurement programme to buy Su-35, MiG-35, or Su-57 units as part of a trade-in arrangement. The parameters of Russia's trade-in programme are still unknown, and Malaysian leaders have stated that they are examining the idea.
Russia is also eying Vietnam for its potential arms sale deal that even risks battering of ties between Russia and China. The Vietnamese Air Force is entirely made up of Soviet and Russian fighters, and the force is in the process of replacing its old Su-27 fighters. In 2019, Russian defence outlets stated that Hanoi was in talks with Moscow to buy a regiment of Su-57s (twelve units) as part of a potential $2 billion contract. Myanmar's envoy to Russia expressed interest in securing a Su-57 import contract in 2019.
Given the deep-rooted animosity between Southeast nations and China, Russia's growing closeness with its South China Sea neighbours could land China in sizzling hot water in times to come.
Apart from these four important regions, Russia's cooperation with India is well established which has often made China uncomfortable to an unbearable extent. Despite simmering tensions between China and India post Galwan clashes, Russia explicitly assured India that the state of the art S-400 missile defence system would be delivered on the scheduled time only. In its latest security policy, Russia has announced to further its strategic partnership with India. Indo-Russian ties have withstood the test of time and even the Chinese experts keep continuously fret about it.
Russia has been at the receiving end of China's expansionism for decades now. From setting eyes on Russia's Vladivostok/Far East to declaring itself a "near Arctic" country, China's hostility has forced Putin to roll his sleeves up and intensify the strategic tussle spanning over China's vast neighbourhood.