On Wednesday, CCP General Secretary Xi Jinping tried to rattle India. In his first visit to Tibet after taking over as China's President, Xi Jinping visited a town called Nyingchi, a strategically located border town close to the Indian state of Arunachal Pradesh. Xi Jinping came as close as 15 kilometres to the effective Indo-Tibetan border. The visit by Xi Jinping came in the backdrop of Indian Prime Minister Narendra Modi and his ministers publicly wishing the Dalai Lama a happy birthday. The 14th Dalai Lama – who has taken refuge in India is considered a 'separatist' by China.
Tensions are soaring between India and China. India has just fortified its border with Tibet. India has redirected at least 50,000 additional troops to its border with China. India currently has around 200,000 troops focused on the border, a rise of more than 40 per cent from 2020. Interestingly, China claims Arunachal Pradesh – which is sovereign Indian territory, as "South Tibet". India completely rejects such assertions, and Xi Jinping making a visit to Nyingchi shows how the CCP is looking to heighten tensions with India on a new front towards the East.
With an eye on Tibet, where the Chinese Communist Party (CCP) and the Peoples Liberation Army (PLA) are despised, Xi Jinping is now pushing the Chinese military to establish "ties" with the people in order to reap benefits out of the same. According to a report by the South China Morning Post, China has for the first time detailed the military's responsibility to "strengthen its bonds" with the public to win wars.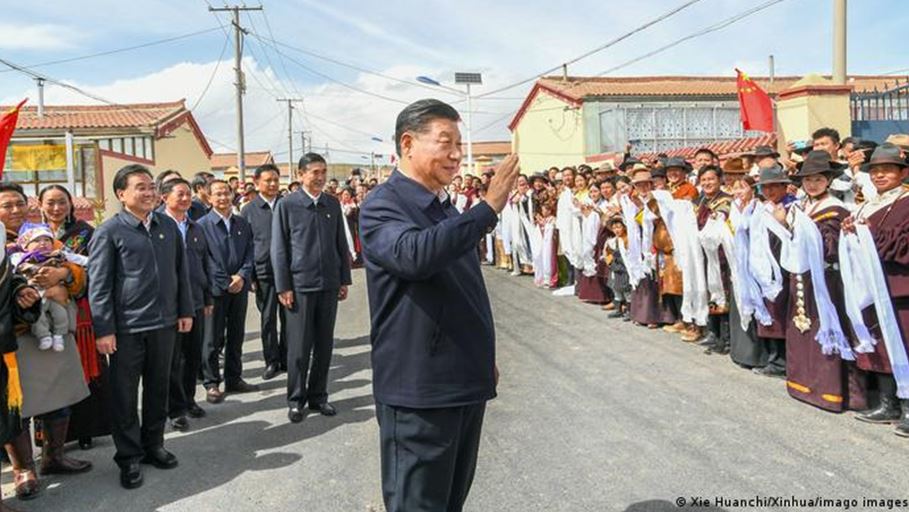 According to state news agency Xinhua, the "Provision for the Military on Works with the Chinese People" defines the "status, guiding principles and basic tasks" of the process, laying out key points and the regulatory requirements for the military. The provision, released by the Central Military Commission recently, will take effect from August 1 and it says, "The provision … centres on building a flesh-and-blood relationship between the Chinese military and the Chinese people, improving the basis for the military to win wars, and consolidating and developing unity between the two sides."
Therefore, China is pushing for the PLA to mend its broken ties with the people of Tibet. However, the PLA won't exactly seek to foster its ties with Tibetans by laughing and sharing meals with them. The PLA will force itself upon Tibetans, and make them help the CCP's armed agents under duress. The Chinese have historically never shied away from subjugating Tibetans and molesting their human rights. In fact, the Xinjiang model is slowly being adopted in Tibet as well, and the new military provision coming into effect next month will be a big step forward at completely brutalising Tibetans.
The Chinese administration is already committing unspeakable atrocities against Uyghur Muslims as it has effectively turned Xinjiang into a prison. Experts believe that China has deployed over a million spies to keep an eye on Uyghurs as their atrocities know no bounds and have blurred the lines between public and private lives. Since 2018, Uyghur families in Xinjiang have to mandatorily invite government officials into their homes, provide them information about their lives and political views, and comply with blatant political indoctrination. The Chinese administration is trying to ethnically cleanse Xinjiang by practising the "Pair Up and Become Family" programme, which involves the country's Han ethnic majority officers to stay in Uyghur households every two months.
The Chinese government describes the spies as 'relatives' of the monitored families and have to work, eat, and often share a bed with their 'hosts' as the Uyghurs are compulsorily made to stay with their 'paired relatives' day and night. Since the male members of Uighur families have been stuffed like cattle in Chinese "internment camps", the Communist officials effectively sleep with Uighur women as part of their supposed "Pair Up and Become Family" programme. Now, the Central Military Commission of China led by Xi Jinping has given the go-ahead for the same to be emulated in Tibet as well.
According to well-known Chinese scholar Adrian Zenz's findings, which have also been corroborated by news agency Reuters, Tibet is fast becoming the next Xinjiang. Xi Jinping has warned to make Tibet an impregnable fortress and China is replicating the Xinjiang model in Tibet with the establishment of mass internment camps.
Read more: 'Eliminate them,' Frustrated by India's counteractions, China is launching another drive of ethnic cleansing in Tibet
As reported by TFI, the Chinese Communist Party has rolled out what many believe is a large-scale coercive programme to enroll Tibetans as forced labor, or workers who are made to unwillingly leave their households to work for Chinese industries as cheap labor. The Chinese consider Tibetans uncultured, lazy and dirty people, who are not willing to work for the greater good of China. In fact, policy documents call for effectively eliminating "lazy people" in the province. The training centres also witness military-styled training of Tibetans, who are indoctrinated forcefully with Chinese Communist propaganda.
In recent news, to counter China on the Himalayan border, an aggressive India under Prime Minister Narendra Modi is gearing up to build four new airports and 37 helipads across the Union Territory of Ladakh – which is currently a hotspot of military tensions between India and China. When it does, China will be a facing a war on two fronts – with India and Japan. A war with Japan also means war with the United States. Therefore, China is in no position to win any major conflict in the near future.
Xi Jinping is already at war with the Uighurs and Tibetans, and a country that is at war domestically cannot win conflicts with other nations, especially when the nation in question is India, which knows better than anyone else when and how to play the Tibet card. China is strengthening its positions in Tibet with the aim of taking on India, while not knowing that India can very well give rise to a popular uprising in Tibet against the CCP. Things are about to get very interesting now.