On Tuesday, North and South Korea announced a surprise and unexpected thaw in ties, as both the countries opened up all kinds of communication lines between each other after close to a year of no official contact. The opening of all communication lines – including military and political liaison came after the leaders of two Koreas, Moon Jae-in and Kim Jong-un exchanged letters with each other recently, underscoring the importance of stability and peace in their peninsula. According to a statement by the South Korean President's office, Kim and Moon have exchanged personal letters since April which have been aimed at improving ties.
The thaw in ties between the two Koreas, however, has not come naturally. In fact, it seems Russia has played a big role in ensuring both North and South Korea begin getting along once again, since the United States under Joe Biden practically has no Korea policy, and China is working overtime to strong-arm Pyongyang into pursuing aggression against Washington DC and all countries which Beijing shares enmity with. North Korea has been resisting China for quite some time now, but there is only so much an impoverished country like itself can do. Now, Moscow seems to have come to the starving country's rescue.
Russia has been offering and allowing North Koreans the opportunity to work in the Far East region despite a ban on UN member states to let North Korean labour work in their territories. North Korean workers who are employed abroad are required to share a significant portion of their earnings with the Kim Jong-un-regime in Pyongyang. This arrangement, which has been battered severely by the Covid-19 pandemic, has been a major source of income for Kim's regime.
According to the Washington Post, the U.S. believes the North Korean government was earning more than $500million a year, before the UN sanctions, from nearly 100,000 workers abroad, of which some 50,000 were in China and 30,000 in Russia.
It seems Russia has told North Korea that its workers can continue with their employment in the Russian Far East for so long as Pyongyang decouples from China and gives up on its belligerence. As part of the same, President Vladimir Putin's 'Korea reunification' plan seems to be right on track, which is why the two Koreas suddenly announced a restoration of communication channels beginning Tuesday. The Korean leaders are learned to have restored all lines of communication as a "first step" towards betterment of ties.
Red more: North Korea is at the brink of extinction but Putin has a plan to save it
Earlier, while dealing a major blow to Chinese vaccine diplomacy, the Kim Jong-un led North Korea had reportedly rejected the use of Chinese Covid-19 vaccines for its immunisation drive. Instead, the country is hopeful of receiving Russian made Sputnik vaccines for free in the coming days. Russia has already offered its Sputnik vaccine to Pyongyang on a number of occasions. However, China was acting as an impediment for North Korea to procure the Russian made vaccines. But, as North Korea junked Chinese vaccines is quite telling of how the impoverished state no longer wants to work as a client state of Beijing.
This comes as North Korea faces unprecedented food shortages spurred out of China's orchestrated clampdown on bilateral trade in May this year. Starvation has intensified after North Korean imports from China saw a whopping 90 per cent drop in May as compared to April, owing to Xi Jinping's strong-arm tactics. Media reports have described the markets in North Korea as currently in turmoil, where the prices of white rice and corn have skyrocketed since the beginning of June. Therefore, North Korea has realised the devilish designs of China, and is therefore warming up to Moscow.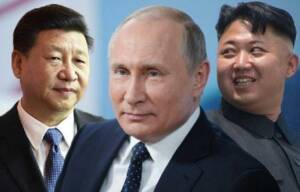 North Korea has been ignoring the Biden administration. Therefore, it is highly unlikely that the recent thaw in relations between the two Koreas was brokered by the White House. Meanwhile, Pyongyang has been turning to Moscow in order to alleviate its woes, and Putin has gladly obliged. As a matter of fact, Putin could even be looking to achieve a Russia-brokered Korean reunification – which would be a massive boost for Moscow's stature around the world.
The reunification of two Koreas– although not expected anytime soon, especially if Kim Jong-un's reign continues, is not entirely impossible. As a matter of fact, North Korea, subsequent to the Second World War, was under Soviet control for some time. Therefore, Putin is also looking to revive former Russian glory and control over the Korean peninsula, by snatching Pyongyang from the lap of Xi Jinping.
A reunification of two Koreas will tremendously benefit both the countries. While South Korea has tremendous technological and industrial prowess, it lacks sufficient labour and manpower. North Korea is, frankly, impoverished, and if the country's citizens get to work in South Korea – they would do it without batting an eyelid. Additionally, North Korea would be exposed to an era of development it has never seen under its nugatory Communist dictatorship.
Vladimir Putin seems to be playing a very far-sighted game in Korea. It has realised that Pyongyang is livid at China, and is capitalising on the same for restoring peace in the Korean peninsula.