Former President Donald Trump is no longer in the White House. He has retired, momentarily so, to his estate in Florida. From Florida, Trump is planning a comeback – first in the midterm polls next year, in which he aims to establish a majority for the GOP in both chambers of Congress, and then, by running for the White House and winning its bid. As President, Donald Trump made an America which was at its strongest. He held America's enemies by their collars, and made life miserable for hostile states like China. As President, Donald Trump also scripted a turnaround in the political, non-fiction publishing industry of the country.
Political books sales, based mostly on him, his administration, his policies and governance skyrocketed during the four years that Trump was President. One would have thought that this trend would pass away with him out of the White House. However, such has been Trump's impact on the book publishing industry in the United States, that titles under his name – both covering him positively and negatively are still occupying the bestseller shelves, some even turning out to be all-time bestsellers.
According to a report by Axios, the first three big post-presidency books about Donald Trump have shot up the bestseller list and are selling out. "I Alone Can Fix it: Donald J. Trump's Catastrophic Final Year" by Leonnig and Rucker has sold more than 124,000 hardcopies in the U.S. through the end of July. "Frankly, We Did Win This Election: The Inside Story of How Trump Lost," by The Wall Street Journal's Michael Bender, has sold over 75,000 copies. The book debuted at No. 3 of the Times' non-fiction bestsellers list and has remained on the list for three weeks.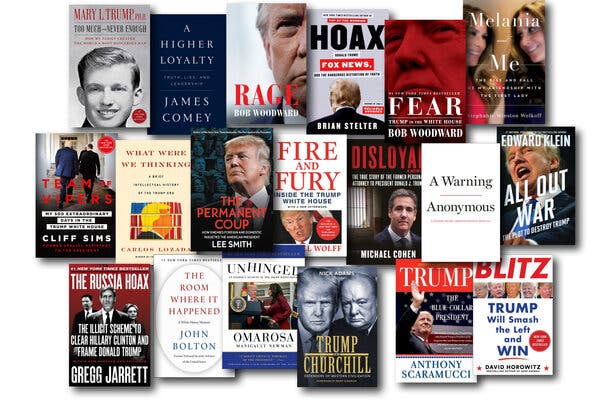 "Landslide: The Final Days of the Trump Presidency," by Michael Wolff, too has been on the Times' non-fiction bestseller list for three weeks. A slew of books about Trump is yet to hit the racks. ABC News' Jonathan Karl's new book "Betrayal: The Final Act of the Trump Show," will be out Nov. 16. In September, a book about the final days of Trump's presidency, penned by journalist Bob Woodward and The Washington Post's Robert Costa is slated to be released. Also slated for a release next month is The Federalist's Mollie Hemingway's new book, "Rigged."
In the last four years, there have been more than 1,200 unique titles about Donald Trump, compared to around 500 books about former President Barack Obama and his administration during Obama's first term. Last year, according to NPD BookScan, despite the pandemic and economic crisis last year, print unit sales were up more than five per cent compared to the same period in 2019, driven mostly by Trump-related thrillers. Books on the former President have been credited with lifting the industry's health when it was at its weakest.
Read more: 'Don't speak ill of Trump or you'll lose,' Democrat's leaked email confirms their fear of Trump
That was last year. However, the trend has not changed much this year too. Trump continues to be a currency printing machine for his supporters and detractors alike. Trump is still pushing book sales, and helping authors and publishing houses sail through tumultuous times – now that Covid-19 appears to be making a comeback in the United States. A sure shot method for any publishing house to make giant amounts of money is if they publish a book on Donald Trump. The former President is a man who people want to read about, even if they do not support him, and more so – if they despise him.
In fact, Trump is giving a steady revenue flow to many of his detractors, who are tapping into the anti-Trump base in order to boost their book sales. There are many people involved in the publishing of a book. Authors, editors, publication staff – they are all being helped by one name, and that is Donald Trump. Imagine a publishing house which chooses to publish a book on the former President. Indirectly, Trump is ensuring employment for all staff of the said publishing house.
The best part really is that Trump's political career is hardly over. Donald Trump remains a central figure in the Republican party and is keenly eyeing another run for the White House in 2024. Until then, he is strategizing to ensure a Republican win in the midterm polls slated for next year. Therefore, the flow of books on Trump is not getting disturbed anytime soon, and will keep propelling the publishing industry's health.