China has been having it too good for too long. The paper dragon has become an export hub for synthetic drugs and their precursor chemicals, although intriguingly, China does not seem to suffer from a drug addiction and smuggling problem as big as other countries do. Countries like the Philippines have become breeding grounds for Chinese nationals setting up drug production facilities and getting involved in the illegal trade of highly addictive narcotics. Far off, countries like Mexico too get much of their chemical precursors for drug manufacturing from China. All in all, Beijing is waging a drug war on the world, and the time has now come to teach it a lesson.
The Philippines seems to be taking a lead in kicking China in the shins. Philippian anti-drugs operatives killed four Chinese drug traffickers in a major operation on Tuesday that led to the confiscation of more than half a ton of crystal methamphetamine. This is the largest seizure of the year made by the Philippines, and the killing of four Chinese men involved in the drug's trafficking shows how Manila has once again begun doubling down on efforts to fight the drugs menace prevalent in the country, largely due to the proxy narcotics war being waged on it by Beijing.
The Latest Operation Exposes China
Among those killed was Chinese national Xu Youha, 50. This turned out to be a big catch for Philippian authorities, who have been trying to get their hands of Xu for many years now, although he successfully evaded detection so far. The others who were killed were, Gao Manzhu, 49; Hong Jianshe, 58; and Eddie Tan, 60 – all from Fujian, China. Officers seized 500 kg. (1,100 lbs.) of crystal methamphetamine, which they said had an estimated street value of 3.4 billion pesos (US $67.7 million).
The Philippine Drug Enforcement Agency (PDEA), in another operation conducted hours later, arrested three Chinese nationals and confiscated 80 kg. (176 lbs.) of crystal meth, valued at 544 million pesos ($10.8 million). These are all operations which come as follow-ups to a massive bust in 2020, during which more than 800 kilos of crystal methamphetamine was seized.
While Chinese nationals have been bearing the brunt, rightfully so, of President Rodrigo Duterte's stringent and controversial anti-narcotics crackdown, for four of them to be killed openly is surely going to be seen as an escalation by Beijing, whose fragile ego has been pierced through by Manila. Since he took power, at least 8,000 suspected dealers and addicts have been killed in police operations. These are just official numbers, although activists and independent groups claim the number could be much more. So far, 14 Chinese nationals have been killed in such encounters since Duterte launched his campaign against drugs in 2016. In fact, only last month, a Chinese man named Wu Zishen, was shot dead in a buy-bust operation in Bulacan. Wu fired his .45 calibre pistol when he sensed that he was transacting with anti-drug operatives who were about to catch him red-handed.
China – Hub for Drugs and Chemical Precursors
According to an investigation by Reuters in 2016, China isn't only a source of meth expertise – it is also the biggest source of meth and of the precursor chemicals used to produce the synthetic drug that are being smuggled into the Philippines. Officials from the Philippine National Police and the Department of Justice say the illegal trade of drugs and precursor chemicals is controlled by small, tight-knit groups of Chinese who oversee the entire process. These include precursor chemical procurers, drug producers and thereafter, distributors of the finished product.
Read more: Why the Philippines could turn out to be one of the strongest foes of China in the coming years
China remains the biggest source of precursors for meth production across Asia. Globally, the bulk of the seizures of raw ephedrine in 2014 was reported by China, amounting to a whopping 31.6 tons. China follows a classic methodology to smuggle drugs into the Philippines. First, it smuggles meth from larger vessels to smaller ones. Then, according to Reuters, packages are dropped into the sea off northern Philippines' long and poorly patrolled coastlines, and picked up by fishermen on small boats. The meth then passes into the hands of local drug traffickers.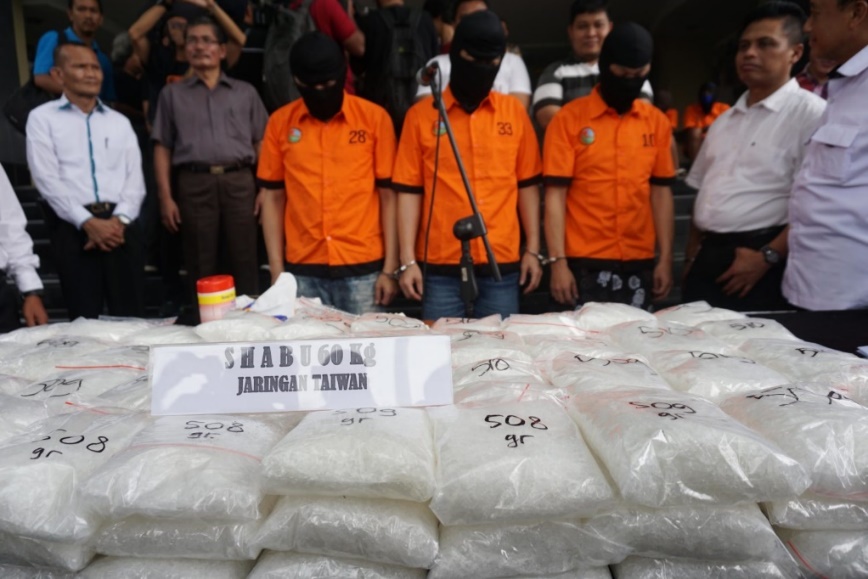 In the case of precursor chemicals, the smuggling is rather easy for China to execute, since methamphetamine precursors are all chemicals that individually, are legitimate; but when combined become some of the world's most dangerous and addictive drugs. Precursors are often hidden in the legitimate cargoes of container ships that cross the South China Sea to the Philippines. Thereafter, these chemicals are transported to illegal manufacturing labs, where a Chinese team produces methamphetamine.
According to a report by the American think tank Rand Corp., "The Chinese pharmaceutical industry consists of more than 5,000 companies that produce active pharmaceutical ingredients which can include synthetic substances and precursor chemicals." It added, "Some of these chemical manufacturers produce large quantities of precursor chemicals and NPs (new psychoactives)." Furthermore, China is also emerging as a hub of new synthetic drugs which "mimic the effects of traditional street drugs, such as cocaine, MMDA, cannabis and heroin."
Past Operations Involving Chinese Nationals
In November 2019, Philippine police arrested a suspected Chinese drug trafficker and seized one of the largest amounts of illegal drugs in 2020, amounting to over 370 kilograms. More than 370 kilograms (815 pounds) of methamphetamine with an estimated street value of more than 2.5 billion pesos ($49 million) was discovered in the suburban Makati city apartment of Liu Chao after he was arrested.
In March of 2019, law enforcers confiscated more than 160 kilograms (350 pounds) of methamphetamine from an upscale residential enclave and outside a shopping mall in metropolitan Manila. Three Chinese citizens and a Chinese-Filipino man were arrested during the raids.
In 2012, 11 men – including five Chinese nationals – were convicted for creating what the judge called a "mega-lab" in the city of Cebu. The "mega-lab" that these individuals operated was uncovered in 2004, and was capable of producing "mind-boggling" amounts of meth.
China has been running a flourishing drug empire in the Philippines for many years now. Rodrigo Duterte might be brazenly wrong on many counts, but the man's ability to hunt down Chinese nationals involved in drug production and trade is impeccable. With every major raid in the Philippines against drugs, China ultimately ends up getting embarrassed.