China on Thursday announced it had formally applied to become a member of the Comprehensive and Progressive Agreement for Trans-Pacific Partnership, also known as the CPTPP. Now known as the TPP-11, the multilateral regional free trade pact is an 11-nation trade agreement among Australia, Brunei, Canada, Chile, Japan, Malaysia, Mexico, New Zealand, Peru, Singapore, and Vietnam. Guess what? Less than a week later, Taiwan has put forward its own bid to become a member of the TPP-11. Taiwanese authorities have submitted the application to New Zealand, which acts as the depositary for the Pacific rim trade pact, and sought the support of all existing members.
So far, Taiwan has found it extremely difficult to become a member of international bodies due to opposition from China, which considers Taiwan as part of its territory. However, with its application to join the TPP-11, Taiwan has really pulled a fast one over China, which is itself in the waiting for becoming a member of the prestigious trade bloc. Interestingly, while Taiwan has the backing of Japan and Australia, China's bid to join the trade agreement has been opposed by these two kingmakers. Needless to say, by bringing Taiwan into the picture, Japan and Australia have made it clear that China is not welcome into the TPP.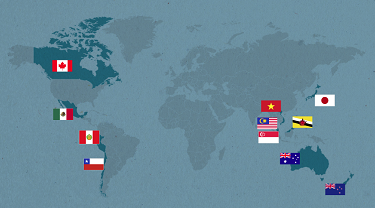 Australia To Not Allow China's Entry into TPP
Australia is putting its weight behind Taiwan's entry into the TPP, which makes it a natural opponent of China's bid to join the trade pact. Australia's trade minister, Dan Tehan, says Australia will oppose China's bid to join a key trade pact until it halts trade strikes against Australian exports and resumes minister-to-minister contacts with the Morrison government. The Guardian quoted the Australian trade minister saying that China could not join until it convinced members of its "track ­record of compliance" with existing trade agreements and Word Trade Organisation commitments.
Earlier, as reported by TFI, China was lobbying Australia to support its bid to join the TPP. China has been trying to woo Australia for quite some time now, despite waging a trade war against it. Interestingly, some of the prerequisites to join the TPP are labour protection, environmental issues, and state subsidies. Taiwan ranked sixth in the world in the Heritage Foundation's 2021 Index of Economic Freedom; while China was a far-off 107th. So, purely on the basis of merit, Taiwan qualifies to join the TPP, while China fares pretty badly. 
Furthermore, to ensure equal competition, the bloc forbids preferential treatment for state-owned companies — partially a response to the global surplus of steel and other goods caused by aggressive capital spending by Chinese state-owned producers. It would also be a tough pill for China to prohibit compulsory source-code disclosures.
Japan's Strategy to Humiliate China
Japan is not holding back its support for Taiwan's entry into the TPP. In fact, lawmakers from Japan's ruling Liberal Democratic Party, that is the LDP, recently held first-of-their-kind security talks with Taiwan's ruling Democratic Progressive Party. Otsuka, head of the LDP's defence committee said, "Taiwan's early participation in TPP is extremely important." Otsuka added, "We told them that we would like to support it."
Now, a Japanese Foreign Ministry official told Nikkei Asia on Wednesday, "The Japanese government sees the application from Taiwan, which upholds democratic values and the rule of law, as a positive development." While Japan is all-welcoming and supportive of Taiwan's bid, it made it clear that China would find it extremely difficult to join the trade pact. 
Read more: Japan foils Chinese plans to drive a wedge through US-Japan ties by jeopardizing China's TPP bid
Last week, the Japanese government said it will carefully analyse whether China is ready to meet the requirements for joining the trans-Pacific free trade deal. Chief Cabinet Secretary Katsunobu Kato said, "We must thoroughly assess whether China is ready to fulfil the high-standard rules of the TPP-11." Japanese Finance Minister Taro Aso, meanwhile, told reporters, "I simply wonder if China is really in a state in which it can join." Foreign Minister Toshimitsu Motegi separately said Japan needs to respond "from a strategic standpoint."
Japan is the most influential member of the TPP-11, and currently, it is pushing for Taiwan's inclusion into the trade pact. In light of the same, for China to even think that Tokyo will remotely support its bid is simply infantile. 
Japan and Australia are running the TPP like a boss, and they are both inclined to let Taiwan join the agreement. This would end up in a humiliating defeat for China, and a diplomatic coup for Taipei. It would be the first major international forum where Taiwan would resoundingly defeat China, and will further propel the country to carve a standing for itself among the global community.