President Joe Biden has infuriated some east European nations with his offer that the "four major NATO allies" could hold discussions with Russia to cool down tensions on the Russia-Ukraine border. After threatening Russia with consequences for weeks, Joe Biden is conveniently endorsing talks between NATO and Russia, as a last resort. However, European nations confronting Russian aggression on the eastern flank perceive it as a betrayal by the United States.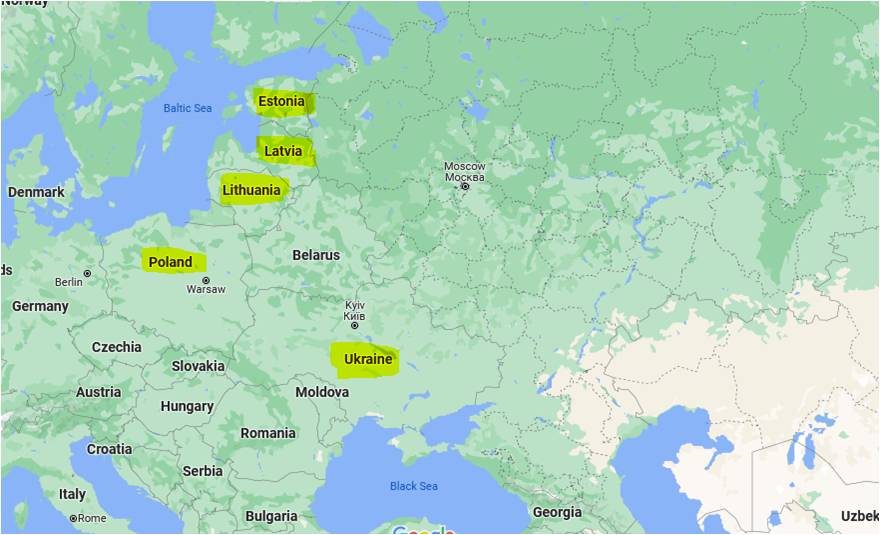 Eastern Europe extremely furious at Biden:
As per a Bloomberg Quint report, one government in the region is extremely furious at the confusion around what exactly President Joe Biden is planning. Moreover, Estonia fears that such talks between Russia and NATO could lead to Moscow dictating the terms in NATO, which could spark distrust and divisions among the alliance.
Also read: Ukraine slips out of Jinping's hands
"Russia should under no circumstances be given a say in who may or may not be a member of NATO," Estonian Prime Minister Kaja Kallas said at a news conference on Thursday. "Moscow's most worrying wish is to divide Europe into spheres of influence. We remember these kinds of moments from our own history and we are in no way naive on this issue," the PM added.
Baltic nations call out Biden's betrayal:
One more contentious issue is that only four NATO countries will be attending the meeting with Russia. This has irritated Baltic nations, who are curious to know who will be asked to attend the meeting and who will be left out. If any nation is not invited to the meeting, it will see this as a betrayal, and possibly a move by major powers to discuss the fate of the smaller ones.
Also read: Biden uses and throws Ukraine. Yet again
Countries on NATO's eastern flank are anguished, as Biden has seemingly changed his tunes after a meeting with President Putin of Russia on Tuesday. Before the meeting, the White House stressed that Moscow has no say in the internal affairs of NATO.
However, amid the tensions running even hotter on the Ukraine-Russia border, the US is itself inviting Moscow to hold discussions with these countries. In a way, the US is itself letting Moscow intervene in the NATO affairs.
Russia's red line on Ukraine:
Russia has already drawn its red lines on the Ukraine issue. Ukraine wants to be a part of the NATO alliance, however, Russia has warned of severe consequences if any such move is deliberated. The US has assured Ukraine of its accession into NATO, but without any timeline. The US has always talked about defending Ukraine in any event of military aggression, but it recently declared that sending the US troops on Ukrainian soil was something not on the table.
Joe Biden's modus operandi is this: stoke tensions between Ukraine and Russia, and when Moscow prepares its defences and plans for an offensive, leave Kyiv to fend for itself. Ukrainian Foreign Minister Dmytro Kuleba said Kyiv expects to be supported by western military allies even if the United States does not send troops there. On his part, Joe Biden has shown no willingness to do so.
How US fueled the tensions?
Needless to mention, it was the US that had raised red flags over Russia's massive troop buildup at the Ukrainian border. The Biden administration had been pushing theories and reports that Russia is once again amassing troops along Ukraine's eastern border, and preparing for an imminent offensive. Interestingly, Ukraine was initially not interested in falling for this bait. Ukraine's defence ministry had then said in a statement that "no additional deployment" of Russian forces had been observed.
Also read: the USA is pushing Ukraine towards war with Russia again, but Kyiv is no longer taking the bait
But as tensions between Russia and Ukraine, after considerable fueling from the Biden administration, risk spurring out of control, the USA is pressing these small nations to hold talks with Russia. This will eventually lead them to compromise on their security and freedom of movement without enough backing from the US.
The USA, as the Afghanistan fiasco revealed, has little appetite to fight foreign wars. Russia knows this and wants to capitalize on it in the face of the burgeoning gas crisis in the EU. The gas crisis and Biden's unwillingness to fight have now landed these smaller nations in hot waters, and this has caused irreparable damage to the alliance. Meanwhile, Russia has to have its righteous last laugh at Biden's buffoonery.