Southeast Asia has been the topmost benefactor of the ongoing economic crisis in China. Vietnam, for instance, experienced an unprecedented influx of companies over the last two years. Last month, reports emerged that Malaysia's semiconductor industry could also register stupendous growth at the expense of Chinese markets. Similarly, Singapore's economy has also remained a front-runner in making the best out of China's financial woes over the last year.
Startups in ASEAN grow at a mad pace
Now, a Nikkei Asia report recently revealed that startups in the ASEAN region bagged a record $25.7 billion funding in 2021. Data compiled by Singaporean startup information platform DealStreetAsia revealed that the region's startups raised $25.7 billion in 2021, 2.7 times the $9.4 billion in 2020. That also topped the previous peak of about $14 billion in 2018.
"While the surge of funding is emblematic of a young and growing market, it is also a testament to the enduring confidence of global investors in the potential of Southeast Asia as both an emerging market for business and a global hub for technological innovation," DealStreetAsia wrote in its analysis.
The region's start-up ecosystem lost the first-mover advantage to China in the early 2000s. It was only in the 2010s that the ecosystem began to develop in the Southeast Asian region. And then the regional startup ecosystem experienced a record-breaking surge during the pandemic, which forced the world to adopt the abnormal and go online.
Top fundraisers
Singapore's ride-hailing-business-turned-super app Grab and its Indonesian rival Gojek remained the topmost fundraiser. The Nikkei Asia report mentioned, "Indonesia's GoTo, a tech group created through the merger of Gojek and Tokopedia, raised $1.6 billion, including money raised by Gojek before the deal, making it the second-largest fundraiser. Grab also raised $675 million before its U.S. public listing in December, the fourth biggest."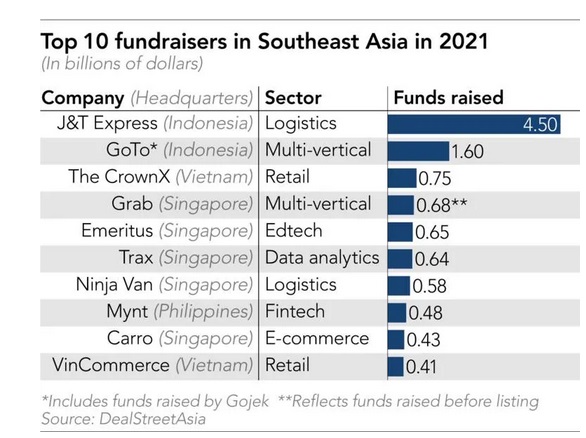 (Source: Nikkei Asia)
As the pandemic forced people to go cashless, the Fintech startup ecosystem also got a big boost. What demonetization did to Indian Fintech in 2016 is exactly what the pandemic did to Southeast Asia's Fintech ecosystem last year. Resultantly, the region's Fintech companies raised $5.83 billion last year alone, 4 times higher than the previous year.
Mynt of the Philippines raised $475 million last year. Also, Vietnam's MoMo received $300 million in funding. According to the DealStreetAsia report, 25 startups from six Southeast Asian countries became unicorns in 2021, with their combined valuation at $55.4 billion.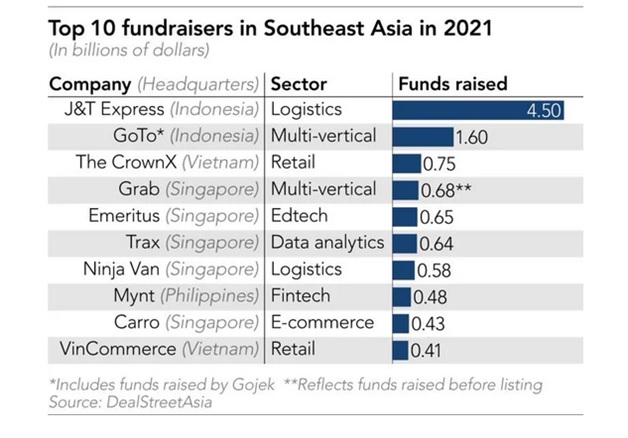 (Source: Nikkei Asia)
Below the $1 billion threshold, the region's young startups also experienced a flurry of new and young investors. "We continue to see new investors taking a very strong interest. We have a lot of reverse inquiries from investors who are asking if they can consider an investment into the company," Lim Wai Mun, CEO of Singaporean telehealth company Doctor Anywhere, said in an interview with Nikkei Asia.
2022 to witness even stronger growth
Industry experts say that the trend is expected to go up even steeper this year. "I believe the fundraising trend will continue to be strong," Martin Tang, co-founder and partner of Genesis Alternative Ventures in Singapore, told Nikkei Asia. "PE and [venture capital] funds are still sitting on a lot of dry powder, and this needs to be deployed," he said, referring to cash held by funds. "There are also PE and VC funds that slowed deployment in 2020 and missed out on the robust recovery of the economy overall. They are aggressively playing catch-up now."
Read More: Singapore is killing China's consumer banking business in ASEAN
The China factor
Japan's Softbank group has been the biggest investor in the region's startup ecosystem. Last year, the group poured billions of dollars into Grab and Indonesian e-commerce platform Tokopedia. The Japanese government has been vigorously pushing the region to stand up on its feet to counter China's economic coercion. Softbank's leap of faith towards the Southeast Asian region and nations like India is also a result of shrieking business in Chinese markets.
On 8th November last year, the conglomerate found itself stuck in a "big winter snowstorm." SoftBank posted a loss of 397 billion yen ($3.5 billion) for the July-to-September quarter. Masayoshi Son, founder and CEO of SoftBank, said that the company's net asset value fell by 6 trillion yen ($54.3 billion) to $187 billion. In this background, SoftBank Group is planning to make up for these losses and wants to further propel SoftBank into the profitable territory by investing in India's first wave of startup IPOs and Southeast Asia's startups.
Read More: SoftBank is taking from China and investing in India. Wise call
India and the Southeast Asian region are the fastest-growing low-income developing economies that sit lure short-term as well as long-term investors from across the world. Especially, when corporate and manufacturers are fleeing China in a way never seen before. Today, every nation in the Southeast region is growing at the expense of China.