Looks like it's raining coups in Africa. Zimbabwe, Mali, Guinea, Sudan, and now Burkina Faso have witnessed their militaries overthrowing the civilian governments in recent years. But nothing happens without a reason. In Africa, poor countries often find themselves enmeshed in geopolitical wars between great powers. For instance, there are three foreign powers currently influencing the decision-making process in Burkina Faso. France, Russia, and China.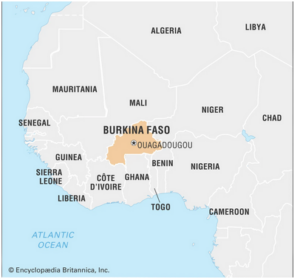 Burkina is a former French colony, and France has always enjoyed considerable sway over the nation. Civilian governments have always relied upon technical and military support from France to tackle extremism and terrorism in the region. But that proved far less than enough. People grew intolerant towards the French-backed government, and finally, the world woke up to a military coup in Burkina Faso on January 25.
China's presence in West Africa
Waning French influence in the West African nation came up as the right time for both Russia and China. China started investing heavily in neighboring Guinea, given its vast mining interests in the country. Chinese companies own big stakes in Guinea's iron ore sector and China's investments include the world's largest iron ore project, the Simandou mine. 
In Burkina Faso, China was just on its nascent stage making inroads. In 2018, the country had switched its allegiance towards Beijing from Taiwan. 
Russia eyes golden opportunity in Burkina Faso
The void left by France has now provided Russia with a golden opportunity to strengthen its presence. This became evident when pro-military activists raised pro-Russia slogans during their rallies after the coup.
 "We want a partnership with Russia," said Bertrand Yoda, a civil engineer who shouted to make himself heard amid hundreds of horn-honking, cheering people gathered in a raucous show of appreciation for the new military junta. "Long live Russia!" "We are here because we want the defense of Russia. France hasn't done anything that gives us success," another demonstrator told VOA.
The reason behind Russia's popularity
But why Russia is so popular in Burkina Faso? Well, simply put up it is Russia's expertise in fighting out radical Islamism. The surging Islamist movement in Burkina has paralyzed the nation since 2016. 2000 people have been killed, and 1.4 million people have been displaced over the last six years. 
People in Burkina Faso acknowledge that Russia's military aid to Central African Republicans vehemently helped the nation hold up Islamist violence. They now want Russia to play a similar role in Burkina Faso too. 
Last month, the leader of neighboring Mali, Colonel Assimi Goita, welcomed mercenaries into the country from the Russian private security company Wagner, which has close links to Kremlin. Meanwhile, the Russian organization that trains troops in the Central African Republic has offered military support to Burkina Faso. The country's new de facto leader, Paul-Henri Damiba, is now expected to accept this offer.
Rising Russia a threat to Chinese influence 
Russian expanded presence in the former French colony would mean nothing less than alarming the death knell for Chinese influence. China's modus operandi includes close tie-ups with civilian governments and surreptitiously encouraging them to further Chinese interests in the country. So, whenever a civilian government falls in Africa, it hurts Chinese interests the most.
Read More: African military regimes are chasing China out of Africa
Take Guinea, for instance. When the military took over the nation last year, China shocked everyone by publicly deviating from its "non-interference" policy and criticizing the military regime for undermining the civilian government. "China opposes coup attempts to seize power and calls for the immediate release of President Alpha Conde," a Beijing spokesperson had said. But in the case of Burkina Faso, the Chinese foreign ministry has treaded a very fine line.
Chinese foreign ministry spokesman Zhao Lijian said on Tuesday last week that China would "spare no effort to protect the safety of Chinese citizens in the country". The Chinese embassy in Ouagadougou issued a security alert warning its citizens to take precautions. It stepped back from criticizing the Russia-backed junta and satisfied itself by just issuing a cautionary note to its citizens.
China is, of course, not pleased with the development. But it can't criticize the coup in Burkina Faso either, given Russia's involvement here. China wanted to make Burkina Faso the next Guinea in the region, but Russia has stonewalled the efforts.