There are a few things that Joe Biden cannot see happening, and one among them is, finding Xi Jinping in misery. If the recent events were any signal, then the improving relations of the Arab world with China had made Iran angry. This was amply visible by the fact that no big shot from Iran's ruling elite went to the Beijing Winter Olympics, while Mohammed Bin Salman and Mohamed Bin Zayed were visiting. This diplomatic disaster at the hands of Beijing is being mitigated by a clueless Joe Biden.
The US under Joe Biden is over-extending the olive branch and making sure these differences between Iran and China, (both USA's systemic rivals) melts away. According to many sources, the US decision to relax sanctions on Iran on Friday includes six sections that now allow other countries and corporations from China among other nations to assist with Iran's 'non-military' nuclear program.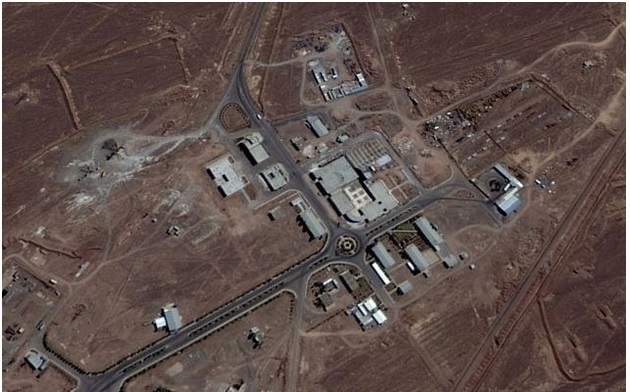 Source: The Times of Israel (A satellite image from September 15, 2017, of the Fordow nuclear facility in Iran.)
Joe Biden's gift's Iran to China on a platter
The terms included allowing Iran's Fordo facility to be modified to become a research centre for the production of stable radioactive isotopes — used for medicinal purposes — with Russia, according to a State Department notice reported by Reuters and Haaretz daily. According to reports, Britain and China may now be able to assist Iran in converting its Arak heavy-water reactor to a light-water reactor. Electricity is generated using a light water reactor, such as the one in Iran's Bushehr.
The Arak reactor might have produced significant amounts of plutonium, which could have been used as the fissile core of a nuclear bomb if it had been built as intended. The waiver also authorizes Russia to supply nuclear fuel to the Tehran research reactor and the Bushehr nuclear power facility, as well as export extra heavy water if Iran exceeds the 2015 agreement's 130 metric ton limit.
Heavy water contains high concentrations of the hydrogen isotope deuterium and is used to produce plutonium, an alternative to uranium for manufacturing atomic weapons.
After Biden's election, China rushed to sign a 25-year cooperation agreement with Iran, under which, it will spend $400 billion in the Shi'ite country as a consideration for a secure supply of oil to boost China's growing economy. With its massive investments in Iran, China wanted to dump Russia and the Arabs, and fulfil its oil supply needs wholly out of the Shi'ite nation. This would have also resulted in making Iran a client state of China.
Read more: Damn! Of all countries, Iran has decided to boycott Beijing Winter Olympics
However, as all was going well, China became overly ambitious and tried to parallelly improve ties with the Arab world as well as provide them with advanced defence capabilities, something that Iran could never make peace with. Now, with the relaxation and providing a gateway to trade and commerce with Iran, Joe Biden has provided Beijing with an opportunity to reclaim its losing influence in Iran.
Joe Biden's folly
Joe Biden declared a return to the nuclear deal a priority as a presidential candidate, and his administration has worked toward that goal, but there has been little visible progress since he took office a year ago. The waivers have been reinstated, according to administration officials, in order to help move the Vienna talks forward.
Read more: Iran's nuclear program gets official approval from Joe Biden
"The waiver with respect to these activities is designed to facilitate discussions that would help to close a deal on a mutual return to full implementation of the JCPOA and lay the groundwork for Iran's return to the performance of its JCPOA commitments," the State Department said in a notice to Congress that announced the move, referring to the 2015 agreement, formally called the Joint Comprehensive Plan of Action.
As reported by TOI, critics of the nuclear deal, who encouraged former US President Donald Trump to pull out, objected, stating that if the Biden administration wants to return to the 2015 agreement, it should at least demand some concessions from Iran before lifting sanctions.
Biden's decision and China's victory
Chinese President Xi Jinping has been at the forefront of a campaign to push closer ties between Tehran and Beijing. Xi was one of the world leaders who had overwhelmingly supported Obama's Iran nuclear deal or what is officially called the Joint Comprehensive Plan of Action (JCPOA). In fact, China did play a role in getting the JCPOA finalised and even Barack Obama had thanked Xi Jinping for China's role in the nuclear deal.
While the sanctions may have stopped the large chunk of financial assistance to Iran by China. The latest steps create a path to expedite the investment of $400 billion and embolden the 25 years agreement of cooperation between Tehran and Beijing. Whatever may have been the reason behind Joe Biden's decision, the fact is that it has helped China to hasten its establishment of Iran as a Chinese Colony.