Even before Joe Biden's Presidential campaign began, it was pretty visible that there were some conflicts between the Biden family and Kamala Harris. A new piece of print proof has been added to the evidence. This proof is an upcoming book by two New York-based writers, Jonathan Martin and Alexander Burns named "This Will Not Pass: Trump, Biden, and the Battle for America's Future".
According
to
the
book,
Jill
Biden,
the
first
lady,
expressed
dismay
that
Kamala
Harris
was
the
top
candidate
for
Vice
President.
Jill Biden apparently had a talk with the writers. She claimed that after learning about Harris being the leading candidate to be Biden's running mate, she objected to it, "There are millions of people in the US, why do we have to pick the one who attacked Joe?" said Jill.
However, several members of Biden's personal circle endorsed Harris for the Vice-Presidentialship. Ron Klain, who is now the White House Chief of Staff, had persuaded Biden that Harris was the best candidate for the role because she had run for president herself.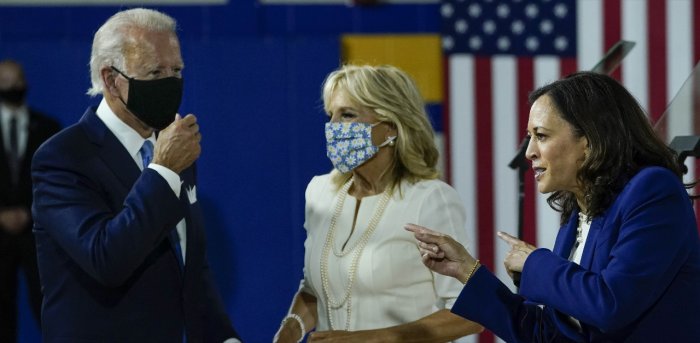 An old feud

During Trump's era, Kamala was a vocal opponent of Biden. She hammered Biden more than any other notable Democratic candidate during the race of presidential candidature. At the time of the first Democratic debate in June 2019, Harris chastised Joe Biden for opposing the federally mandated school busing, recalling her personal experiences with busing and desegregation while growing up in Oakland.
Following the debate, Jill Biden accused Kamala Harris of casting doubt on her husband's political and socioeconomic ideology.
Jill Biden then made it completely clear what she thinks of Kamala Harris, a week later. "You get up there and brand him a racist on the basis of what he cares about, what he fights for, what he's devoted to?" "She should go f–k" herself", Jill added.

Even, Joe Biden hesitated to nominate Harris. The Biden family saw Kamala's stance as a smear and a betrayal. But the advisors picked Harris. A move aimed to demonstrate magnanimity and forbearance, it was to prove to the country how effective a unifying leader Joe Biden can be.
Read More: When First Lady Jill Biden said Kamala Harris should go 'f*ck' herself
Biden's Denial
"It was expected that Joe Biden and the White House would refute the book's assertions and we were right', said Michael LaRosa, a spokesman for Jill Biden. "Many books will be published about the 2020 campaign, with various retellings of events — some truthful, some false," he continued.
Since taking office in January, Biden and Harris have worked closely together. Biden has described Kamala as a transitional president, and the administration has gone to great lengths to market programs under the banner of the "Biden-Harris" Administration.
But why does it not bother the Democrats that Jill Biden and Kamala Harris never shared a stage for a long haul? With the midterm elections approaching, this book could serve as a trigger for anti-Biden sentiment to rise. It would have been preferable if Jill had dismissed the claims instead of giving a shady response.
Read More: Post midterm polls Biden WILL be given a voluntary retirement
Watch –