As if Germany conducting a World War 2 'victory' parade wasn't enough of an irony in itself, the country still chose to spice things up by banning the public display of Ukrainian flags during the commemoration.
No Ukrainian flags in Berlin
Law enforcement officials in Germany have warned residents against bringing Ukrainian or Russian flags to avoid "provocations" and "escalations".
Fox News quoted the Berlin authorities as saying that they did not wish the discord of their European neighbours to impact the politics of their country on the 77th anniversary of the end of the war.
"The act of remembering as well as the respect for memorials and monuments must be preserved against the background of Russia's current war of aggression in Ukraine," Berlin police said. "The war must not be allowed to spill over into conflicts or disputes in Berlin beyond the democratic discourse."
Germany has so far pretended to take a hard stance on Russia in the backdrop of Russia's brutal invasion of Ukraine. However, it's also true that the EU, and primarily Germany, has been importing gas as well as oil through means shrouded in secrecy from Russia all along.
Germany goes harsh on Ukraine.
Considering Germany's vocal criticism of the Russian assault on Ukraine over the last two months, it's quite understandable for Berlin to ban Russian flags in the ceremony.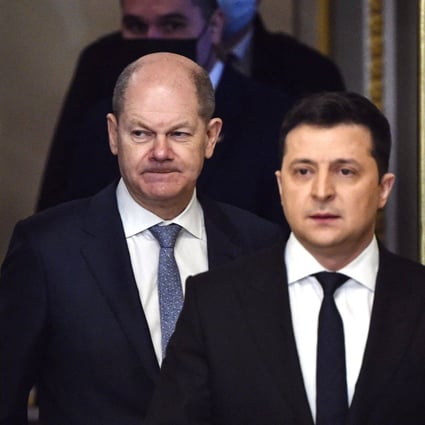 Ukraine condemns the decision
But, the decision to ban Ukrainian flags is indeed flabbergasting! It took the Ukrainian ambassador to Berlin by so much surprise that he merely stopped short of condemning this decision altogether.
Ukrainian Ambassador Andriy Melnyk expressed frustration over the ban, calling it "a slap in the face." "We are shocked that the Berlin police banned the carrying of Ukrainian-related flags on May 8 and 9," Melnyk said. "This is a slap in the face to Ukraine and a slap in the face to the Ukrainian people," the ambassador continued.
The diplomatic standoff between Germany and Ukraine
This may be noted that Berlin and Kyiv recently got embroiled in a diplomatic spat following Ukraine's unceremonious treatment of the German president. Ukraine recently snubbed German President Frank-Walter Steinmeier, who wanted to travel to the war-torn country along with his Polish and Baltic counterparts.
As reported by TFI Global, Ukrainian president Zelensky, while disrespecting Steinmeier, stated that his presence "apparently … wasn't wanted in Kyiv." This was bound to create a sandstorm in Berlin.
German Chancellor Olaf Scholz slammed Kyiv for insulting the German President. He said, "The president would have liked to go to Ukraine," and added, "So it would have been good to receive him." A visibly angry Scholz remarked, "It is, in any case, somewhat irritating, to put it politely."
In a somewhat angrier statement, Scholz also said, "It can't work that from a country that provides so much military assistance, so much financial assistance that is needed when it comes to the security guarantees that are important for Ukraine in the future, but then you say the President can't come."
Read More: Zelensky's shenanigans coupled with the gas crisis make Germany go anti-Ukraine
Remember, Germany gets 50 billion cubic meters of its gas from Russia. This forms 55% of its total gas supplies. Germany is thus the largest importer of Russian gas in terms of volume and its economy is perilously dependent on such imports.
German businesses and entrepreneurs feel that any disruption in Russian gas supplies would hamper their growth drastically. On top of it, German economic experts warn that if Russian gas supplies are shut off, then Germany's economy would plunge into a deep recession and the country would end up losing $238 billion in its GDP over the next two years.
Read More: How Zelensky backstabbed Ukrainian soldiers and left them to die on Russian borders
Still, Germany has so far taken a hard stand against Russia and provided Ukraine with military and financial assistance. However, Berlin seems to have realized that throwing weight behind a spoiled president like Zelensky maybe not be worth risking the German economy. That's the reason behind Germany's recent diplomatic setback to Ukraine.