On social media, Ukraine is winning the war. Am I right? Are you following the war between Russia and Ukraine? Are you getting inputs from Twitter or other social media platforms? Chances are, you have been force-fed a fake narrative. That of Russia losing the war and making a fool out of itself in Ukraine. However, contrary to the perception being created on social media with the help of Western disinformation, the Ukrainian army is losing its ability to fight with every passing day. The Ukrainian forces are worn out, exhausted, and no longer have the will to fight for their country.
One man is responsible for the misery of poor Ukrainian soldiers – almost all of whom are now conscripts: President Volodymyr Zelensky.
The war has now shifted to the Donbass region. Eastern Ukraine is now the frontline, and Russia is making steady progress in its second phase of the invasion. Russia's game plan has been simple yet very effective – bombard the Ukrainian forces throughout the country in the first phase of the invasion; wear them out and exhaust their very wits and then focus on annexing Donbass.
Two months of relentless, bloody and brutal fighting with the Russians have taken a big toll on the psyche and physical strength of Ukrainian soldiers. A recent report from the ground by AFP sheds light on the plight of Ukrainian soldiers, who have been left to fend for themselves by Volodymyr Zelensky and his Western masters.
Absolute Apathy by Zelensky
When it comes to photo-ops and staged shoots, Zelensky is an all-out winner. Nobody comes close to him in stuntsmanship. Yet, ask any Ukrainian soldier fighting the Russians, and he will tell you that the army is losing one village after the other to Russia in Donbass.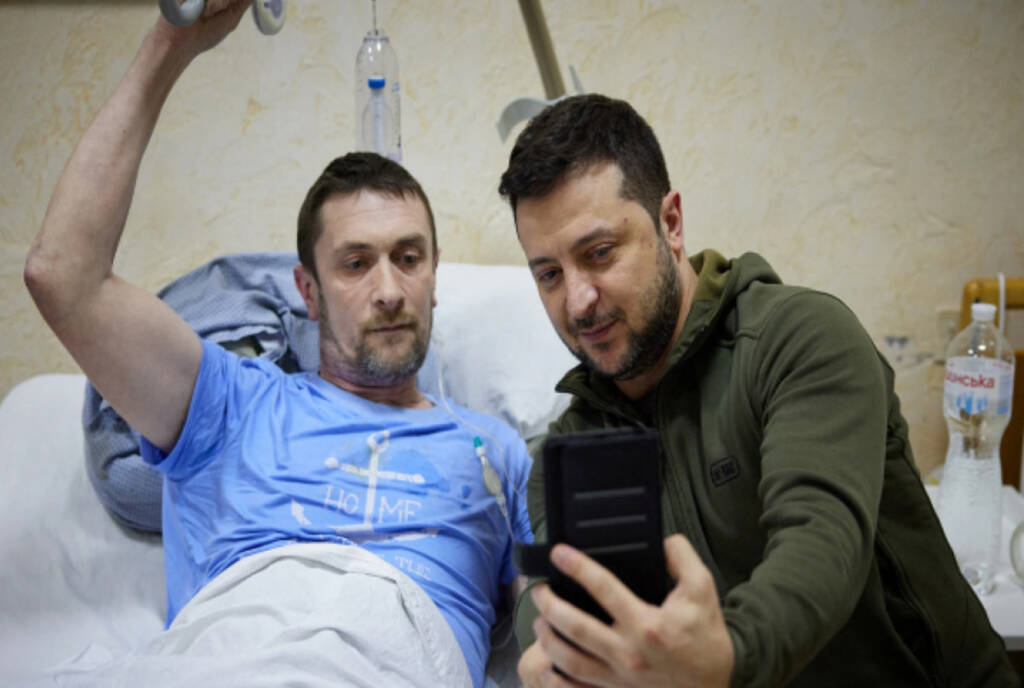 AFP took the case of Ukraine's 81st brigade, which was recently told to fall back from Eastern Ukraine, get one week's rest and be prepared to be sent off to face Russian artillery barrages once again. The 81st brigade is famed to consist of three infantry battalions equipped with BTR-70 armored personnel carriers that can be loaded onto a plane. Additionally, the brigade is ideally composed of support units and at least three gun and battalion units.
Guess what remains of this brigade now? The 81st brigade now accounts for roughly 130 conscripts that are led by a 21-year-old officer named Somylov from the Odessa military academy. The brigade which once had armored BTR-70 vehicles is now having its soldiers walk several kilometers on foot because Russia has blown up all their heavy equipment. According to AFP, in this brigade, like the others, they don't say how many people have been killed. When the subject comes up, Samoylov's gaze becomes misty.
Those Who Survive Are Incapable of Fighting
Ukrainian soldiers are suffering from the "trench foot" syndrome, which is caused by prolonged exposure to moisture, unsanitary conditions or the cold. The doctor that examined whatever remains of the 81st brigade said, "For a month they are not able to dry their shoes… so there are many feet-related injuries, mainly fungi and infections."
The commander of the unit in question is 21-years-old, while the conscripts supposed to take orders from him are aged above 40, even 50. Such units are no match, due to their dilapidated numbers, to the Russian forces that are taking one village after the other in Eastern Ukraine.
But Isn't Ukraine Being Given Weapons by the West?
Here's what is happening to the weapons that are being sent to Ukraine by the United States and its allies: they are either being blown up by Russian missile strikes once they enter Ukraine, or are taken by far-right militias operating with Ukraine.
So, genuine soldiers of the Ukrainian armed forces are left to fend for themselves. They have been scarred for life and do not have the proper equipment required to continue fighting Russia. Leave alone weapons, Ukrainian soldiers are not even being given waterproof boots by Zelensky's regime to effectively mount a fight against invading Russian forces.
Volodymyr Zelensky might be the blue-eyed boy for the Western world and geopolitical experts on social media. For Ukrainian soldiers, however, he is the biggest reason for Ukraine's losses on the battlefield.
Watch –