In 2019, Venezuela and the United States cut off diplomatic ties following the Trump administration's series of sanctions against the Maduro regime, which included a blockade of Venezuelan oil.
But seeing the current crisis, the Biden Administration has decided to legitimize the Maduro regime for recovering from the ongoing oil crisis. Even Maduro wanted this, that's why he was appeasing Democrats with woke antics to gain importance in America.
But, as the Ukrainian city, Mariupol has fallen to Russia. It looks like Maduro has taken back his steps. The democratically won autocrat leader Maduro is again heading back to Russia as he feels Putin can be a beneficiary for Venezuela than Biden.
Maduro appoints a new Foreign Minister 
Venezuelan President Nicolas Maduro has announced appointing a new Foreign Minister. Reportedly, Carlos Faría who was once ambassador to Moscow is becoming the Latin American nation's new foreign minister.
The diplomat's appointment stresses that Venezuela is again strengthening its ties with Russia after the two nations' leaders discussed their shared fears about the threats posed by the United States and NATO back in March.
The new foreign minister has worked in Russia and shares close ties with Moscow. Faría had been Venezuela's ambassador in Moscow for five years and Maduro stresses that the MEA "knows very well the entire geopolitical environment for the struggle of a multipolar, multicentric world, with focus on active and dynamic peace diplomacy."
The move is a clear indication that after being woke to entice Biden to his side. In the middle of the Venezuelan crisis, Maduro realized that Putin is far more crucial for his acceptance and the country's security.
Read More: Feminism and LGBTQ: Maduro's 2 tools to gain acceptance 
Maduro understood USA's shady agenda
Joe Biden wants to legitimize the Maduro regime so he can secure oil from the oil-rich Venezuelan fields as the US saw Venezuelan oil as a potential substitute for Russian imports. But honestly, he never wanted Maduro to be recognized by the world.
In March 2022, the US officials had flown to Venezuela for rare talks with Nicolás Maduro's government in an apparent bid to prise the South American country away from its Russian backers after Vladimir Putin's invasion of Ukraine.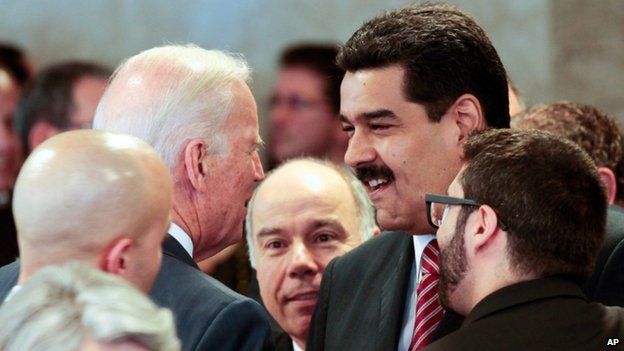 Venezuela also expressed interest, Maduro freed two Americans from imprisonment at that time. But, the visit was criticised leading the USA to take a step back from Venezuela.
America's stance became more clear at the Summit of the Americas. Venezuela is not invited along with Cuba and Nicaragua. So, Maduro has made it clear again with a new appointment in the foreign ministry, that it will continue to side with Russia.
Read More: Biden is ready to legitimize Maduro – the illegal dictator of Venezuela 
Moreover, Maduro had never labeled the Russia-Ukraine crisis as a 'war,' but claimed it is a 'conflict with Ukraine.'  Venezuelan oil has been at focus along with Iranian oil as an alternative to Russian oil even before the Russia-Ukraine war started.
However, Maduro's close ties with Russia have always been a reason why talks of alternatives never succeeded for America. Now, Maduro will re-establish connections with Russia, humiliating the West once more.
ALSO WATCH: