At an unknown location, at an unspecified time, CCP recently called a meeting of its top military commanders to discuss something very urgent. Before the meeting started, each of the participants was made to take a pledge to not reveal the confidential details of the meeting to anyone outside the room.
When one general activated his recording device
As the meeting continued, the agenda soon came clear. It was about attacking Taiwan, razing it to the ground, and preventing the US and allies from defending it. And what happened next was something that no one had dared to do till date! A military general apparently activated his recording device and documented the explosive details, that were to be shared with Xi Jinping hawk media very soon.
Frankly speaking, history was in the making. It was the first time that the world was getting to hear what top CCP commanders discussed behind closed doors. A political sandstorm erupted in China as soon as the audio got leaked on the Chinese internet. A YouTube channel named "LUDE media" uploaded the audio file on YouTube, where military generals can be heard uttering Mandarin. Experts say the audio appears authentic.
Explosive details of the "attack Taiwan" plan
When people heard the leaked audio, they thought their ears betrayed them! China was actually planning to invade Taiwan. No, it was not a stupid propaganda piece by Global Times or usual wolf-warrior diplomacy by Chinese diplomats; it was coming directly from the horse's mouth. India's top newspaper Times of India quoted the audiotape as claiming that China plans to deploy "1,358 detachments of various types with a total of 140,000 personnel, 953 ships of various types, and 1,653 units/sets of various unmanned equipment" to mobilize PLA to invade Taiwan. It added, "Other resources include 20 airports and docks, 6 repair and shipbuilding yards, 14 emergency transfer centres, and resources such as grain depots, hospitals, blood stations, oil depots, gas stations, etc."
The meeting ended with military generals stressing the need to hammer out three important tasks to solidify the pre-invasion preparations. Those three tasks are:
Establishing a national defence mobilization command system
Implementation of a wartime work mechanism
To carry out wartime supervision preparation.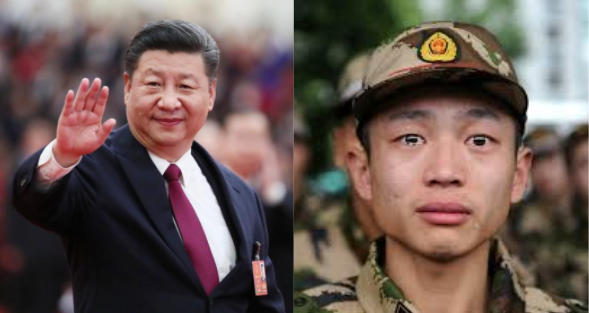 It then noted that all levels, all regions, and all departments should quickly adjust the work priority, moving from focusing on economic development to ensuring strategic victory. The meeting also revealed key industries that would play a central role in the execution of the war. These include companies that are involved in drone manufacturing, production of boats, as well as telecommunication companies, and satellite services companies, all of which are considered strategic companies by the CCP under its so-called civil-military fusion program. All in all, the details couldn't be more explosive!
Heads begin rolling
And when the news of the audio recording making rounds on the internet reached Beijing, the death knells were sounded. CCP had no idea who leaked the information to the outer world but it knew it was one of the generals who participated in the meeting. What happened next was inevitable! Heads were rolled. It was reported by a US-based Chinese journalist Jennifer Zeng that four top military generals were executed by CCP and several others were arrested. One of her tweets read, "4 generals executed, many arrested after this file was exposed. This is said to be the biggest proactive rebellion from inside the #CCP's army! The entire (world) should be concerned."
Full vid of explosive leak of PLA's #War Mobilization Meeting
4 generals executed, many arrested after this file was exposed. This is said to be the biggest proactive rebellion from inside the #CCP's army!
The entire should be concerned. https://t.co/yc9KLVzsxq

— Jennifer Zeng 曾錚 (@jenniferatntd) May 22, 2022
Mind the fact that what you're currently watching unfolding in China is unprecedented. Last week, several media reports suddenly appeared on the internet claiming that Chinese President Xi Jinping is seriously ill. Chinese President Xi Jinping may be reportedly suffering from a cerebral aneurysm and had to be hospitalized at the end of 2021. Even though China hasn't officially released any statement about the Chinese President's health condition, there have been a lot of speculations about his health condition.
Read More: Xi Jinping's medical reports are finally out and his rivals are already thrilled
Then there are also reports of Chinese premier Li Keqiang, China's second most influential political figure, staging a silent coup in the CCP. According to government officials and advisers close to decision-making in Beijing, Mr. Li has recently pressurized China's autocratic leader to reverse several policies that have led the country away from Western-style capitalism and contributed to the country's economic slump.
Read More: Li Keqiang could be the next President of China
As you may have already observed, there is a civil war-like situation going on in China. Speaking of political instability, it's never been so concerning! And what we fear is Taiwan becoming a suspected casualty of this ongoing power tussle in Beijing.