Orange sky has become the new normal for some nations in the Middle East. The reason is dust storms hitting the region more often than ever. For instance, over eight dust storms have hit Iraq in the last six weeks.
Iraq suspends Monday flights, due to a dust storm. #Iraq #Baghdad pic.twitter.com/QIoTmTubAn

— Haider Ahmed (@HaiderAhmedHA) May 23, 2022
So, what's behind this changing phenomenon? Scientists say climate change could be one reason among others! While the West is largely responsible for turning the earth into a gas chamber, these nations think sand storms have a lot to do with their embattled neighbour Turkey.
Iran's renewed allegations against Turkey
Iran recently levelled a pretty serious allegation against Turkey. Tehran suggested that reckless dam-building activities undertaken by Turkey upstream were causing havoc in the downstream regions, triggering sand storms and droughts in Iran, Syria and Iraq.
Earlier this month, Iran's foreign minister Hossein Amir-Abdollahian declared that it is not acceptable for his nation that Turkey destroyed the region's environmental conditions by constructing dams, which created problems for the people of the neighbouring countries.
How Turkey's actions cause dust storms?
Experts say these allegations are not unfounded. Ramesh Singh, Professor, Chapman University, was quoted by 'Down to Earth' as saying, "the construction of dams on the Euphrates in Turkey led to a reduction in river discharge in Iraq and scarcity of the groundwater, which feeds the lakes."
The expert added, "This led to a severe environmental change by drying Sawa Lake in southern Iraq, expanding desertification and adding a new dry salty alluvial lake bed that will provide vast material of mud, silt, and salt." A study stated that "the storms are usually driven by Shamal or northwesterly winds. The winds lift dust from the Tigris-Euphrates basin of Syria and Iraq and transport it to the Persian Gulf and Arabian Peninsula."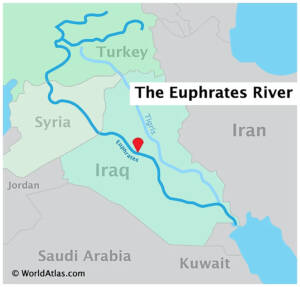 (Source: World Atlas)
Iran forms a joint working group against Turkey
So, Iran is now making it a point to build a joint front against Turkey as it looks to court all the affected countries in the region. Last week, Iran's Foreign Minister Hossein Amir-Abdollahian spoke on the phone with his counterparts from Syria, Kuwait, and Iraq on the need to address the sandstorms blanketing parts of their countries.
Frequent dust storms lead to respiratory problems, due to which thousands have been hospitalized in these nations over the past few weeks. Iran foreign ministry spokesman Saeed Khatibzadeh confirmed that efforts were underway to bring all nations together to press Turkey on environmental issues. A working group has been created, where all the regional counties are collaborating. Interestingly, officials from these nations are also discussing the possibility of bringing Saudi Arabia into the group.
The water crisis between Iran and Turkey
Iran and Turkey are already enmeshed in a water crisis. Turkey is reportedly playing with water flow into Iran, causing some severe panic attacks within the Ayatollah's regime. Iran has begun publicly admonishing Turkey for its rampant construction of dams on the Aras and Tigris rivers.
Read More: As the world watches the Russia-Ukraine war, a Turkey-Iran mini-war has already started
Importantly, Turkey is not a signatory of the 1997 New York Convention on the non-navigational use of trans boundary waters, which prevents Tehran from suing Ankara internationally. Therefore, the Iranian foreign minister said, "We should not allow countries such as Turkey to use the current lack of an international mechanism to change the environmental conditions either in Iran or Iraq."
Turkey is, obviously, not pleased with the development. Last September, responding to the allegations, the Turkish foreign ministry had abhorred Iran. Turkey's foreign ministry spokesman Tanju Bilgic had then said, "Claims that dams in Turkey cause sand and dust storms in our geography are far from scientific."
Now, this new move by Iran to create a working group of all the nations affected by Turkey's reckless water-related activities is bound to raise the temperature between Ankara and Tehran. Another important point worth noting here is that this issue also provides Iran and Saudi Arabia with an opportunity to align their efforts against Turkey and find ground for cooperation. Simply put, that's a double whammy for the already-troubled regime of Recep Tayyip Erdoğan.