Where there's a will, there's a way! So, Europe has now found a new way to bring much sought-after Ukrainian food reserves into EU countries. The plan is to channel Ukrainian food exports through Belarus into Latvia or Lithuania, and then use the Baltic Sea to supply the same to other European nations.
The problem with the Belarus Plan—Belarus
But the biggest problem with this Belarus route plan is Belarus itself! Belarus is a close Russian ally and has provided tacit support to Russia's invading forces in Ukraine. Another hurdle in the way is Europe's sweeping sanctions on Belarus. Today, Belarus can't export goods to EU due to export restrictions imposed on the country following the outbreak of the war.
However, taking Europe's growing appetite for food into consideration, it can be safely assumed that removing export restrictions from Belarus might be on the cards. Make no mistake, it used to export huge quantities of potash by rail to the Lithuanian port of Klaipeda. Lithuania, being a former Soviet state, inherited a robust rail system from the USSR. So, it won't be a tedious task for Belarus to become a 'grain channel' between EU and Ukraine.
Ukraine to exploit EU's miseries
But the problem is, what will Belarus ask in return? And how far EU will go to persuade Belarusian president Aleksandr Lukashenko. That's exactly what Latvian Prime Minister Krišjānis Kariņš asked on Tuesday. She said, "Belarus is sanctioned, and properly so, together with Russia. In order for Belarus to agree to export Ukrainian grain, which physically could have been done quite easily through the Baltic ports, we have a lot of capacity. The question is what will Belarus ask in return. And that price may be too high."
Why Belarus only?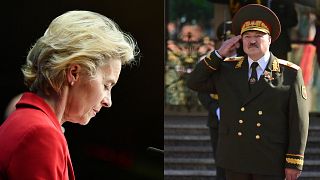 It may be noted that Europe isn't left with many options on the table as far as the import of Ukrainian food is concerned! Russia has imposed a blockade in the Black Sea, due to which food vessels are unable to sail through the troubled waters. On the other hand, transport infrastructure between Ukraine and bordering EU countries isn't that developed to meet Europe's demands. Europe's monthly grain needs hover around 6 million tonnes; however, Poland and Romania lack the infrastructure to transport this much amount of grain from Ukraine in one month.
Read More: EU and Ukraine are fighting over wheat like mad mongrels
Poland's Deputy Prime Minister and Agriculture Minister Henryk Kowalczyk last month said that "it is probably impossible to transport 4-5 million tons of grain per month through Poland, but if we could help export 1-2 million tons of grain — it would already be a big success".
Read More: EU and Ukraine are fighting over wheat like mad mongrels
Also, EU also lacks trading hubs and custom points on the Ukraine-Romania border to import grain in large amounts. So, Belarus is the only viable option left for EU to place its bets upon! But Belarus could very well exploit EU's miseries to its own advantage.
It can now ask EU to remove all sanctions from Belarus economy and instead, boost food and fertilizers imports from the sanctions-hit nation. Since the Belarussian foreign policy is virtually controlled by Russia, EU may also have to cave in to the Kremlin's demands of removing some sanctions from the Russian economy as well. So, if Europe wants to get rid of its hunger crisis and avoid experiencing a civil war-like situation, it will have to roll back its sanctions on Belarus, and eventually on Russia.