Russia is a smart country. Despite widespread anticipation, the Russian economy is performing well in the aftermath of innumerable sanctions being slapped against it. Russia's currency – the ruble is by far the best performing currency of the world in 2022. Russia is steadily achieving its objectives in Ukraine, and the Eastern European country's defenses have been reduced to ashes. The only reason why Ukraine is still fighting the ongoing war is because it is getting military hardware from the West, especially the United States. Speaking of military hardware, where do you think Russia is fulfilling its needs from?
Just so that everyone knows, Russia commands its own, personalised NATO-like alliance. This alliance comprises of four Central Asian countries and Armenia. On May 16, the leaders of the Collective Security Treaty Organization (CSTO) held a summit in Moscow, which was attended by Russian President Vladimir Putin, Armenian Prime Minister Nikol Pashinyan, President of Kazakhstan Kassym-Jomart Tokayev, President of Tajikistan Emomali Rahmon, President of Kyrgyzstan Sadyr Japarov, and Belarusian head of state Alexander Lukashenko.
Russia's "special military operation" and the Western-led sanctions regime against Moscow were issues that were discussed by the Collective Security Treaty Organization (CSTO) during the summit.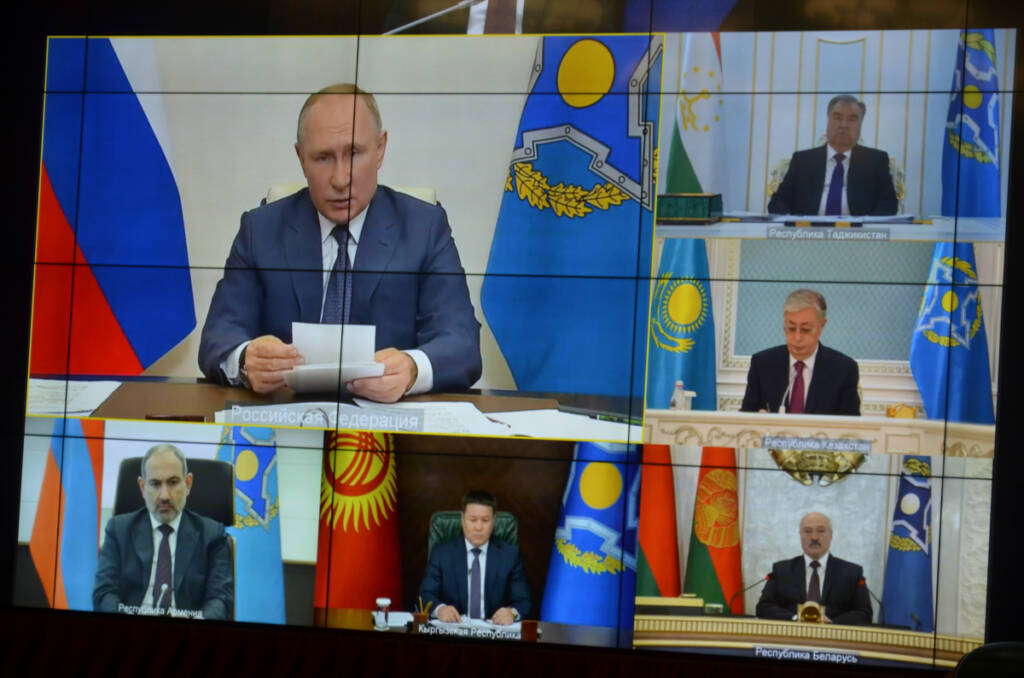 How Russia is Using Collective Security Treaty Organization (CSTO) to Circumvent Sanctions
Now, according to European Pravda, Collective Security Treaty Organization (CSTO) is helping Russia circumvent Western sanctions. For example, there is already a ten-fold increase in Russian-registered companies in Kazakhstan (355 in March, 651 in April, and 362 in May). Russian law firms have responded to such an upswing immediately, offering comprehensive business relocation services to Kazakhstan.
This is facilitated by the Russian government's permission to import parallel goods (without the permission of the intellectual property owner). Kazakhstan really offers us all a glance into how Russia is using Collective Security Treaty Organization (CSTO) to bypass Western sanctions.
Russia is reportedly getting Western-made equipment for its oil and gas industry from Collective Security Treaty Organization (CSTO) allies. Kazakh companies that use similar equipment and consumables can legally purchase them and then transfer them to Russian partners. The deputy head of the Kazakh company "KazMunayGas" spoke to the same effect in March.
He said, if necessary, the Kazakh side of the Caspian Pipeline Consortium will purchase relevant equipment and technologies through its companies and hand them over to the Russians.
The Military Equipment Conundrum Solved
Both covertly and openly, Collective Security Treaty Organization (CSTO) countries are providing military-technical support to Russia as it wages a war against Ukraine. Currently, there is a lot of evidence of Western components in Russian Orlan-10 drones, T-72 tanks, KAMAZ cars, and Russian Calibre missiles. According European Pravda, Western countries will soon realise that tank echelons have been transferred to Russia by CSTO member states in recent weeks.
Collective Security Treaty Organization (CSTO) countries also house several defense companies that supply crucial equipment to Russia. For example, Kazakh company 'Tinis' produces components for aircraft and helicopters of Russian design. Another example is the Kyrgyz company 'Dastan', which develops and manufactures torpedo weapons for submarines and surface ships (including UMGT-291, USET-80, SET-65) and equipment for the Russian Navy (guidance equipment, hull parts, detonators, etc).
Very often, such companies deal with sanctioned Russian entities – unapologetically so. Basically, the sanctions are not affecting Russia, because it is easily bypassing them with the help of its allies. 
Read more: The biggest loophole in the Western sanctions against Moscow found
Meanwhile, CSTO is scheduled hold wide-scale military manoeuvres in Central Asia in October 2022. In October, CSTO troops will conduct Frontier-2022 manoeuvres in Tajikistan and Endurable Brotherhood-2022 exercises in Kyrgyzstan.
Without a shred of doubt, the sanctions campaign of the West against Russia is falling apart. Once considered the United States' most potent weapon, economic sanctions have now proven to be toothless measures which hardly desist any country from doing what they want to do.
Watch –