Dutch and Belgian sportswriters recently launched a book titled 'Nooit Meer Qatar' or 'No More Qatar.' The book documents horrifying details of human and labour rights abuses by the Qatari government during the construction of the sports infrastructure prepared for the FIFA 2022 world cup.
Qatar murdered thousands
Qatar was given the FIFA world cup hosting rights back in 2010, and since then, Qatar has murdered thousands of poor migrants in the process of building the required infrastructure. They were working way below prescribed standards and were said to have been housed in poverty-laden communities, oftentimes without basic amenities like running water, working sewage or electricity. There are also reports that claim workers were paid much less than what they were promised.
The book also shares mounting evidence of the Qatari government's long history of discrimination against LGBT people, lack of press freedom, and violations of women's rights.
Last month, the Rights group Amnesty International had called on the Qatari government to pay families of victim migrant workers compensation of at least $440 million, an amount equal to the 2022 World Cup prize money. Allegations of corruption have also been levelled against FIFA, which awarded Qatar the rights to host the games without requiring it to improve its labour rights situation.
Qatar using FIFA to sportswash its crimes
For Qatar, holding the FIFA games is important for an international makeover, that would help Qatar rid itself of the allegations of terror financing and negative press coverage. However, now Qatar is realizing that the watchers of human rights may already have scuttled its ambitions of using these games to "sportswash" its crimes.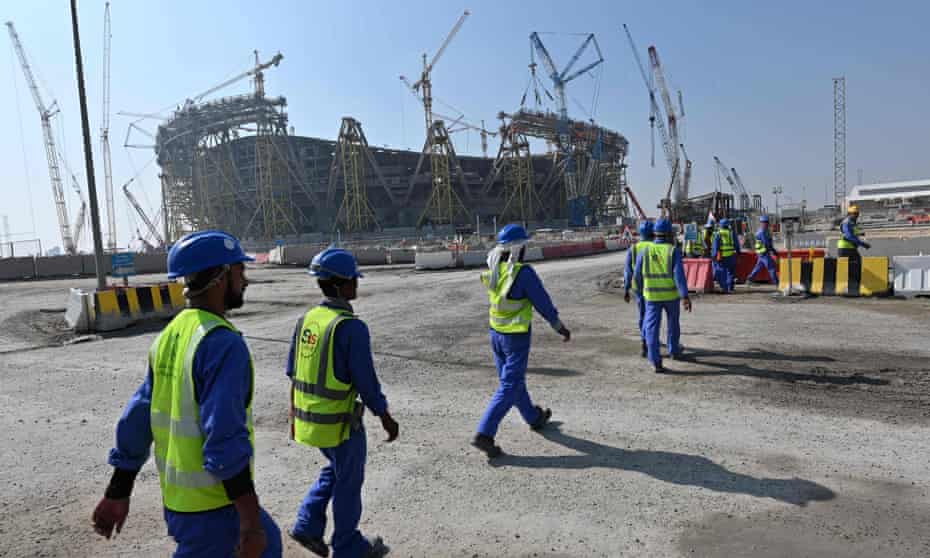 An expanding list of individuals and organisations are now calling on the world sports bodies and nations to boycott these games altogether. NSP, the Netherlands Sports Journalists association recently called these games "A painful and wrong prize fest in Qatar."
Worldwide boycott calls grow louder
Campaigners in Germany, Denmark and Norway are pressing their governments to boycott the 2022 FIFA World Cup. "We do not believe that we, as a democratic nation striving to live up to global human rights, can benefit from having some of the country's most prominent sporting players participate in the finals and blue-stamp a dictatorship like Qatar," read a petition calling on the Danish national team to forgo participating in the tournament. Interestingly, the petition has received a total of 50,000 signatures so far.
Several sponsors of Belgium and Dutch national teams have already decided to implement a soft boycott of these games. ING, the main sponsor of the Dutch national team, insisted it will not use World Cup imagery in its advertisements. "The human rights situation is the reason why we are not doing anything at this tournament," an ING spokesperson told Dutch newspaper De Telegraaf.
Read More: Qatar is the most dangerous country on the planet
BBC reported on 12 June that some of the Welsh national football team's staff will not travel to the World Cup in Qatar because of the country's stance on gay rights. Homosexuality is illegal in Qatar and LGBTQ+ (lesbian, gay, bisexual, trans, intersex, queer or questioning) people "continue to face discrimination in law and practice".
You see, the Qatari plans to use the FIFA world cup as a tool to give a flashy touch to its international image have spectacularly backfired. People across the world are now using this opportunity to expose Qatar and its brutal regime. This revolutionary campaign will end up making Qatar an international pariah, and this could also force FIFA to strip Qatar of the FIFA events hosting rights in the future.
WATCH: