Not long back, sudden spurge of protest emanated from Kazakhstan's capital Nur-Sultan. Many political analysts held the view that it was unlike anything that they have seen in 30 years of Kazakhstan's independence. Sprouted as a dissent to the burgeoning prices, the protest in no time spiralled into a larger political game. Kazakhstan's famed military couldn't bear the weight of the protest which made Kazakh President Kassym-Jomart Tokayev call on the Russian-led Collective Security Treaty Organization (CSTO) for help.
The response from Moscow was swift. Russian peacekeeping troops flooded Kazakhstan for the first time in history. Moscow-led forces helped normalize the situation and words spread about the increasing legitimacy of Vladimir Putin among the people of Kazakhstan.
Russo-Ukraine War
Kazakhstan is one of Russia's most stable partners. Russia sees Kazakhstan as a den of opportunities. Putin has thus needled plans to increase his businesses in the ideal land in central Asia to push his long-held Eurasian ambitions.
Read more: Putin has finally set his Eurasian dreams in motion by shifting Russian businesses to Kazakhstan
But the Ukraine war has upended all such prospects. Mired in a ruthless war, Vladimir Putin looks burdened with more than one issue to keep eyes on. Many countries sided up with the Russian leader while the West and its coterie still keeps a mindful distance from Moscow. But Putin was left astounded after Kazakhstan, a close ally of Putin decided to stay neutral in the war and even went to the extent of not recognizing the Donetsk People's Republic (DPR) and the Luhansk People's Republic (LPR) as independent states.
Kazakhstan abstained from international votes, that was a sure-shot vote gone for Russia and it was more like Belarus abstaining from voting when viewed from the Kremlin's angle. All these happenings have transpired chaos in diplomacy between the two countries and it has moreover alerted Vladimir Putin.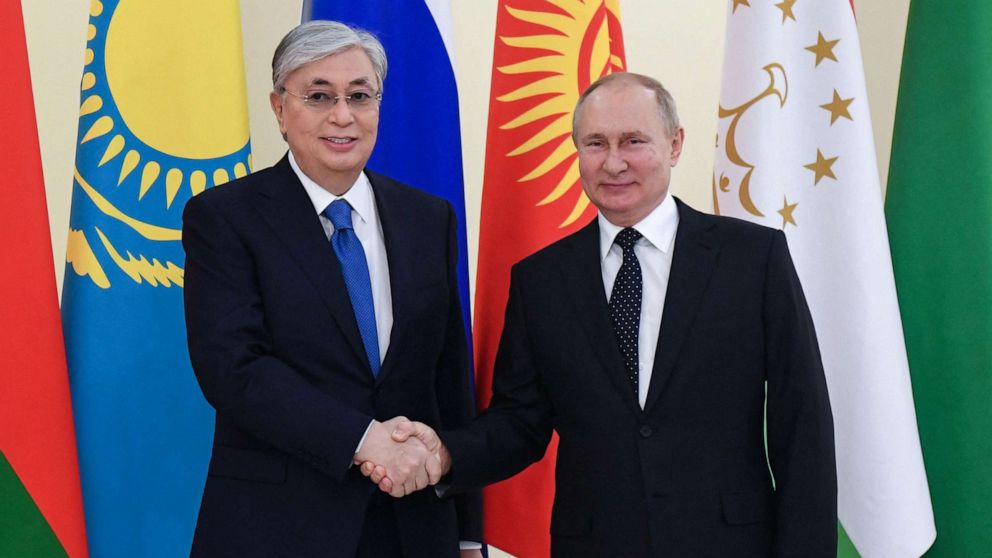 Iran finds an opportunity
Iran has been always looking for wiggle room to enter Central Asia and increase its clout. From Tehran's angle, Russia is too involved in the Ukraine crisis while Turkey which holds large sway over central Asian countries is entangled in the northern Syria disputes. Moreover, the Kremlin's commitment of thousands of troops to Ukraine limits Russia's ability to deal with security concerns elsewhere. There is no better time in Iran's book of diplomacy to extend its influential arm to the central Asian countries.
Iran is moving to exploit the power vacuum in Central Asia to advance its foreign policy priorities, which include countering sanctions through the creation of new outlets for trade, strengthening proxy forces to project influence, and ensuring regime survival by combating external threats.
Iran's labour to get into the Central Asian fold has seen the green light with Kazakhstan signing out 9 cooperation documents with the Islamic Republic of Iran.
"In addition to bilateral relations, we are determined to expand regional relations between the two countries. The cooperation between the two countries in regional organizations such as the Shanghai Cooperation Organization and the Eurasian Union could increase in the region," Iran president Ebrahim Raisi said.
Trade relations between the two countries have increased by more than 50% in recent months, the Iranian President said, adding that the level of these relationships can certainly increase even more, and the two countries can increase the volume of transactions at the current level to $3 billion in the first step.
Kazakhstan is currently initiating a conversation with Iran to mend its internal crisis to some extent. With their stance in the Ukraine war, Nur-Sultan can't turn to Putin for help. Untangling away from Russian hands had also made the economic crisis to pile up in the Central Asian country.
Once Russia was a call away from help for Kazakhstan. Now with this needless move from Nur-Sultan, Iran might look to dominate their presence in the Central Asian country. But the power circles In Nur-Sultan should always mind the sly warning that Putin gave in 2014 "Kazakhs never had any statehood." There needs no further explanation.