The Maldives and Sri Lanka, both surrounded by the Indian Ocean, are two of the world's most favoured tropical getaways because of their stunning surroundings. Another similarity between these two island nations is the heavy dependence of their economies on tourism. Tourism and related services directly contribute to 40 per cent of the Maldivian economy while Sri Lanka's tourism sector accounts for 12 per cent of the country's GDP.
What went wrong with Sri Lanka?
Despite the striking similarities, what specifically went wrong with Sri Lanka that caused the biggest economic catastrophe in decades?
The economy is in rather good shape in the Maldives, but as far as India's southern neighbour is concerned, the island's economy has completely crumbled. The Prime Minister of the crisis-hit country, Ranil Wickremesinghe, declared on Wednesday that the economy of Sri Lanka has "totally collapsed" as millions of people struggle with fuel, electricity, and food shortages.
Wickremesinghe stated to the Sri Lankan Parliament that the government was looking to its international allies and the International Monetary Fund (IMF) for assistance in stabilising the economy.
You see, it's a world-known fact, that Sri Lanka's former President Gotabaya Rajapaksa, who had to resign amidst the massive anti-administration protests in Sri Lanka, was a China-dove. A lot of economic and geopolitical experts have cited Sri Lanka as an example of China's "strategic trap diplomacy or "debt-trap diplomacy" in action.
During Sri Lanka's brutal civil war, which ended in 2009, the Chinese hand arrived on the island. China viewed the civil conflict in Sri Lanka as a chance to surpass India in market share. It provided the government with weapons, long-term investments, and used its veto power in the UN to protect Sri Lanka throughout the civil conflict.
With the expectation of better infrastructure, greater employment opportunities, higher incomes, and economic stability, Sri Lanka accepted Chinese investment. They were frequently cautioned, though, about China's evil plans to keep them reliant and in debt for a long time.
The subsequent result of letting China enter Sri Lanka's economic phase is that it now has foreign debt obligations of around USD 7 billion in 2022, including prepayment of bonds worth USD 1 billion in July 2021.
Read More– India punctures a massive hole in China's debt trap wall with a drill called Maldives
Maldives – India Relations
The President of Maldives Ibrahim Mohamed Solih and his Maldivian Democratic Party have always believed in having solid relations with India. Under the leadership of President Solih, India and Maldives have shared close strategic, economic and military relations.
Apart from the contribution to Maldives' tourism sector, with more than 20% of the tourists visiting the Maldives being of Indian origin, India also continues to contribute to maintaining security on the island nation.
However, this wasn't the case with the previous Maldivian government under Abdulla Yameen Abdul Gayoom of the Progressive Party of Maldives (PPM). India-Maldives relations started to deteriorate during Abdulla Yameen's rule from 2013-2018. "A lot of anti-India rhetoric was used during that time because the Maldivian government was pro-China," said Dr Gulbin Sultana, a research analyst at the Manohar Parrikar Institute for Defence Studies and Analysis.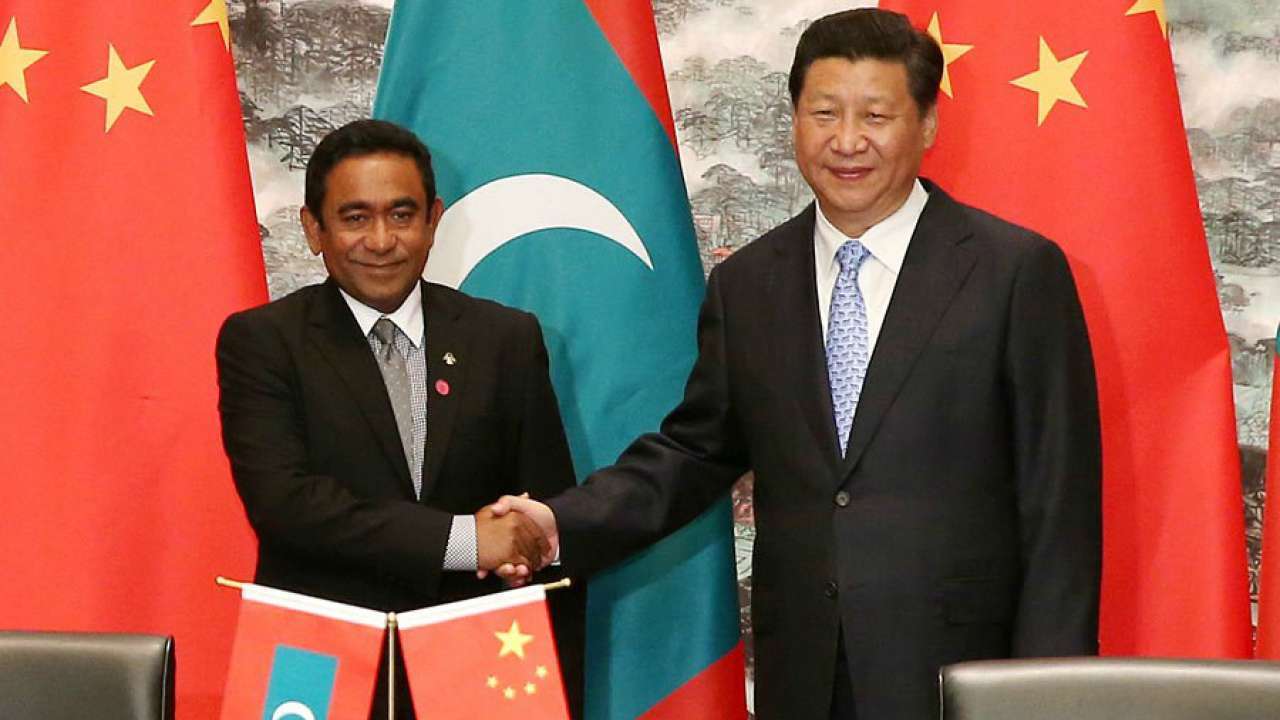 Discontentment among a small fraction of Maldivians
There have been instances where a minuscule part of the population of the island nation showcased their discontentment with the growing relations with India.
Last year, Dhiyares, a PPM-sponsored local news publication started a campaign of 'India Out', which later spread widely across the social media platforms. Shifxan Ahmed, the co-founder of Dhiyares, who has been active in the campaign said that they're just protesting military presence in the country. "We are not calling for a violent clash against India or Indians in the Maldives', said Shifxan.
Just two days ago, the International Yoga Day Event organised by the Indian Embassy in the Maldives was stormed by a mob allegedly led by the former Maldivian President Abdulla Yameen. They attacked the participants and vandalised the properties. The mob claimed that Yoga is against the tenets of Islam.
President Solih ordered a quick probe and promised to take swift action against the accused. Recently, even the news of PPM leaders Ibrahim Razzan and Mohamed Ismail being arrested also surfaced.
Maldives authorities have arrested Opposition PPM's Ibrahim Razzan, Mohamed Ismail over yoga day incident; Other key arrest have also been made.

— Sidhant Sibal (@sidhant) June 23, 2022
Read More– Russia gives a major jolt to China in Maldives by using just tourists
Solih knows realpolitik
Unlike his predecessor Abdulla Yameen, who was a China dove, President Solih has always believed in maintaining good relations with India. Also, the fact that Sri Lanka's leniency towards China plus the hawkish attitude towards India are two of the primary reasons for the state that the country is currently in, has triggered a wave of awareness among the general Maldivian population and the government. You see, It's pretty evident what happens to the countries boasting about their closeness with China and ruining ties with India.
In an effort to combat the PPM's "India Out" campaign, Solih's Maldivian Democratic Party (MDP) has started a social media campaign in support of India. "A call to action to not sever connections with India," reads the campaign's slogan, "Baakeenuvey."
"The low number of participants in the India Out campaign is proof that it is not supported by Maldivians.'', the Maldivian Speaker Mohamed Nasheed said.
"India has become a core election issue in the Maldives, which goes to polls next year. The ruling party has expressed its solidarity with India while the Opposition, led by Abdulla Yameen of the Progressive Party of Maldives (PPM), who is a supporter of China, has initiated the India Out campaign. India is a long-standing traditional ally for the Maldives,'' said a political analyst from Male.
Well, Solih knows realpolitik. He doesn't want his country to suffer the same fate as of Sri Lanka. So, it's only logical that he clearly doesn't want to repeat the mistakes that his Sri Lankan counterpart committed. The pro-India attitude of the general Maldivian population speaks volumes of their political awareness and moral judgement of right and wrong.
Watch –