NATO is a shady alliance; it was formed for the sole purpose of defending the allies militarily against any sort of aggression and create a counter-offensive against the enemies. However, now, its motive is changing.
This Russo-Ukraine war has shown the world that NATO's actual capabilities are much lower than anticipated. At present, the NATO chief is pitching for Ukraine to cede its territory to Russia. 
However, it won't be entirely wrong to assume, that NATO's plan is something else. The US' bizzare dream is something that looks completely impractical. This dream is to 'Balkanize Russia' for its own strategic reasons.
The plot to Balkanize Russia
The US wants to break up Russia into smaller states for "moral and strategic" reasons. A recent draft entitled, "The US Government's Commission on Security and Cooperation in Europe's plan to break Russia up into a collection of independent small states." has explained exactly what the US intends to do with Russia.
The US is in the delusion that it can break Russia into approximately more than 10 states.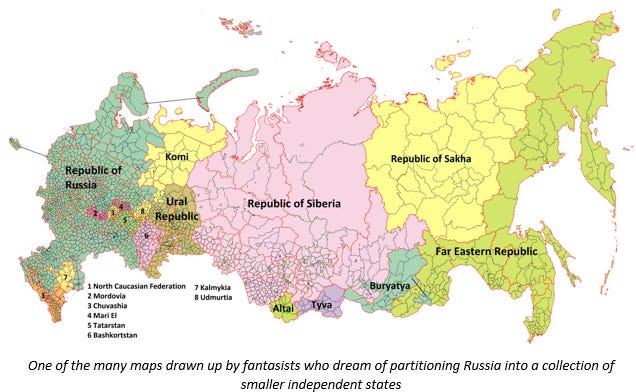 This was actually a plan of the Helsinki Commision, that briefed Europe and other partners about this plan earlier to 'Colonize Russia'. A discussion on the "need" to break Russia for "moral and strategic" reasons was done in the brief. The screenshots are available in the archives.
Moreover, The US does not only want to divide Russia into little republics, but it also believes, that "Zelensky will get to choose what victory looks like and determine peace" according to the US National Security Council. This delusion is literally too far from reality.
In addition, this is a major shift from "protecting the sovereignty of Ukraine" narrative to the need to "decolonize" Russia. Establishing democracy and protecting the sovereignty was also some of the main excuses given by the US to invade nations after 9/11.
Read More: Poland and Germany to help Russia balkanize Ukraine
What is Russia's aim?
The USA's plan got leaked, but what is the strategy of Russia after the war? No one has any exact idea. Yet, there have been many reports that Russia wants to establish the Soviet-era again.
There is one theory that Germany and Poland are actually helping Russia in its expansion. The Polish-German alliance may help Russia in the war. And as a reward, Russia could give away some parts of western Ukraine to Poland.
Then there is another theory that Kazakhstan may become a part of Russia and Nur Sultan may become its capital. Kazakh President Kassym-Jomart Tokayev also supports such possibilities of implementing Russian leader Vladimir Putin's ambitious "Greater Eurasia"
And then there are also possibilities that Putin wants to intake Baltic Nations into the Russian territory along with Belarus and Georgia. These are mere assumptions based on some reports. No one knows what Putin exactly has in his mind.
Read More: Another article of ours is scarily prophetic: the great Eurasian country and its Kazakh capital
At this moment, the US' dream to break Russia sounds funny, it's clearly not possible. The NATO alliance should have thought of establishing peace in Ukraine by having talks with Russia. Such fan-fiction drafts can incite more wars and affect global stability.
The war is already expanding, NATO's intended expansion into Finland and the Lithuanian dispute indicate so. All of this proves that the West itself is responsible for the war.
Watch –