Japan's new defence minister, Yasukazu Hamada is increasingly turning out to be a constant pain in the neck for China and Japan's dovish Prime Minister, Fumio Kishida. A close aid of Japan's former PM Shinzo Abe and a China-hawk leader, Hamada is taking one step after another aimed at thwarting China's attempts to intimidate Taiwan and capture it forcefully.
Indo-Pacific News on Twitter reported on Sunday, "In a highly unusual move, Japan has deployed 8 military vessels in the Taiwan strait."
A number of #Japanese Coast Guard ships are patrolling #Taiwan Strait waters

No statements from #China yet.
A very significant development.
Via @TaiwanMilitary https://t.co/S5VpH8RBnq pic.twitter.com/sCveo8gfdZ

— Indo-Pacific News – Geo-Politics & Military News (@IndoPac_Info) September 4, 2022
Japan deploys military vessels near Taiwan
In another tweet Indo-Pacific News mentioned, "One possibility could be that they are taking refuge from typhoon Hinnamnor, currently in the East China Sea." However, the deployment structure looks expansive and defensive in nature, rather than cluttered or unorganized.
So, it's highly unlikely that the Japanese coast guard vessels are visiting the hotly-contested Taiwan Strait just to flee the storm.  It would be surprising if the move is without any political objective.
Interestingly, this strategic, although low-key, deployment comes at a time when Russia and China are holding naval drills in the Sea of Japan.
🇷🇺Russian Pacific Fleet and 🇨🇳Chinese Navy ships continue 'Vostok-2022' naval drills in the Sea of #Japan

Russian and Chinese ships including the #PLAN Type 055 destroyer 101 Nanchang carried out live artillery firing in the Sea of ​​Japan.pic.twitter.com/Fa0jVEaJXd

— Indo-Pacific News – Geo-Politics & Military News (@IndoPac_Info) September 3, 2022
China-hawk defence minister on a roll
Under its China-hawk defence minister, Tokyo has taken several measures to mount military pressure on Beijing. Earlier this week, the Japanese Defence Ministry asked for a record US$40.4 billion for military spending next year. Experts believe this move is aimed at countering China's fast-expanding military tentacles in the Indo-pacific region.
South China Morning Post reported "The request amounts to a 1.1 per cent increase in annual spending and would cover the purchase or production of more than 100 items, including domestically developed Type 12 surface-to-ship missiles, projected to be able to hit the coasts of China and North Korea."
Read More : Japan is finally getting rid of its China dove Prime Minister
The Shinzo Abe connection
It's as clear as day that Yasukazu Hamada is following in the footsteps of Shinzo Abe. Shinzo Abe publicly came out and expressed his unwavering support for Taiwan despite the fact that Japan had its own conflicts with Taiwan about the Senkaku islands. Now, Hamada is on his way to back Taiwan militarily and prevent China from attacking it.
Under Shinzo Abe, Japan even sponsored a trilateral Strategic Dialogue where he urged Taiwan and the United States to ratify the Comprehensive and Progressive Agreement for Trans-Pacific Partnership (TPP) in order to advance the three nations' economic relations. He also backed Taiwan's application for observer status at the World Health Organization.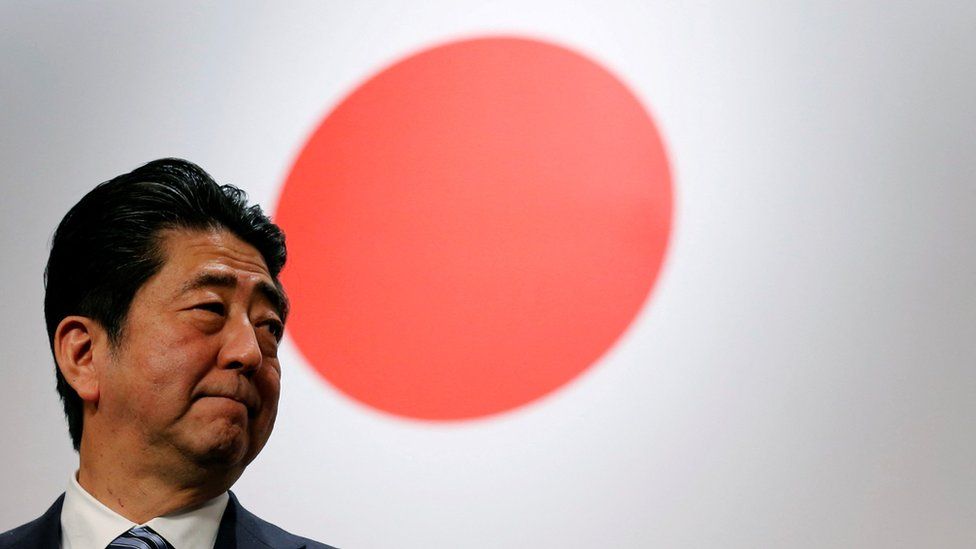 Make no mistake, Shinzo Abe steadfastly backed Taiwan even after leaving the Prime Minister's office. He occasionally threatened Xi Jinping and the Chinese Communist Party with a lethal act of war. In some cases, he even used the Chinese President's name to criticise him, referring to him as a mere "Secretary" rather than President, and threatening him with dire economic repercussions should the paranoid leader ever consider jeopardising Taiwan's sovereignty.
Abe further stated that in the case of military aggression between China and Taiwan, China will be the first and the only victim.
"Peace is the only solution," Abe said to Jinping. "A military expedition would be the road to financial suicide," Shinzo Abe remarked. "We must continue to emphasise that the only viable choice is for China and Taiwan to have peaceful relations."
Read More: Africa is baying for USA's blood, and Japan just added fuel to the fire
Shinzo Abe roared, "The emergency in Taiwan is the emergency in Japan. It is also an emergency in the Japan-U.S. alliance. Beijing, especially Chairman Xi Jinping, there must be no misunderstanding about this."
You see, Abe's adamant opposition to China stems from the fact that Japan's own national security is closely tied to Taiwan's sovereignty. Xi Jinping has his amorous sights set on Taiwan, a democratic island nation, as well as the Japanese Senkaku Islands. Japan predicted that once Taiwan was overthrown, China would try to capture the Senkaku islands. As a result, Japan began militarizing its island possessions adjacent to China under Abe's leadership. And now, when the threat of war looms over Taiwan, Shinzo Abe's close aid is turning out to be a major hurdle in China's way.