The Russo-Ukrainian war has had a profound impact on the world's supply chains for essential minerals, food, oil, and gas. Together, Russia and Ukraine—often referred to as the breadbasket of Europe—export 29% of the world's wheat, 80% of its sunflower oil, and 40% of its barley. Before the war, Russia supplied roughly 10% of the world's oil, and only last year, 40% of Europe's gas came from Russia.
While Russians and Ukrainians continue to be the main victims of the conflict, there have also been significant indirect consequences on the world's food and energy systems. However, the unrest is not limited to Europe. Indeed, the war has wreaked havoc on a different continent, unleashing a "three-headed dragon" of food, energy, and financial shortages across Africa, further endangering the lives of those who are already at peril and placing dozens of nations at risk of default.
Many African nations adopted a prudent geopolitical strategy in response to the need to address food shortages by either remaining neutral or covertly endorsing Russian President Vladimir Putin. They were conscious of the devastating effects that a confrontation with Russia—a significant supplier of resources to Africa—would have had on their individual economies.
Some 25 African countries either voted to abstain or did not vote at all on the United Nations resolution that condemned the war in Ukraine earlier this year. Senegal was among those abstaining and its president told the UN General Assembly last month that Africa "does not want to be the breeding ground of a new Cold War".
The growing Russian influence:
The Russo-Ukraine war has revealed the fact that many countries in the Global South, particularly Africa, prefer not to support the West despite having capitalist economies and democratic political systems and values nearly identical to those promulgated by the West.
The absence of resounding support from many African states has bewildered the leaders of Western nations. Many African nations have underscored their right to uphold their national interests rather than simply following diktats of larger, more affluent states
Russia is proactively filling the void left by anti-American sentiments. Russia has increasingly leveraged its historic Soviet connections to strengthen its political, economic, and, most importantly, military ties with African countries.
Putin hosted the first-ever Russia-Africa conference in 2019, which was attended by 43 African leaders. Russia afterwards became Africa's largest arms supplier.
Furthermore, since the start of the Russia-Ukraine war, Russia has been growing its influence in Africa at a significantly higher rate than ever before. Moscow has made unprecedented investments in African infrastructure projects. For example, in a recent event, Congo-Brazzaville and Russia signed new cooperation agreements to strengthen bilateral ties. The project has been assigned to Russian energy infrastructure builder Prometey.
Even in strategically crucial areas such as the Sahel countries, where Western countries were once hailed as saviours, they are now accused of failing to regulate the security situation and even creating neo-colonial dependency patterns. Growing anti-Western attitudes have provided Russia an opportunity to make an impact in the region. The story of Moscow's effectiveness in dealing with Islamic terrorism in the Sahel regions has already spread like wildfire.
Read More: The West is hounding pro-Russia leaders of Zambia to keep the country under its control
Ukraine tries to woo African countries:
The rising Russian influence has undoubtedly begun to turn heads in the West. You see, the Russian-Ukrainian war has already highlighted the importance of Africa's resource-rich continent. Gasping for oil and energy supplies, the Western nations have started a new scramble for Africa.  United States Secretary of State Antony Blinken recently visited three African Union (AU) member-states in August in an attempt to rejuvenate ties. German chancellor Olaf Scholz tried to gain support of the Africa nations during his first visit to Africa in May. Even, French President Macron journeyed to Africa in June to "renew relationships" with the continent. But all their attempts to woo the African nations have failed miserably. The recent attempt to persuade African countries side with the West is made by the Ukrainian foreign minister, Dmytro Kuleba.
Ukraine's Foreign Minister Dmytro Kuleba has promised that his country will do all it can to send more grain to Africa as he began his African tour this week in Senegal.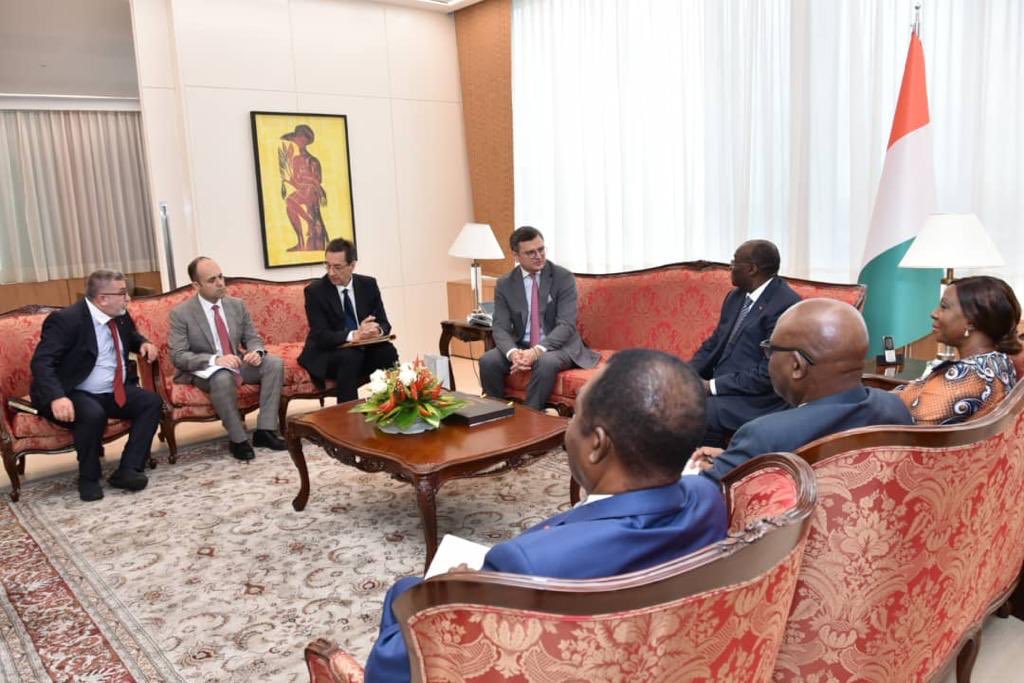 After meeting with Senegal's president and foreign minister in Dakar on Monday, Kuleba said his country would be sending "boats full of seeds for Africa
To be honest, Western leaders' ambition to have Africa join their team is a utopian dream. For the longest time, Africa relied on Europe for growth aid. Despite this assistance, Africa remains the poorest continent on the planet. Furthermore, with its neocolonial mindset, the West could always prescribe its own terms to Africa and potentially withhold this aid at its discretion, leaving the resource-rich continent at the mercy of the West perpetually.
However, today, the European nations are being hoisted by their own petard. Now, Africa has the negotiating leverage to steer any proposed agreement with the West in a way that benefits it.
Africa has recognized the importance of shifting away from reliance on charity and toward commerce and investment. Following the Russia-Ukraine conflict, African countries are seeking to rebalance their connections. African nations have opted to protect their interests and make logical decisions as a result. Rather than antagonizing or condemning Russia, as Europe would prefer, it prefers to strengthen economic connections that benefit the continent.