Monday was probably the best day Xi Jinping saw in a very long time. It was the day when he tightened his grip over power in China and cemented his regime for an unprecedented third term as the President. For investors, businessmen and corporates however, it couldn't be worse. A bloodbath swept over Chinese stock markets as soon as Jinping secured his position in the CCP, and that's just the beginning.
When Xi Jinping was busy celebrating his re-election as the CCP's secretary for the third term, never had he thought of facing a rude shock from Chinese stock markets. On Monday, when Xi Jinping consolidated his hold over power, a bloodbath came hot on the heels to spoil his party. Message from the market was loud and clear: Mr Xi, you are not welcome here!
Speaking about the Hong Kong stocks, they experienced their worst day since the 2008 financial crisis. Hong Kong's benchmark Hang Seng (HSI) Index plunged to 6.4% on Monday. The index closed at its lowest level since April 2009. A huge sell-off was reported in the top 30 tech companies of Hong Kong. As per CNN, shares of Alibaba (BABA) and Tencent (TCEHY) — the crown jewels of China's technology sector — both plummeted more than 11%, wiping a combined $54 billion off their stock market value.
The fate of Chinese companies listed in US wasn't much different. The Nasdaq Goldman Dragon China Index plunged 14.5% to hit its lowest level since 2009.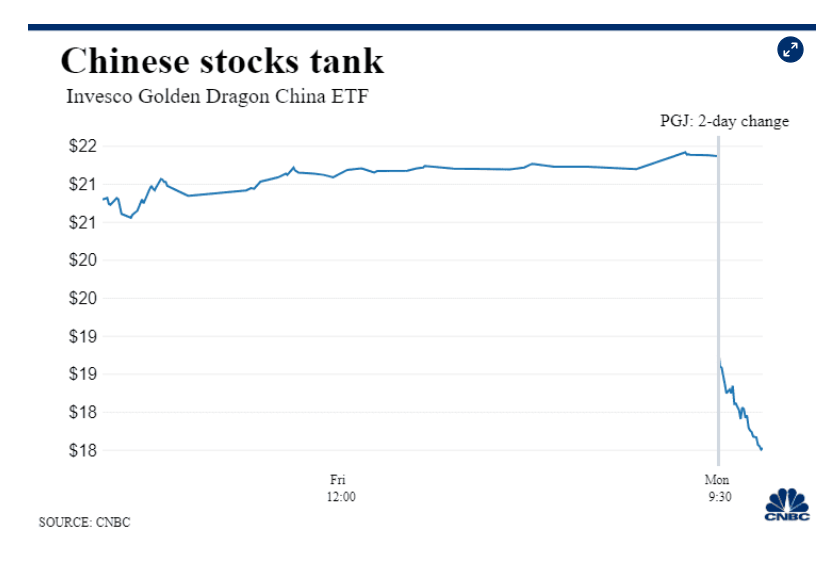 This was hardly surprising given Xi's appetite to become the leader-for-life in China, vaporise any potent challenge and dismantle non-state driven companies to control all aspects of the Chinese economy. Even during his re-elections speech at the CCP congress, he was seen taking aim at the country's richest businessmen.
In his speech, Xi called for "regulating the mechanism of wealth accumulation." Observers saw this as an obvious threat to the country's private business owners. The changes made by Xi to his personal politburo's standing committee also reflected his complete departure from a partially independent market regime towards an authoritative one. Pro-business figures familiar to western markets, such as Premier Li Keqiang and trade representative Liu He, were both removed from office and replaced with Xi loyalists.
Extension of Xi's presidentship, by tweaking CCP's constitution, is terrible for Chinese businesses. This will only exacerbate the woes of the Chinese economy, increase unemployment, slaughter businesses, worsen supply chain constrains and drive the Chinese economy towards stagflation. Xi is market illiterate person, who has recklessly pursued the so-called 'Zero Covid Policy' which ensures no economic activity takes place in an area declared 'sensitive' by the Chinese authorities. This has glimmered the business prospects in the country even as the world bids adieu to the Covid pandemic.
China's Quarter-4 GDP data has already shown the glimpse of what is in the offing for the Chinese economy. China reported on Monday a faster-than-expected 3.9% expansion in its economy in the third quarter, but data for September showed weak imports of goods and retail sales, reflecting its still subdued domestic demand. Experts noted that business environment in the country was still hostile.
Read More: Xi Jinping is a market illiterate person who is meddling in China's stock market and he will cripple the country forever
Mike, an international school teacher in Xian, told Reuters, "It is simply not worth the financial risk as well the mental strain of having to deal with getting locked down in another city, endless cancellations of flights, etc." Jinping's paranoia and a perceived threat of being out of power have forced him to make decisions that are extremely detrimental to natural Chinese stock markets growth. So, perhaps, he will keep pursuing his path to consolidate power using Covid as a political tool.
Foreign as well as domestic investors will not find fleeing China as the only viable solution. This will mount economic challenges on the Jinping regime that can very well spur a civil-war like situation in the country. With no employment opportunities, high inflation and plummeting savings, Chinese families will be forced to take to the streets to express their frustration and anger. This will where Xi's real challenge will begin. A dictator only thrives until he faces a spontaneous civil rebellion triggered by his actions in the past and his agenda for the future.