UAE Visa Ban: The United Arab Emirates (UAE) has announced a ban on visa applications from 20 African nations. It stated that it will send rejection notices to visa applicants and a notice is also issued to travel agents which instructs them that "all applications should be rejected."
The UAE government's notice stated, "This is to inform you that we will not be posting 30 days visa applications for these nationalities effective today October 18, 2022". Adding, " Countries affected by the UAE visa ban include; Ghana, Uganda, Sierra Leone, Sudan, Cameroon, Nigeria, Liberia, Burundi, Republic of Guinea, Gambia, Togo, Democratic Republic of Congo, Senegal, Benin, Ivory Coast, Congo, Rwanda, Burkina Faso, Guinea Bissau, Comoros and the Dominican Republic."
Now, to many people, this decision of the UAE would seem cruel and irrational. They would criticise it as being racist, xenophobic and prejudiced which is intended to target people from a particular race, nationality, religion, ethnicity etc. While so-called human rights organisations like Amnesty International, which is infamous for its one-sidedness, would write false reports without researching and investigating the cause behind such a move by the UAE.
But if we sincerely study all the facts and reasons for such a decision, we would realise that this is in fact a good call taken by the UAE in disguise. This will not hinder the progress of Africans, on the contrary, would facilitate their progress.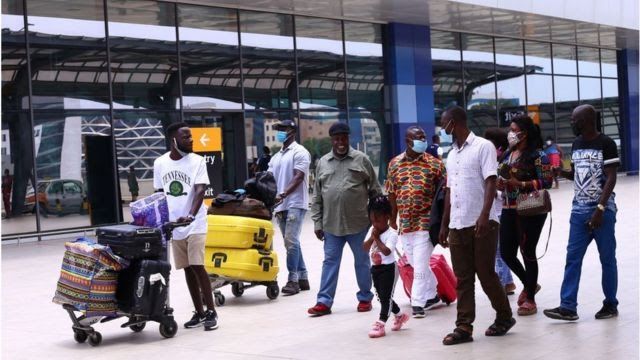 The United Arab Emirates is known for its infrastructure, advanced technology, wealth and employment opportunities. These things attract people from countries like India, Pakistan etc, who come to UAE for jobs, a better standard of living and a bright future for their families. Millions of immigrants are employed in the construction and hospitality sectors there. The presence of a large foreign diaspora has prompted citizens from other countries to migrate there as well.
However, there is widespread discrimination, bigotry and an adverse environment against immigrants in UAE. Many reports and investigations have exposed the terrible working conditions, social climate and criminal practices foreigners are subjected to there. Many have complained of forced labour, low pay, miserable living conditions and an insensitive administration.
Read more: Vladimir Putin's diamond deal offer for Sierra Leone is truly a game-changer
Similarly, Africans too face discrimination and violence in the UAE. Many have been harassed and arrested by the police as part of an effort by authorities to put an end to illegal immigration. Although, there is nothing wrong with countries taking steps to ensure the safety of their people by taking an action against illegal migrants. However, proper care of them, once they are in the custody of authorities, is a must. But that didn't happen in the UAE as several have narrated that they were denied food and medical care while being put in chains.
Therefore, the visa ban on Africans is indirectly protecting them from the stigmatisation and subjugation they will face if they go to UAE for work.
Now, it is a well-known fact that African nations are rich in resources. Every precious mineral that can change the future of a country, will find its way into Africa. Governments in Africa can use them to create employment, end poverty, set up industries and establish a network of exports. All of which will help in ending migration to other states for jobs.
Countries like Guinea, which has huge bauxite reserves, can further its economic and financial condition by setting up mines and factories and creating strict labour laws which will ensure that the rights of workers are not violated. While states like Sierra Leone, which is known for its diamond mines, can emancipate its people from misery by selling its precious wealth to rich countries at hiked prices and investing the money from it, in education and healthcare sectors.
Read more: Ivory Coast and Ghana join hands to destroy western chocolate industry and reclaim the cocoa throne
Similarly, Uganda, whose citizens recently overstayed their visa in UAE and is building an oil pipeline with Tanzania and has cobalt, copper, gold etc, can create large-scale employment.
Hence, visa ban of UAE is indirectly telling African leaders that instead of letting their people migrate to nations where their rights and freedom will be violated, create such a condition and atmosphere in their nations which will not force them to look for jobs and basic necessities somewhere else.