The difference between Bern and Berlin is not just alphabetical, it is also ideological. Regarding neutrality, Berlin has always stated that being neutral has always helped the oppressors, but, Bern has never failed to flaunt its neutrality. History has always shown us that Bern has always stuck to neutrality over the war in Ukraine. For many years, the nation has prioritized peace, security, and the rule of law in its foreign policy. But for Germany, this approach has never been an option.
NATO member Germany has long sought to pull Switzerland into the conflict, but Bern has vehemently resisted this. Now, it appears that the game of push and pull between the two nations has reached a level from where there is no turning back. Well, the relations between Germany and Switzerland have always been merry. However, some major cracks started to erupt in the aftermath of the Ukraine war.If one's memory strikes, the Swiss government denied permission to Denmark and Germany to export Swiss-made war equipment to Ukraine back in April 2022.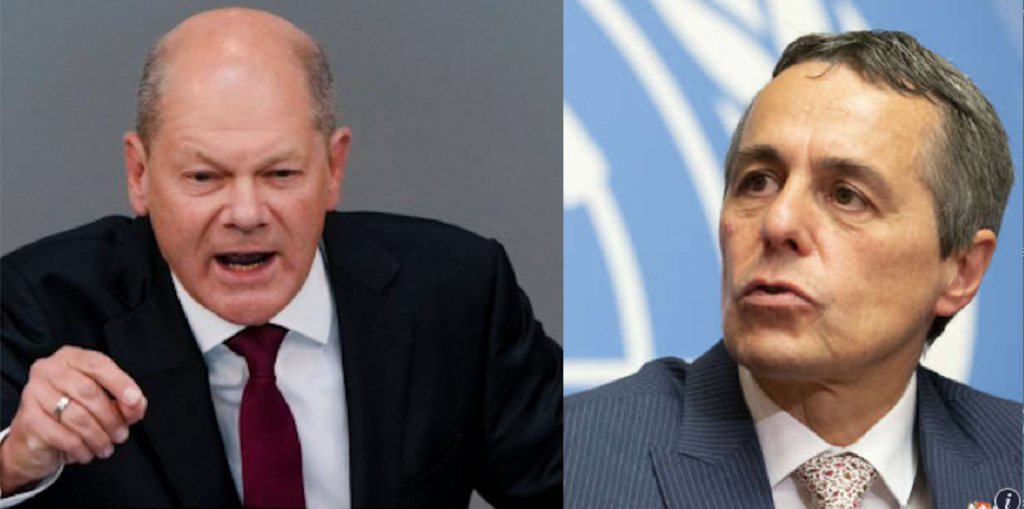 A few days later, Germany had to literally kneel before Bern to persuade authorities for allowing a few military shipments into Ukraine. A similar saga is again taking place, but, this time, it looks like the defense ties between the two nations would undoubtedly be compromised. According to a media report by financial times, Switzerland has vetoed the weapons re-export request of Germany to Ukraine, thus angering it.
The German lawmakers are calling for an end to the arms deal with Switzerland as Bern's consistent refusal to allow arms to be shipped to Ukraine is becoming a headache for the Western state.
Bern outguns Berlin
Germany wants to send 12,000 Swiss-made 35-millimeter rounds that were bought by Berlin decades ago to restock the 50 Cheetah flak cannons it had pledged to Ukraine, but Swiss authorities are not allowing it. Ten days ago, the German defense minister Christine Lambrecht had written to the Swiss government urging it to lift a re-export veto on anti-aircraft shells for German-made "Cheetah" flak guns that Berlin has donated to Kyiv.
On this, the Swiss economic affairs department sneakily diverted the matter towards the economic ministry by saying that Economic Affairs Minister, Guy Parmelin "will respond to this letter in a timely manner". The Cheetah system was once developed with the partnership of Switzerland.  The Swiss company that manufactured the ordnance for Germany is no longer in existence. Yet, according to the agreement, Switzerland has authority over the supply of systems.
The Swiss government, as part of the original sales contract with Germany, has veto power over the munitions' resale or donation. It restricts the transfer of weaponry, ammunition, and other military supplies produced in Switzerland to a nation engaged in a global conflict.
Read More: Switzerland turns Germany into a radioactive junkyard
Ditching the defense ties
The Swiss government for long emphasized that because Russia and Ukraine are parties to the conflict, they would not permit the deployment of Swiss-made weaponry to both of these nations. This is the reason why Germany is in a huff.
Read More: Switzerland and Austria close their doors for illegal immigrants
Bern never fails to flaunt its neutrality whenever possible and at this point of time, being neutral means siding with Russia. And why not, a lot of Swiss business requires Russia. Bern's decision to remain neutral even if it means ditching Germany. But the Swiss government is very clear about its strategy; for them, it is morally correct to maintain neutrality even in the worst-case scenario and even if it means abandoning its EU's member state.
So, Germany's rant against Switzerland is just going to fall on deaf ears.