Kodungallur Bhagavathy Temple – Overview
Kodungallur Bhagavathy Temple is located in Thrissur, Kerala. The presiding deity of the temple is none other than Bhadrakali, a form of Mahakali, who is known for her anger. However, the specialty of Sri Kurumba Bhagavathy is that Goddess Bhadrakali is pleased by the abuses spoken by the devotees and this practice is a part of the annual festival of the temple.
History of the Kodungallur Bhagavathy Mandir 
Temple is also known as Kodungallur Bhagavathy Temple, this temple has a very ancient history and is associated with Parasurama, the sixth incarnation of Lord Vishnu. According to beliefs, Parasurama prayed to Lord Shiva to protect the Kerala region and the people living there from a demon named Daruka.
Then as per the order of Mahadev, Parasurama built this pilgrimage place and worshiped Goddess Bhadrakali. After this, the goddess destroyed the demon Daruka. The great saint of Sanatan Adi Shankaracharya had also visited this place. Here he realized a very impressive power, then he established 5 Srichakras here. It is believed that even today the temple gets power due to these 5 Srichakras. This temple was built later by Cheraman Perumal, the king of the Western Chera dynasty.
Also Read: Ambalapuzha Temple Kerala: Timings, Travel Guide, and How to reach
Mandir darshan guide
Kodungallur Bhagavathy Temple built in the middle of 10 acres of land area has been built in Kerala architectural style. The temple complex is surrounded by peepal and banyan trees. The Saptamatrikas are enshrined in the sanctum sanctorum of the temple. The idols of all these are north facing. Apart from this, Lord Ganesha and Veerbhadra are also installed in the temple. The eight-armed idol of Goddess Bhadrakali is also north-facing. This idol is made of jackfruit wood. The eight arms of the Goddess are adorned with weapons and eternal symbols.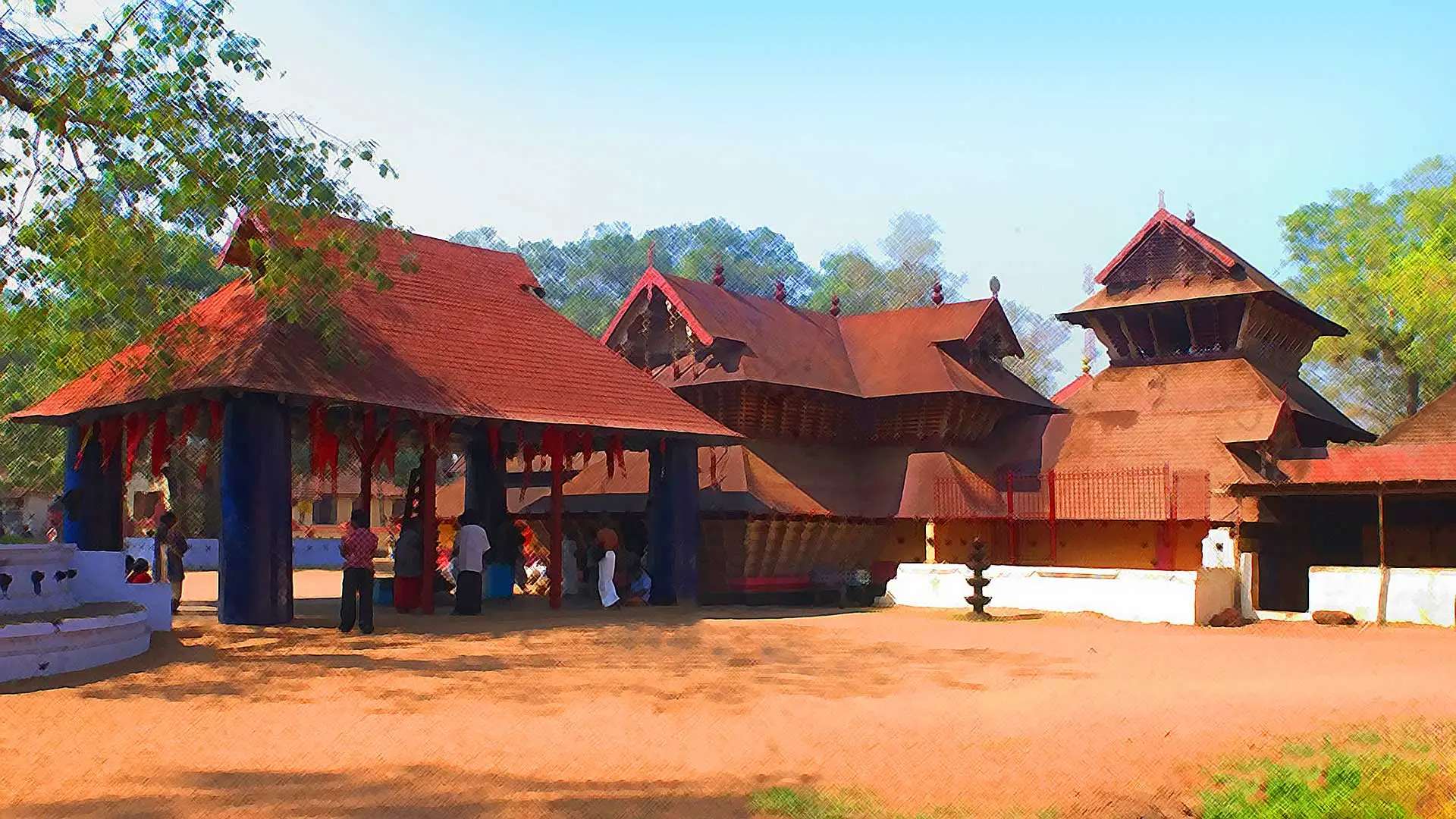 Also Read: Alandi Gaon Temple : Timings, History, Travel guide and How to reach
Festivals of the Kodungallur Bhagavathy Temple
Sri Kurumba Bhagavathy Temple is well known for its festival. Actually the 'Bharani' festival celebrated here is special in many ways. This is because devotees offer their own blood to Goddess Bhadrakali during this festival. Apart from this, songs full of abusive words are sung for Goddess Bhadrakali in this festival. The Kodungallur Bharani festival is celebrated every year during March–April (the Malayalam month called Meenam). The first day of this festival is known as 'Kozhikallu Moodle'. During this time special devotees of Goddess Bhadrakali called 'Velichappad' offer their blood to the Goddess. He is also considered the representative of the Goddess.
Aswati Kavu Tindal
'Aswati Kavu Tindal' is the second day of the festival. On this day the members of the royal family worship Goddess Bhadrakali. During the unique festival of the temple, Velichappad runs around the temple with sword in hand and during this time the roof of the temple is also beaten with sticks. Apart from this, songs full of abuses and abusive songs are sung for Goddess Bhadrakali. It is said that Goddess Bhadrakali is pleased to hear these abusive words. Also Read: Annavaram Temple: History, Architecture and how to reach
How to reach Kodungallur Bhagavathy Temple
By Air- The nearest airport to reach Thrissur is Cochin International Airport, which is at a distance of about 50 km from here. By Train- Thrissur Railway Station is an important railway station in South India. The distance of the temple from Thrissur Railway Station is about 34 km. By Road- It is easy to reach Thrissur by road from almost all the major cities of Kerala. National Highway 47 passes through Thrissur itself. Subscribe our TFI Dharma YouTube channel to watch Devotional videos because we are here to serve Sanatana Dhrama: TFIDHARMA